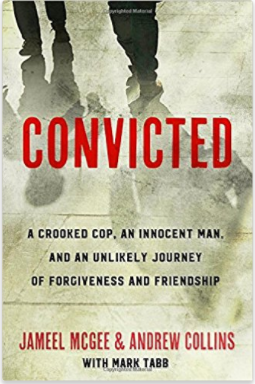 Convicted | A Crooked Cop, An Innocent Man, and an Unlikely Journey of Forgiveness and Friendship by Jameel McGee & Andrew Collins, with Mark Tabb.
Like many, I have watched a lot of movies in my life and in that movie list are quite a few where cops tend to be a little on the dirty side. We all know it happens. We don't want to believe it is true, but it is the same with any profession. There are always people out there who will do what they have to in order to get what they want, whether it be more money, a new job title, or for some, it's just the thrill of the hunt.
I decided to read Convicted because 1.) it is true crime and I love true crime. Even though this wasn't a murder story, it was still a true story. 2.) It happened right here in Michigan. Right in Benton Harbor, which is way across the other side of the state from me, which is probably why I never heard of this story. To be honest, I couldn't even tell you if I have ever heard of Benton Harbor.
The book is a quick read. Or, maybe I am a quick reader. Either way, I was easily able to finish this in two settings.
What I Liked
The author gave a bit of a background on how Benton Harbor was at the time the story took place. Although he uses very basic descriptive words, you could visualize just how horrible the city was.
The story was different. Well, not so much different, more so, a tale that rarely gets publicized. Good, innocent guy. Bad cop. Friends in the end.
Twists and turns. Not like a murder mystery book, but in that whole – I can feel what the author is feeling – sense and your guts start to go every which way. You stop and think to yourself, what if this were me? How would I handle it? How would I survive and would I be willing to hunt down the cop, not for him, but for myself?
It's a tough question I hope no one ever has to truly answer.
What I Didn't Like
The book read really choppy to me.
You know the old Dragnet show, the original? And the voice tells the story as the show goes on…yeah, that is how I read this in my head.  Some sentences were short. Others were run-ons, while others were just choppy. The words read like the author spoke. At least, that is what it makes you feel like. I am not sure if this was intentional or not, but it took me a while to get in to the book and after a while I found myself skimming a lot of the material.
Conclusion
If you need a quick, true crime read to open your eyes to other sides of the lines, this would be a perfect story.  If you are in need of a tale of opposites coming to terms and finding forgiveness, this is the story for you.
Jameel McGee: "For the next three years not a day went by that I didn't think about my son who I had never seen and the cop who had kept me from him. And for most of those three years I promised myself that if I ever saw this cop again, I was going to kill him. I intended to keep that promise." 
 
Andrew Collins: "I watched this angry man march through a crowd, a little boy and another man struggling to keep up with him….The man walked straight up to me, stopped, and stuck out his hand. I took it. "Remember me?" he asked in a tone that sounded more like a threat than a question. 
Somehow, a name came to me. 'Jameel McGee,' I replied." 
 
It reads like a gripping crime novel…except this story really happened.
 
Racial tensions had long simmered in Benton Harbor, a small city on the eastern shore of Lake Michigan, before the day a white narcotics officer–more focused on arrests than justice—set his sights on an innocent black man. But when officer Andrew Collins framed Jameel McGee for possession of crack cocaine, the surprising result was not a race riot but a transformative journey for both men. 
 
Falsely convicted, McGee spent three years in federal prison. Collins also went to prison a few years later for falsifying police reports. While behind bars, the faith of both men deepened. But the story took its most unexpected turn once they were released–when their lives collided again in a moment brimming with mistrust and anger. The two were on a collision course—not to violence—but forgiveness.  
 
As current as today's headlines, this explosive true story reveals how these radically conflicted men chose to let go of fear and a thirst for revenge to pursue reconciliation for themselves, their community, and our racially divided nation. 
Disclosure: I was given this book for free from BloggingForBooks.com in exchange for my honest review. I am not being compensated for this post and all opinions are my own.