I love olives. Not just snack on them every once in a while; but all out I go through periods where I will go through an entire jar of olives in a few days. They are the perfect little snack that battles all of my crazy cravings. I love green olives. I love black olives. I don't discriminate between pitted or unpitted. I love them stuffed with garlic or blue cheese. I put them on just about everything. Chicken, burgers, salads…..oh my! 
When I was younger, about 6 and we had just moved 1600 miles from Michigan to Oklahoma. To try to make my transition a bit easier, a few months later for my 7th birthday my parents brought home a black cat. We named him Squeaky. Squeaky was my best friend. While I shared with him my deepest, darkest secrets. He showed me unconditional love. Squeaky stayed with me all through elementary school. He was there when we moved from town to town and I struggled to fit in. He was there through junior high when I had my first heartbreak. He was there for me in high school as I learned how to drive, had my first long-term boyfriend and chased my dreams. He saw me through graduation and hung out with me when my parents moved back to Michigan and I was still in Oklahoma – all on my own. Things didn't work out well for me and I eventually moved back to Michigan. Squeaky took the drive with me. But, Michigan didn't have enough for this wild 18 year-old and a year later I promptly packed up my life and moved back to Oklahoma; where I stayed until 7 years ago. Because Squeaky was aging quickly in his last few years, a few months prior to my Oklahoma-bound departure my old friend had to be put to sleep.
Do you know what I did? 
I ate an olive in his honor.
And do you know why?
Because olives were his favorite food.
Not tuna. Not cheese. Not a bowl of milk, but olives.
Olives were a special treat in our house and not something we bought all the time since they were not a necessity. My mother would buy them for special occasions like Christmas and we'd always make sure to share a few with our feline friend.
Now, whenever I break open a jar of olives, I'm transported back to those happy memories.
I've never had another pet enjoy olives the way Squeaky did.
Unless you count my husband 😉
Mr. Yum never really cared for olives until I showed him all the many and wonderful things you can do with them.
First, we can enjoy these Mezzetta olives right out of the jar, along with their pepper friends.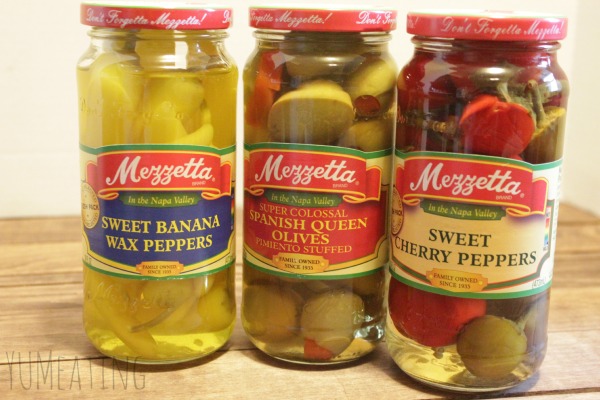 One of my favorite things to do with Mr. Yum is have a nice night in with some wine and a snack tray. That means I get to rest on the couch and not think about cooking for once. These little olive bites would make a great appetizer for your party or event, too.
First, I buy some rye loaves that have already been pre cut by my bakery. You can use French bread or sourdough if you prefer either of those.
Then, I use a brush and put a little extra virgin olive oil on them. I place them under the oven broiler for just a few seconds.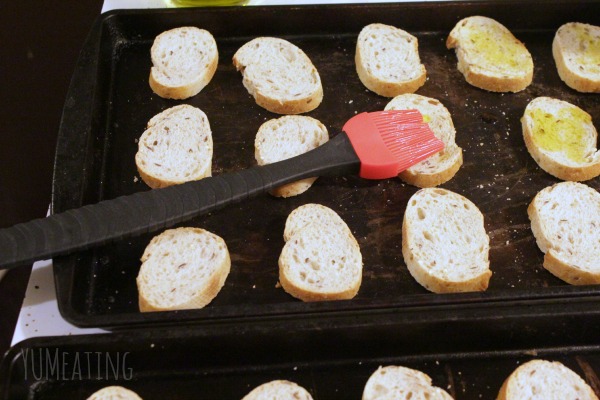 While I worked on that, Mr. Yum worked on cutting up some summer sausage.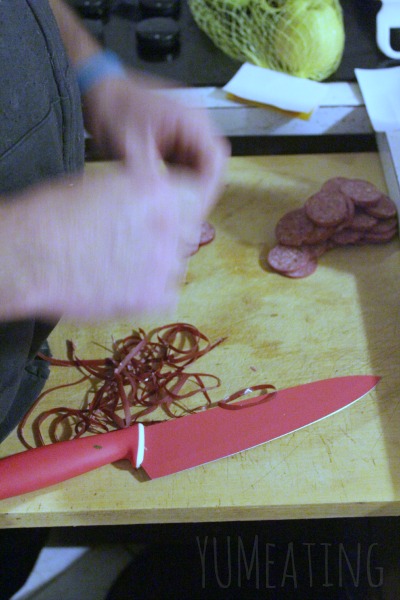 Then we cut up some cheeses and prosciutto to begin arranging our tray.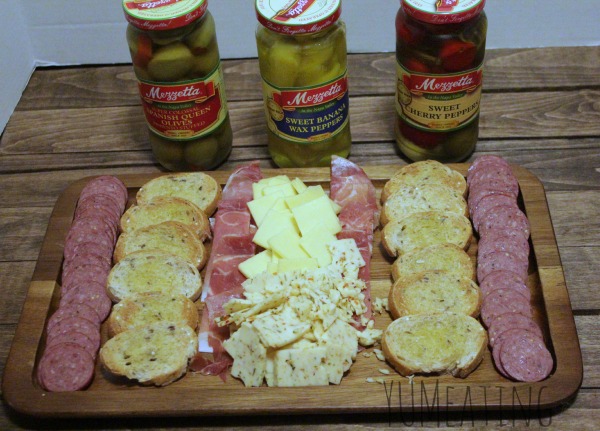 I put the peppers on small plates. We love small plates.
And in case anyone was wondering, these olives and peppers are YUMtastic!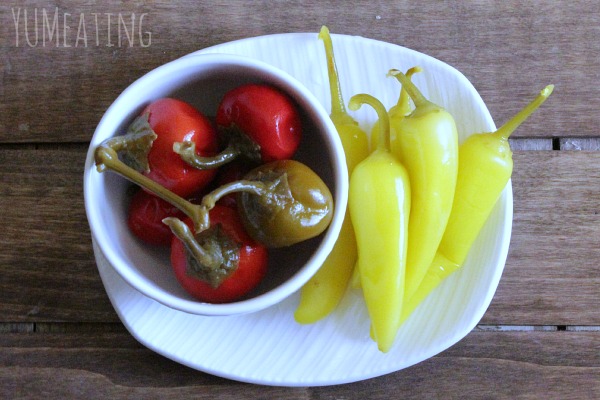 To assemble the snack bits, on top of the snack toast I placed a strip of prosciutto, then some Sargento Brushetta Jack tastings cheese along with some Sargento New Zealander (OMG my new fave!) tastings cheese. Then, some Mezzetta Olives which I had sliced. Mr. Yum sliced the peppers and put them on his olive snack bites.  I enjoyed them along with a piece of summer sausage. So many yummy flavor explosions. He paired his with a dark blackberry sweet wine. I paired mine with a white crispy made in Michigan wine.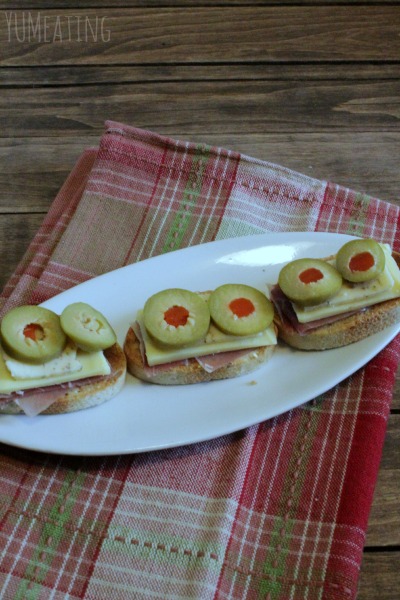 As we sat in the living room enjoying a movie on Netflix, this is how my little plates were starting to look.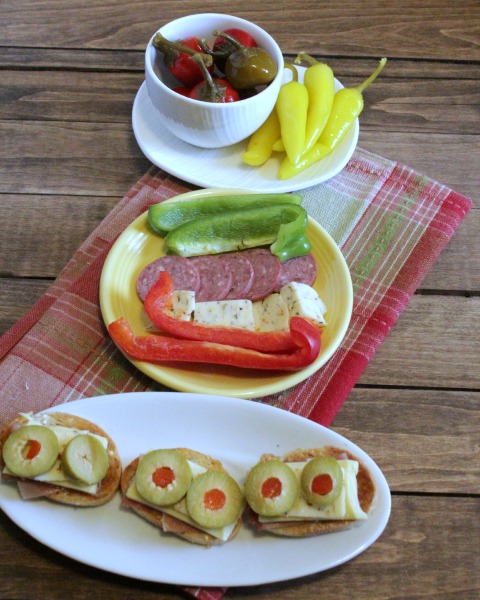 I just love how all the pops of color tend to reflect off each other. If we had a house party, these all would make wonderful appetizers.
It had been a while since I enjoyed some large delicious green olives. The moment I bit into that first olive bite, I was transported back to being a little girl and sharing the fancy jar of olives with my mom – and Squeaky. I giggled a bit as I told Mr. Yum the story. Happy times.
Our movie ended, the tray was empty, but the olive fun didn't end there.
Let me introduce you to Siracha Mary.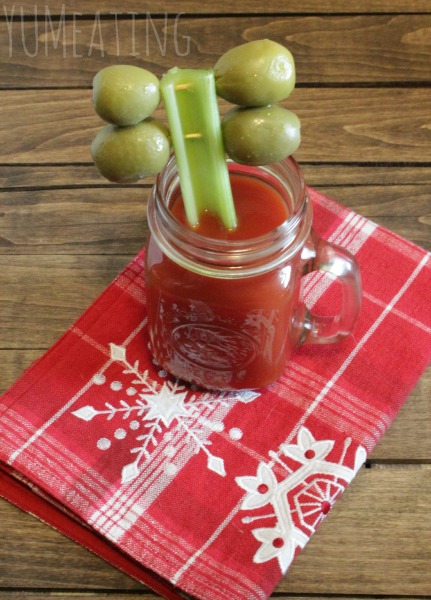 1 shot of vodka, fill the mason jar with tomato juice, give it a squirt of Sriracha and stir. I dipped the olive in and ….mmmm…the blend of spicy with the tart of the olives….heaven.
It's funny that I like Bloody Mary's now. They were my mothers favorite growing up. She never drank anything else. When I became of legal drinking age I never wanted to try one.  Not sure what the rebellion was. Maybe I thought they were an old lady drink or something. Well, I am almost 40 now! LOL. Now my bother, who is almost 60 would rather enjoy Grey Goose Vodka and cranberry juice over her once beloved Bloody Mary. I wonder if that will be my drink of choice when I'm 60.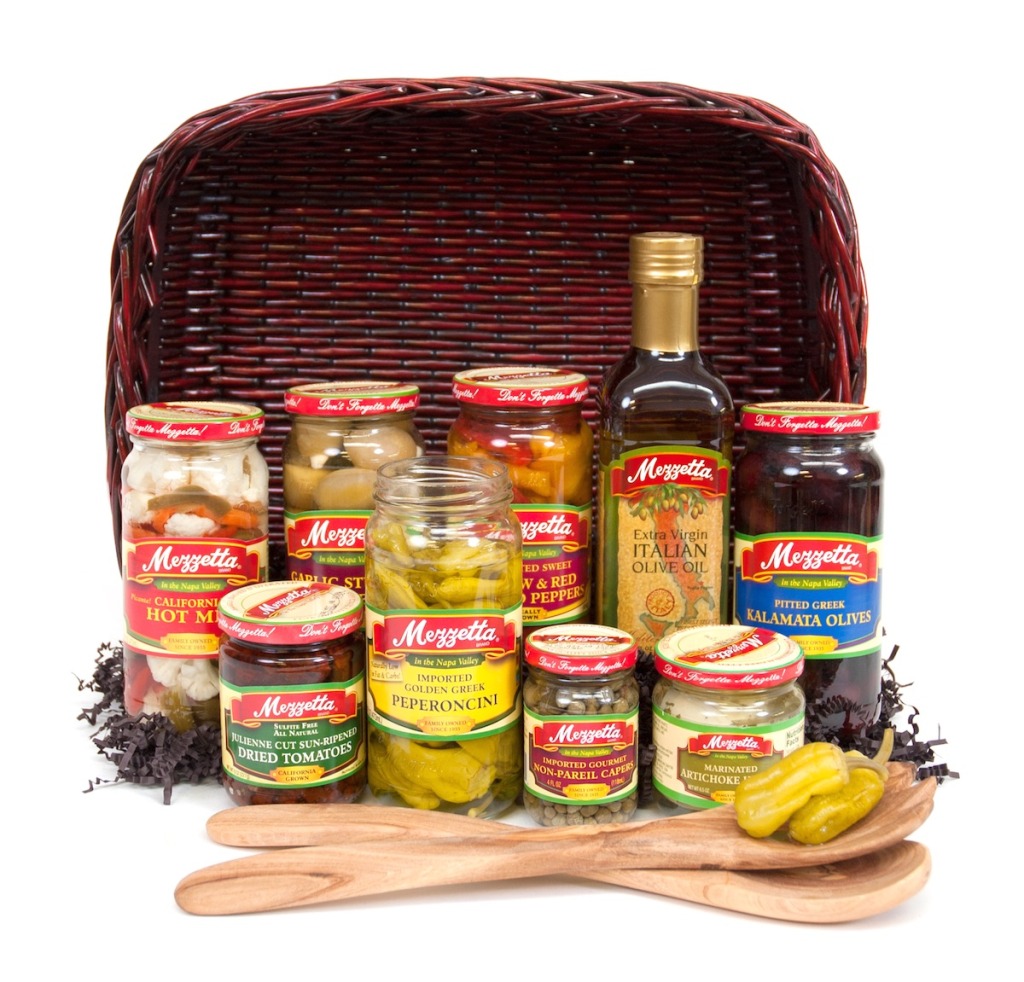 If you liked any of these recipes or if the thought of having your own basket full of olives and other Mezzetta products appeals to you then you should enter the giveaway! If you can't wait for the giveaway to end, Mezzetta is offer YUM eating readers a 50 cent off coupon.
Olives. They make me happy. Got a memory to share? What about an olive story? I'd love to hear them.
Disclosure: This is a sponsored post from Linqia and Mezzetta. I'll compensated for the products, this post, my time and effort. All recipes are my own. All opinions are 100% true , honest, and all mine. Thank you to Mezzette for the sponsorship and bringing back some wonderful memories while creating some new ones.