Chocolate Covered Pistachio Smoothie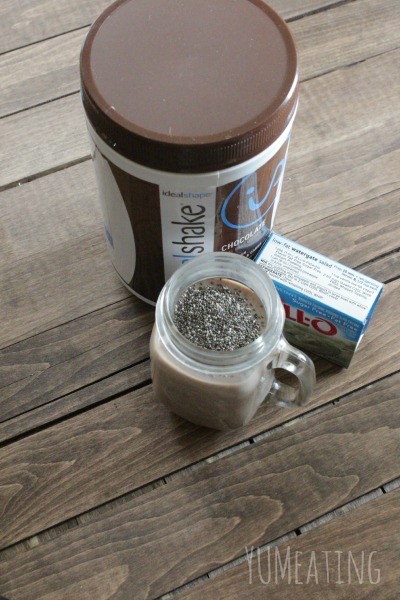 I'm really enjoying my smoothie creations these past few days. It's been a lot of fun to experiment with some new flavors. It's hard for me to drink smoothies in the winter because I tend to freeze a lot of the fruits and vegetables so that it gives it a thicker , more filling texture. It also makes it colder. I've tried warm smoothies, like hot cocoa style, and it worked out fairly well. But I haven't really tried to add anything to it to make it thick and rich like a shake. I'm not sure where to even start with that.
Note to self: Figure out more warm protein powder meal replacements! 🙂
The idea for a pistachio smoothie is not new to me. I've made Pistachio Delight by using real nuts. It was super yummy, but we all know pistachios aren't cheap and they are also like crack to me. I can't just eat a few and walk away.  It's just like my Cashew Greenie. I can't keep the cashews around either. 🙁 I need to work on my addiction to nuts. But, I suppose there could be worse things I could eat.
I am not sure how I came up with this one really. I really enjoyed the Chocolate Butterscotch and wondered what other pudding mixes might pair alright with chocolate protein powder. I got to thinking about how a lot of nuts come dipped in chocolate, especially around the holidays.
So, sure. Why not test out a package of sugar-free pistachio.
With that, I bring you my Chocolate Covered Pistachio Smoothie.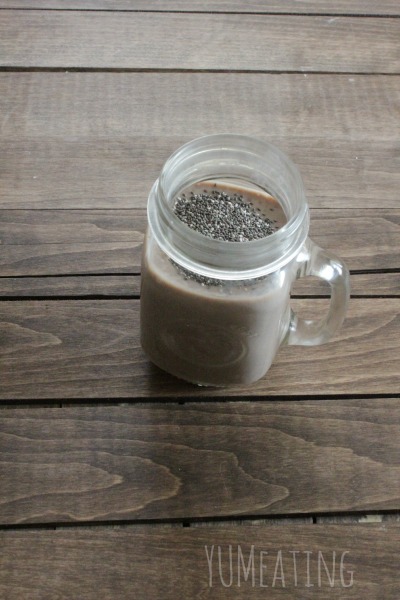 By this point I had run out of my supply of frozen banana's, so I paired this with an apple and a little bit of mixed PB2. It was the perfect lunch.
Chocolate Covered Pistachio Smoothie
Ingredients
1

scoop chocolate protein powder

8

oz

skim milk

1 1/2

tbsp

sugar-free fat-free pistachio pudding mix
Instructions
Place all ingredients in blender.

Blend for 2-3 minutes to allow pudding to thicken.

Pour into tall glass and enjoy.
What your favorite nut? Have you ever considered mixing it in a smoothie?