Michigan Float (aka Boston Cooler)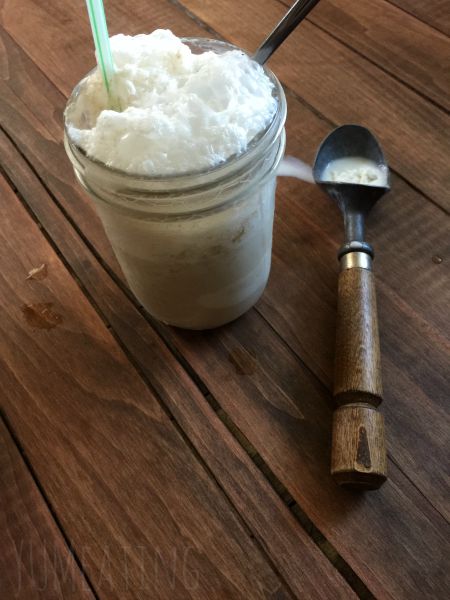 August. How did you get here? I see so many of you have kids who are already back to school and here I counting down the days until kiddo goes back; which isn't until Sept!
Summer has been oddly hot here in Michigan so I am actually ready for the cool breeze that is blowing through my windows right now. That means I don't have to run the air conditioner. That means, I can breathe. 
It's still plenty warm for me to enjoy an ice cream treat. Truth-be-told, I enjoy ice cream year round, even in the dead of Michigan winter.
Yes, it's true.
Sometimes I think my ice cream habit is worse than my cheese habit.
So, I know root beer floats have been around for like a zillion years and are a staple in the American diet it seems, but I have something a bit different to share with you guys.
Funny thing, from what I understand this is called a Boston Cooler. When you order a Boston Cooler at the local burger joint, this is what you get. However, I am not sure what is so Boston about it, perhaps the use of ginger ale? (My Boston pals, I'm calling on you for help here.)
Edit: Thanks to Wiki, I found the answer! 
Here in Michigan we use a Michigan made ginger ale called Vernor's. I have a mad obsession with this stuff going all the way back to childhood. When we lived in OK, my grandmother would send down care packages, complete with a 6-pack of Vernor's. When I came to Michigan in the summers to visit, the first thing I did when I got to my grandparents was head to the back room to their snack fridge and grab an ice-cold beverage. As I got older, my grandmother would keep diet in the fridge just for me.
So, imagine my trip down memory lane when we made this floats, complete with low-fat Edy's light vanilla ice cream and diet Vernor's! I call it a Michigan Float (sorry Boston people.)
Is their a food in your neck of the woods which you aren't sure why it's name what it is?