Traveling with HydroPeptide On-the-Go-Glow #hydropeptide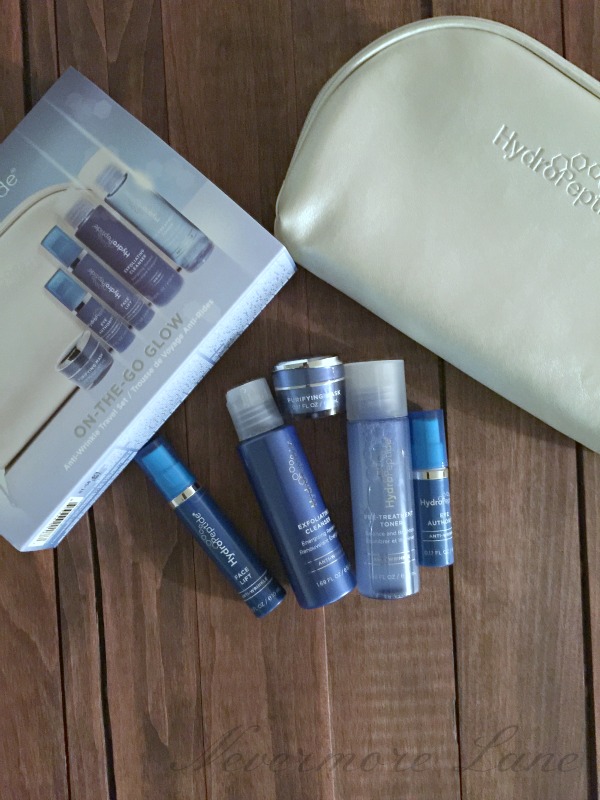 I ain't going to lie. I'm tired. For real. It has been one crazy summer. I am on the road a lot with the traveling, making changes, and going between two houses. Because Js family is helping me with my real estate stuff along with J and I working on our book (there's a reason why I call him book boy,) sometimes it is just easier for me to stay at his moms. That means I have 2 of everything. One set for here and one set for there.
While that was a good idea, it didn't really help with the traveling situation. Or the tired situation. All the running around, late night writing or studying sessions and early morning workouts was starting to wreck my skin. Not trying to toot my own horn, but I like the fact if you catch me on a good day I don't look 41.
I needed to find something that was small, easy to use, and I could transport it in my go-go back that goes with me everywhere.
Coming across HydroPeptide was such a blessing. 
HydroPeptide has spent the last decade perfecting anti-aging. Their blend of scientists and beauty professionals delivers a unique perspective to challenge traditional beliefs and embrace a new approach to skin health. With access to the top minds in skin science and patented technologies, HydroPeptide will continue to revolutionize anti-aging skin care.
One of the things that got me most excited about this brand was their lack of harsh chemicals!
HydroPeptide is paraben-, phthalate-, sulfate- and cruelty-free and the majority of products are free of synthetic fragrances, phenoxyethanol and gluten. Their exclusive peptide preservative system has allowed them to remove many controversial preservative ingredients.
I am always keeping my eyes peeled that 1.) work and 2.) lack all those harsh chemicals that no one really wants to put on their skin. Now I can share my new-found love with you!
Use coupon code BBACK20A to receive 20% off your own On-The-Go Glow travel set!!!!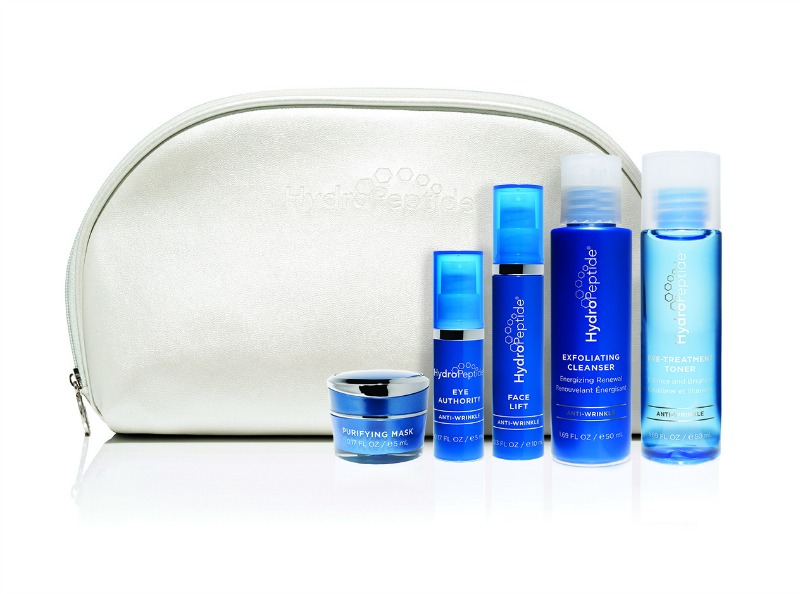 Deluxe trial sizes of our award-winning fan favorites. A complete anti-aging regimen to restore your skin's protective barrier. The travel set includes:

Exfoliating Cleanser: New Beauty Magazine winner "The Best Way to Take the Day Off" & one of Katherine Heigl's favorite products!

Pre-Treatment Toner: Shecky's Beauty Award for "Best Toner"

Face Lift Moisturizer: Les Nouvelles Magazine winner "Best Antioxidant Product"

Eye Authority: Day Spa Magazine winner "Best Eye Cream"

Purifying Mask: New Beauty Magazine winner "A Mighty Mask That Can Multitask"
Check out HydroPeptide on their website, Facebook, Instagram, Pinterest, Twitter and YouTube.
I promise your skin will thank you for it. My skin is soft, hydrated and so much brighter! 
Disclosure: I received this awesome travel kit for free in exchange for my honest review. I am not being compensated for this post. Regardless, I only recommend brands I feel my readers can benefit from. Opinions are 100% my own.