The Keg Steakhouse in Niagara Falls, Ontario, Canada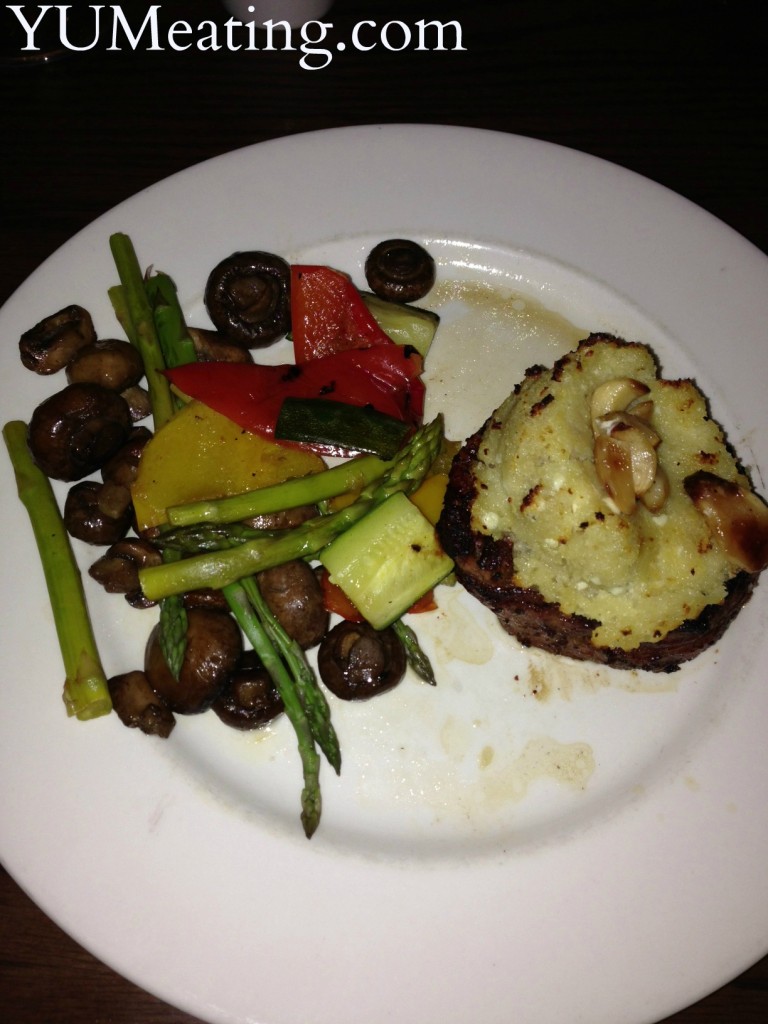 We are nearing the end of my reviews from our short trip over to Niagara Falls, Canada. With the busy schedule that my husband is dealing with this semester (his final year of clinical's) and his graduation next spring I don't think we'll be taking any more trips this year. (Boo!)
When we first checked into our hotel we knew we wanted to eat at The Keg because they gave us a $30 voucher to start with, but also because it had a nice view overlooking the falls.  We had originally gone to Ruth's Chris Steakhouse located inside our hotel. They had a live DJ that night and we had a $60 voucher. A quick peek at their menu told us why their voucher was more. $80 just for one steak! Ouch. No thanks.
Since we wanted to go to The Keg anyway we didn't feel like it was much of a loss. Just a quick jog to the hotel across the street an up nine floors was no big deal even after walking around the entire town of Niagara Falls.
I ordered the Blue Cheese Filet. One thing you will soon learn about me is that I love cheese and anytime I can order something with blue cheese it's going to be my first pick. I honestly wasn't in the mood for steak but they had me at blue cheese. What can I say, I'm that easy.
My steak was cooked perfectly; medium-well, by-the-way. And the side of vegetables was a welcomed treat since I did not want to pay extra for their dinky side salad.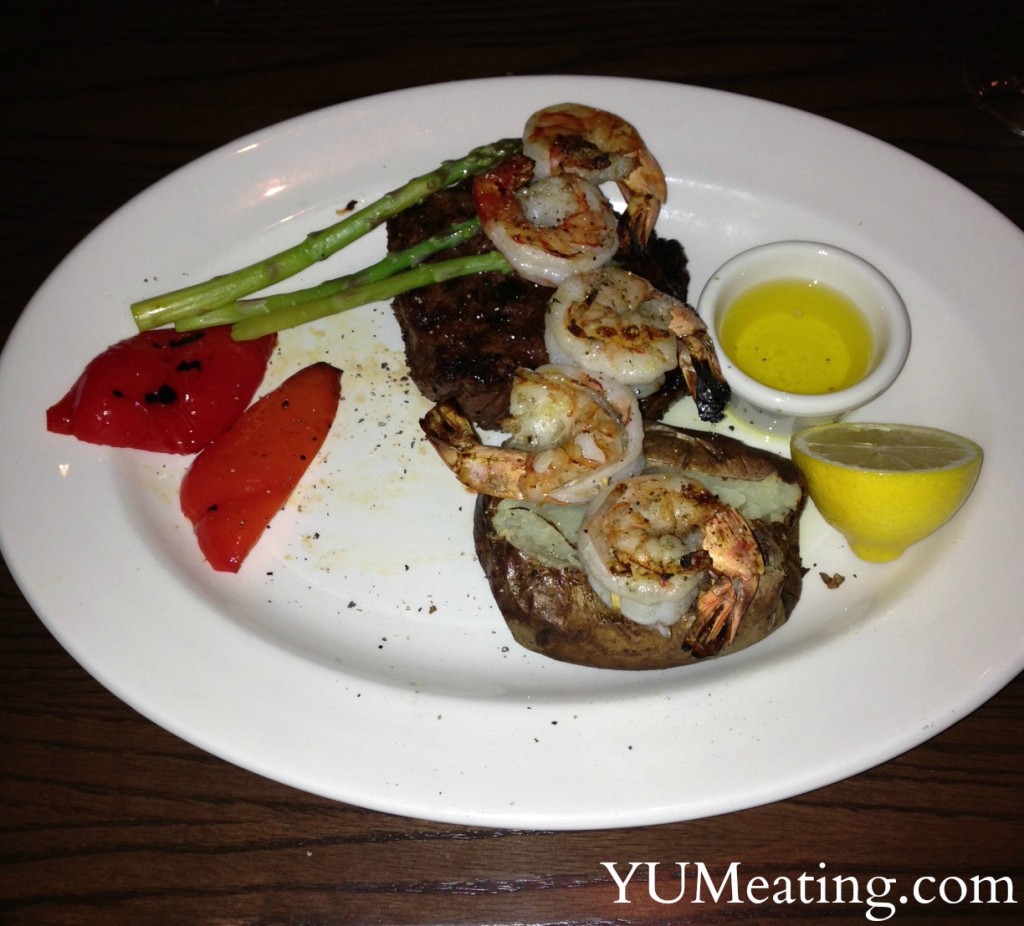 My husband ordered the Prime Rib and Tiger Shrimp. He doesn't like mushrooms so he gave them to me. He did enjoy his mixed vegetables and said they had just enough crunch. What you don't see is the baked potato he ordered. He does not like his food to crowd his plate so he requested a separate plate.  When the waitress brought the plate he realized that his potato was naked. She quickly returned with a whole new potato complete with toppings. I thought that was a bit odd because most places would just bring out the toppings. My husband proudly ate every bite of those two potatoes.
He ordered his steak medium-well. However, it was a little more rare than he would have liked as he got into the middle. He sent it back. When it came out, so did the manager.  This happened at "East Side Mario's" and I have to say, Niagara Falls is on the up-and-up when it comes to customer service.
The shrimp were supposed to be "blackened" but to me, their was nothing blackened about them.
I'm not sure what happened after that because we lost our waitress for a spell and it took a bit for her to come back with our check. We did get a surprise though.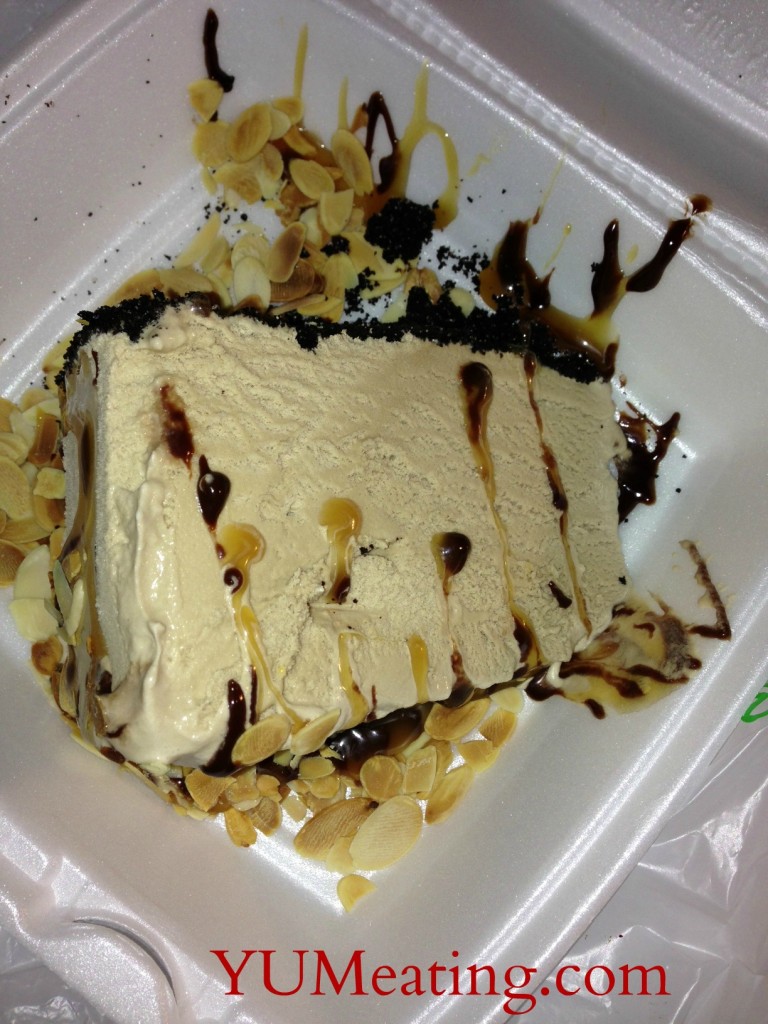 The  manager had given us a free dessert for "our troubles" and the waitress had packed it all up for us to take back to our hotel. Then we ended up sitting and talking to her for quite some time because she had been born and raised in Niagara Falls, CAN and it was really interesting hearing some of her stories.
The pie made it back to our room just fine.
The Billy Miner Pie was mocha ice cream on a chocolate crust with hot fudge, caramel and almonds. As wonderful as it was, by the time we got back to our room it was 11 p.m. and we were so exhausted. We tried to eat it. And let me tell you, throwing it away was the hardest thing I ever had to do. We did not have a fridge in our room or I would have saved it. We made a pretty good dent in it. It was pretty amazing. Certainly a recipe worth tracking down!