Why You Should Never Let Your Husband Help With Curried Chickpeas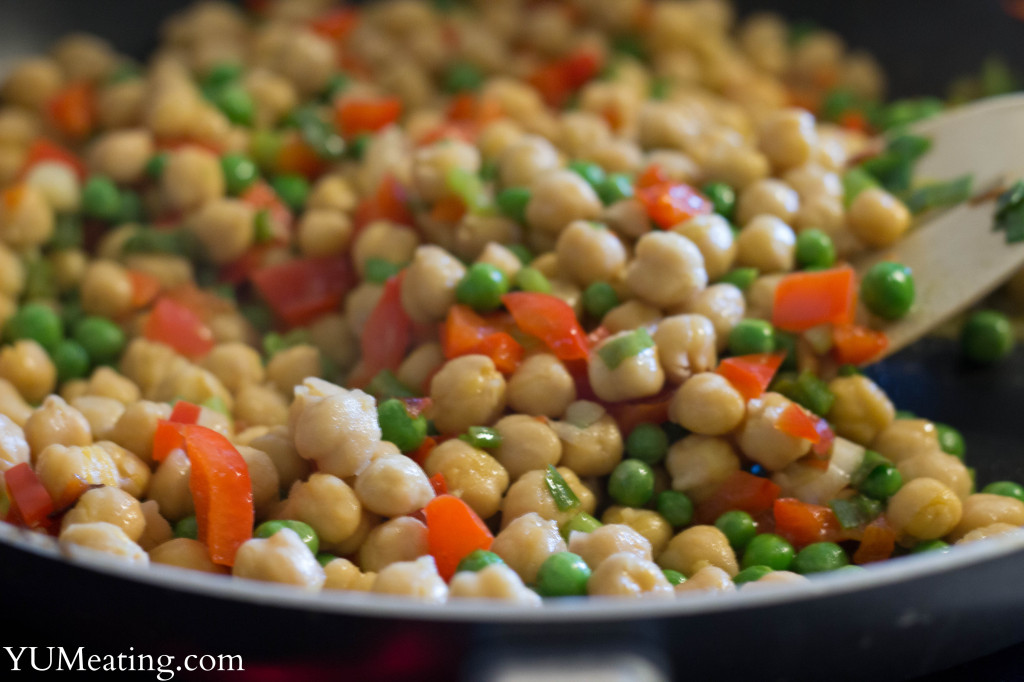 I learned a very important lesson the other day.
Never let my husband help me with recipe creation. Bless him. He tried.
He always tries. And bless him for always thinking he always knows what is best.
We had a giant bag of chickpeas in our freezer and I have been dying to test out some recipes to use them up. I came across this healthy recipe on SparkRecipes (sister site to Sparkpeople).
Curried Bulgur with Chickpeas sounded like something I could easily work with.  I did not have any curry powder so my "curried" was going to have a bit of a different flavor.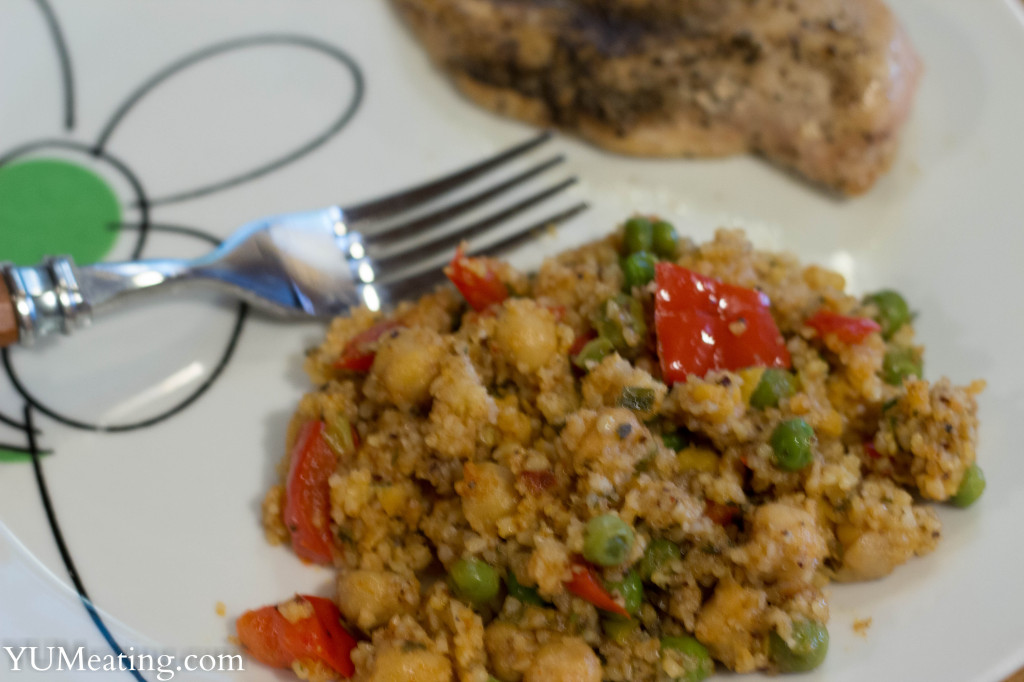 Almost Curried Bulgur with Chickpeas
Adapted from Sparkrecipes "Curried Bulgur with Chickpeas"
Ingredients
1 1/2

cups

uncooked bulgur

2

Tbsp

garlic olive oil

1

medium red bell pepper

seeded and diced

3

green onions

minced

1

cup

frozen shelled peas

2

cups

cooked chickpeas

1

tsp

salt

1/2

cup

parsley

1

tsp

sumac

1

tsp

paprika

1

tsp

pepper

OPTIONAL:

1/4

c

olive oil

2

Tbsp

sumac

2

Tbsp

paprika
Instructions
In a medium size pan bring 3 cups water to a boil.

Stir in the 1 1/2 cups bulgur.

Reduce heat to low, then cover, and simmer for about 20 minutes.

Remove from the heat when done and set aside until needed.

Heat the 2 tbsp olive oil in a skillet over medium heat.

Add the diced red bell pepper and minced green onions and saute until tender.

Stir in the frozen peas, chickpeas, and 1 tsp of salt. Cook for 1 minute.

Stir in the 1/2 cup of parsley.

Add the cooked bulgur and stir into the mix.

Add sumac, pepper, and paprika, then mix.

Continue cooking for an additional 10 minutes or continue with next step.

OPTIONAL STEPS:

In a small microwavable dish add the 1/4 cup olive oil, 2 tbsp sumac and 2 tbsp paprika. Heat for 10 seconds and mix. Add to chickpea mixture, mix, and cook an additional 10 minutes.

Serve as a meal or as a side dish.
It looked so pretty when the onion, red bell pepper, peas and chickpeas were in the pan. I started mixing everything up and it had a really nice flavor but for my tastes I felt it needed a bit more. The whole time I was making this, my husband (who must have just been in one of his moods) kept telling me how to do this and how to do that. I guess he's all of a sudden the expert on Indian cuisine since he's made a few dishes a time or two.
So, I am trying to get this recipe in order, adding my seasoning and he's taste-testing and keeps telling me to add lemon and this, this, that, and this. I keep looking at him like he is crazy. I just kept ignoring him. I know how he gets and it's generally why I do most of the cooking.
All I kept thinking was if I mess this up then I wasted food (which I hate with a passion) and this turns out gross…then what will we eat????
Well, after listening to his "heat the olive oil" speech I finally just did it. That is what the "Optional Steps" are.
Well…
Well..
Let's just say….
I feel like a failure. Once I added that mixture …. it wasn't for me.
Lesson learned.
My husband lost is sous chef license. He'll have to earn it back.
Maybe someone else will like it. I know he ate a giant plate of it. So..it wasn't a total failure. We just have different tastes and that's ok.
As for the chicken, that's just some chicken breasts cooked in low heat with lemon infused olive oil and pepper. (Lemon pepper chicken.)