St. Patricks Day Corned Beef & Cabbage (Boiled Dinner) with Irish Soda Bread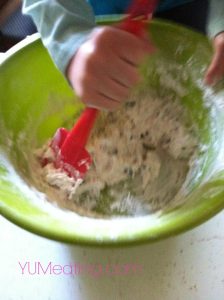 Yes. I am Irish.
Yes. I eat a lot of corned beef and cabbage.
I love my potatoes.
My family on the other hand are not  fans of corned beef or cabbage.
I was on a quest to have a fun St. Patrick's weekend this past weekend because Detroit was having their parade, we were going to have lil m all weekend, and we are going out-of-town this weekend for a getaway writers retreat and to celebrate St. Patrick's Day – adult style.
We've had soda bread before, so I knew that was not going to be a problem.
We've had soda bread before, so I knew that was not going to be a problem.
This is the recipe I used this time: (Brennan's Irish Soda Bread allrecipes.com)
Ingredients
1 cup milk
2 tablespoons distilled white vinegar
2 cups all-purpose flour
1 tablespoon white sugar
1/2 teaspoon baking soda
1/2 teaspoon salt

Directions
Stir the milk and vinegar together, and allow to stand until curdled. The took us about 15 minutes.
Preheat oven to 400 degrees F. Since I cooked mine in a cast iron skillet I lightly coated it with a little oil. In a bowl, mix together the flour, sugar, baking soda, and salt.
Gradually stir the  milk into the flour mixture until the dough starts to comes together, and turn the dough out onto a well-floured surface. Knead a few times, and shape into a round somewhat flat ball-like shape. Place the dough in skillet. With a sharp knife, cut an X shape into the top of the dough to release steam and help the bread keep its round shape.
Bake in the preheated oven until golden brown, about 45 minutes.
If you do not have a cast iron skillet a pizza pie pan works well.
I tossed in a handful of raisins for a little extra oomph. That was my only change to the recipe this time. I felt the raisins gave it a little something extra. I do have my own recipe I make, but this one sounded really good, too.
I started the boiled dinner (usually made with Irish sausage) hours before we began baking the bread. Making it boiled instead of the traditional method I had a better chance of everyone eating it. I started with a 5lb brisket which included the special season package for corned beef.
I have a huge stock pot (sorry – I don't know the exact size) which I put the brisket, corned beef season packet, and water half way covering the beef. I then added a tablespoon of beef soup stock (beef stock, beef bullion), salt, pepper, garlic, and a dash of onion salt. I let it simmer on low until the beef was almost done.
I took out the beef and cut it up into chunky pieces. Put it back into the pan. I then took a head of cabbage and cut it up into pieces and put it in the pan with the meat. If you like, you can add diced onion on this step for more flavor. lil m hates onions so I put it in when she was not looking. I like the flavor.
Let it simmer for about an hour, on low. About mid-way through I added a bit more water and beef stock. This is to my taste so you can experiment with how you like it. I am NOT using any recipe here. I just did this off the top of my head based on all the times my mother and I made this dish.
Once the cabbage has shrunk and is tender I added the potatoes.
Again, let simmer until the potatoes are almost done before adding the carrots, otherwise the carrots get mushy.
The dish takes a few hours. While it is simmering we made bread and some
Weight Watcher Sugar Cookies
using a shamrock shaped cookie cutter.   I was going to try baking Splenda in this recipe but I was afraid they would turn out like crap. When you have a 7-year-old, you can't have crap cookies.
      (this is lil m's plate. less cabbage just in case she did not like it. My plate was 90% cabbage.)