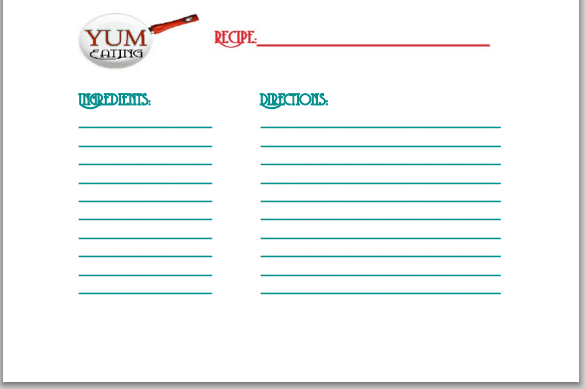 In all the hustle and bustle of today's Black Friday shopping don't forget to plan your holiday recipes. To make it easy for you I am going to offer you a free printable. A big shout out to Taylor over at Mama Has Pink Hair for creating this little beauty for me.  She's done some wonderful print work and I can highly recommend her. So if you are in need of some printables, please, go buck Taylor. She'd love it.
You can print these to fit on card stock for a recipe card of your choice of size or you can do like I do and print on a regular sheet of paper. I have a recipe binder so that works out well for me.
Click the link to download YUM eating's FREE recipe card. Enjoy your freebie and I hope you survive your holiday shopping!