Not Once, But Twice Baked Chicken Legs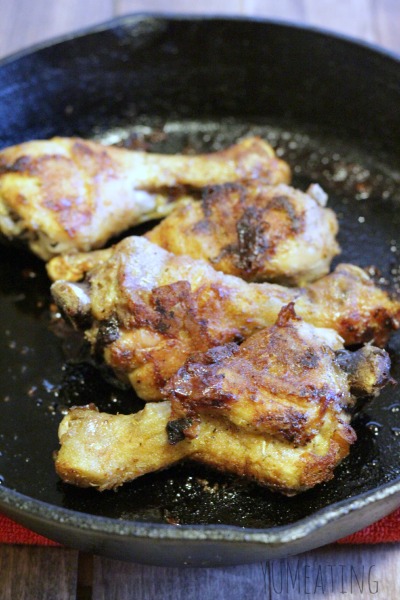 Remember when I said I couldn't eat chicken legs or thighs? Well, I think I may have just changed my mind about chicken legs. I know, right?? I never thought it a million years I would ever go back to eating chicken legs. I have tried multiple times over the years. Kiddo loves them, hubs enjoys them although he prefers thighs and our wallets like them more compared to chicken breasts. When I did Weight Watchers in the early 2000s I learned that I got more bang for my points be eating chicken breast over legs and thighs. I am not sure when it happened but I had developed this weird texture thing and really couldn't eat legs and thighs the way I did when I was a kid so eating chicken breast was second nature to me.
Hubs and I have experimented with multiple recipes and cooking methods. About the best I can do are his thighs when they are cooked on the grill. No worries about textures like extra fatty skin, grizzle or veins. Yuck. Before meeting hubs I had no problem with buying a 3lb bag of chicken for $7. Now that same bag teeters back and forth between $7.99 and $9.99. And those chicken breast just don't get us as far if all 3 of us are enjoying them in a meal. So, I had no choice but to begin my journey with legs and thighs. They would get the dark meat and I would make one chicken breast for myself. And, while that worked out fine, when the bags of chicken went up to $10 a few weeks ago I nearly had a heart attack. It's seriously just another reason why I want to eat more vegetarian meals again. But, that's a story for another day.
As I was trying to figure out how I was going to find a replacement for my beloved chicken breast, I really started to question why I have such a hang-up with legs and thighs. Was it the actual meat? No. Skin? Well sometimes. When I am eating I pull the skin off anyway. Who needs all that extra calories when you are trying to lose weight?? I hate pan frying. I hate the mess and the overly greasy taste in my mouth. But faux fry baking in the oven, well the legs and thighs just never get to a point where I can eat them. I hate biting into one and that fatty deposit gets in my mouth and (to me) its worse than an oyster (which I love.) Then, I try a leg, only to bite down and pull the leg away to chew and there is a vein looking up at me. GROOOOOOSSS. Sorry if I am grossing you guys out, but I just can't get past this.
As I am rummaging around the frozen chicken bin I happen to glance at the chicken wings. Ok. Now those I can eat. I don't mind buying wings whole and chopping them up to make flats and drummies for buffalo wings. So, if I can eat that part of the chicken, what is my problem??
And, then it hit me.
When we eat out, they are deep-fried.  Not healthy, but its a nice treat once in a while. When we make them at home  – and by we I mean Mr. Yum as that is his thing – we twice back them.
BINGO!
So, what if I bought these super-duper cheap chicken legs (I mean even the organic free range cage free hormone free ones are cheaper than chicken breast these days) and we each got 2 along with some great sides and TWICE baked them?? Could I eat them??? Oh goodness, please say that I could So, I bought a few packs of these chicken legs because they were on quick sale for $2. Then I grabbed my  normal package of leg and thigh pieces. I took everything home. Froze 2 packages of the legs. Then the leg and thigh pieces I separated the legs from the thighs and packaged them for my freezer.
I had no idea what recipe to test out on these, so I figured I would start with a classic. This is an adaptation of my moms old school chicken fry recipe. I replaced her white flour (or corn flakes) with my brown rice 'bread' crumbs. Instead of buttermilk I use skim milk.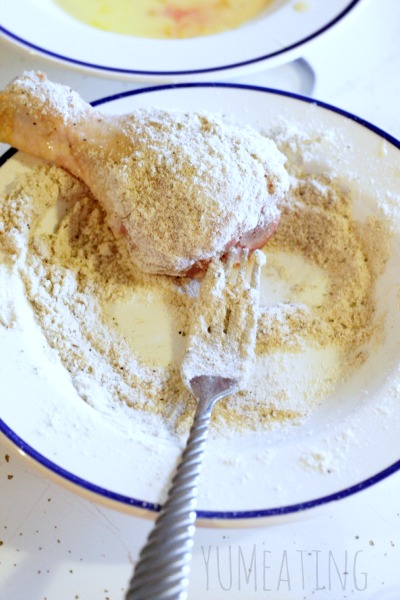 These do take some time to cook so this isn't something to get on the table in less than 30 minutes. But, I promise you if anyone in your house has a problem with chicken texture, this might just save them.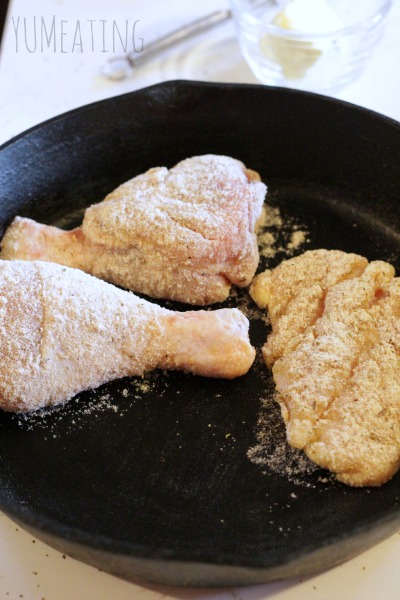 I honestly wasn't expecting much with this recipe. I had some extra salad and a chicken breast on standby just in case these legs didn't work out for me. Or, the recipe was a bomb for hubs and kiddo. Because we had 10 chicken legs in the package, I did have to use 2 skillets. I was hoping this recipe wasn't going to bomb. They have eaten every single chicken recipe I have tried on them, so I wasn't really worried about them.
Y'all. It brings me so much joy to tell you….
I CAN EAT CHICKEN LEGS AGAIN!!!
But, only if they are cooked exactly like this. Because I made some legs and thigh shortly after this and it was right back to the texture issue for me.
2 legs were quite filling. However, we ALL wanted more. I am THRILLLLLLLLLED by this. As I ate that leg, not knowing what to expect, I had some happy childhood memories come back. And for anyone who knows about my troubled past, you will understand that a happy memory is always welcome.
Kiddo loves chicken legs no matter how I cook them. It's one of her favorite things I make for her. But, these guys have been begging me for another batch ASAP.
Soon family. Soon. 😉
Cast iron skillet. If you don't have one, I encourage you to spend the money on one. Check your local Salvation Army and Goodwill. I see them there all the time. You can wash them good and re-season them. It's not hard at all and totally worth the effort.
Cooking this chicken in the cast iron really helped to cook the underside of the chicken. I realized when we faux fry in the oven you tend to not flip because your batter might fall off. So, your chicken sits in the oil and juice and that underside doesn't cook as well. I think that might contribute to my texture problem. So, with this recipe I tried the cast iron and I even moved things around, which is how I discovered the 'twice baked' method for these legs.
Alright then. Happy leg eating.
Twice Baked Chicken Legs
Ingredients
10

chicken legs

1/2

cup

brown rice 'bread' crumbs

1

tsp

salt

1

tsp

pepper

1

tsp

onion powder

1

tsp

oregano

1

tbsp

milk

1

egg

2

tbsp

butter

melted
Instructions
Preheat oven to 400.

In small bowl combine the brown rice crumbs, salt, pepper, onion powder and oregano.

In another dish add the egg and milk. Whisk together.

Doing one leg at a time, place the egg in the egg mixture and cover.

Hold the leg above the dish for a moment and let the excess drip off.

Place the egg in the dry mixture. Take care to cover the entire leg.

Give a slight shake so the excess falls off.

Place leg in cast iron skillet.

Continue this process until all legs are done.

Discard any unused mixture.

Melt your 2 tbsp of butter and slowly drizzle a little bit over each piece of chicken.

Bake in oven for 20 minutes.

Remove from oven and rearrange in skillet. Your coating should be nice and toasty now and since its not a thick batter you shouldn't lose it when flipping.

Replace skillet back in oven and cook for another 30 minutes.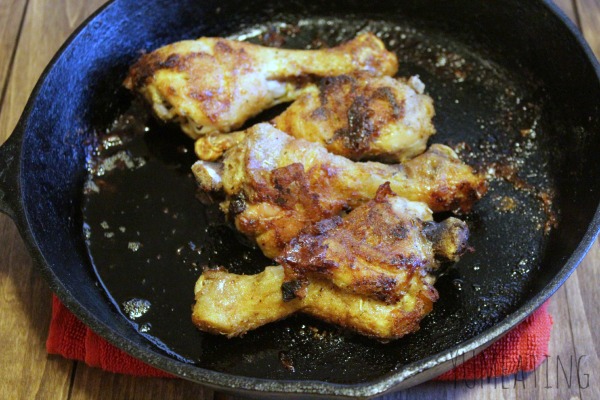 Sorry for such a long post. I was just so excited! Do you enjoy chicken legs? What is your favorite way to eat them? If you don't like legs, do you think you will give them another try?