Black Friday Sale : Tasty Food Photography 50% Off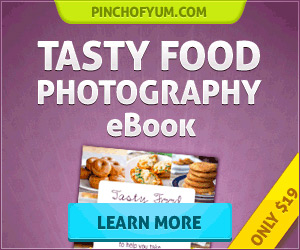 The day has come.  Black Friday is here. I'll be staying home, thank you. I'm still recovering from my Thanksgiving Food Coma.
Lindsay and Bjork over at Pinch of Yum (you know, the food blog that rakes in $12k a month) have this wonderful book that I have bragged about a few times here on YUM eating.  It was the first book I purchased after I had decided on my website name and purchased my dSLR camera. I had no idea where to start and it seemed like Lindsay knew her stuff. I mean that girl is working it over there. Lindsay made it super easy to understand and I learned quite a bit. I've purchased a few food blogging and photography books since starting YUM and I always go back to Lindsay's. It's on my iPad so it with me all the time.
If you have been considering this ebook but didn't want to dish out the $19 price tag, well, you're in luck. Starting today and ending Monday (thats Black Friday and Cyber Monday) Bjork and Lindsay are offering the Tasty Food Photography book at 50% off.
Did you hear me?
50% OFF!! 
$9.50. You'll spend that going to Starbucks. 🙂
To purchase Tasty Food Photography you'll need to enter code TFP50 at checkout.
Here is an example page to give you a general idea of how great it is 😉