St. Patrick's Day is almost here! It's also Irish American Heritage Month so I need as many recipes as I can get to celebrate my heritage all month-long. Last year I did a traditional Irish recipe almost everyday. It was a lot of fun and we made everything from scratch. We had a few fun recipes, too that were more about being silly and green than being traditions. You can find the traditional Irish recipes on my recipe page. I'll be making a few recipes this month to add to the list, but I thought for today I would enlist in a little help from my blogger friends.
So, I bring to you over twenty of the #yumeating picks for eats – desserts, meals and even a few beverages. I hope you enjoy!

Irish Cream Fruit Dip from Seven Thirty-Three Blog
Leprechaun Cookies from Home. Made. Interest.
Irish Soda Bread from Captivating Corner
St. Patty Day Dinner from Frugal Elegance
St. Patrick's Day Pudding Dessert from Seven Thirty-Three Blog
Irish Car Bomb Rice Krispies Treats  from Endlessly Inspired
Guinness Stout Chocolate Cake with Irish Whiskey Ganache by lavender & cream
Irish Brown Bread by Wife in Progress
Irish Spice Cake from Confessions of an Overworked Mom
Erin Go Braugh Soup from Taste 4 Travel
Irish Potato Candy from Living Better Together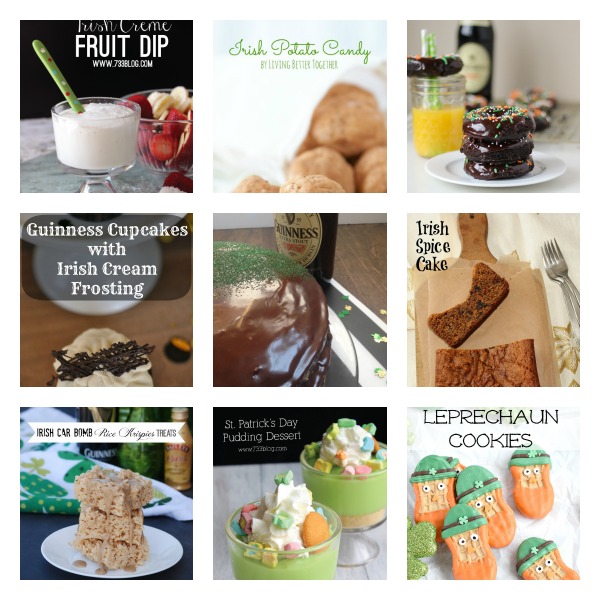 from Chez CateyLou
Irish Brown Bread with Guinness
Guinness Stout Chocolate Donuts
from Just Us Four
Guinness Cupcakes with Irish Cream Frosting
Corned Beef and Cabbage Casserole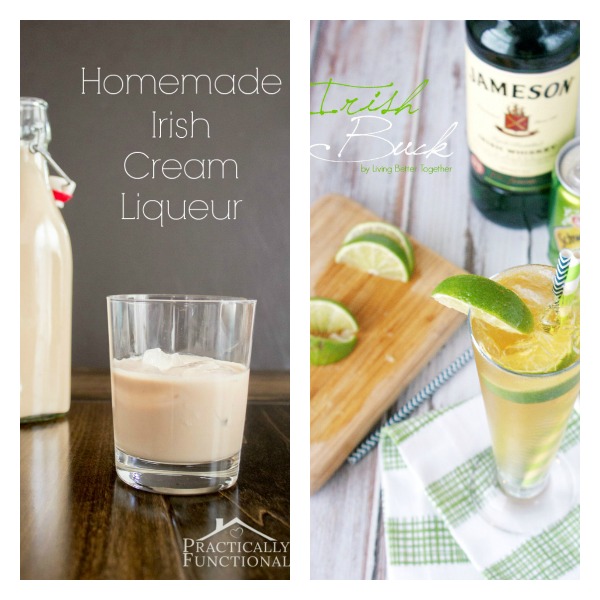 Beverage
Homemade Irish Cream Liqueur from Practically Functional
Homemade Irish Cream from Chocolate and Sunshine
Irish Buck Cocktail from Living Better Together
Disclosure: All photos used with permission.
Looking for some crafts? Check out my round-up post of super fabulous crafts!
What even more ideas? Check out these 50 St. Patrick's Day inspired ideas from Julie over at White Lights on Wednesday