Sunshine Tequila Cherry and Lime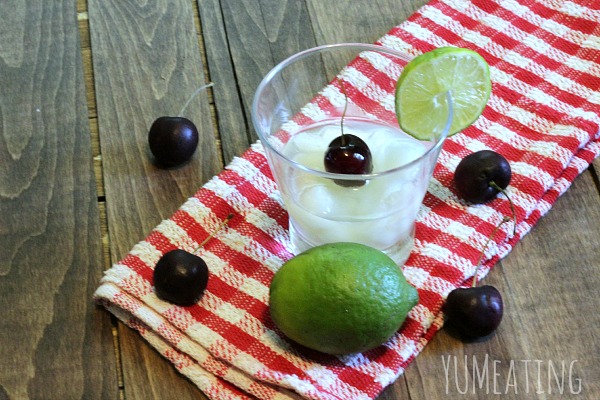 Summer's almost over! Booooo
But, it's still here. Right?
So we can still celebrate the sunshine and all its glory. And since we're all adults here and I am sure some of you are in dire need of some relaxing adult time, I'm going to share with you a brand new drink I created. True story, I came up with this quite by accident.
Some time ago husband and I purchased some of the Outshine bars from Edy's. They were on sale 3 for $10. I felt that was a good deal because they are a fairly healthy option compared to some other ice cream treats. I love Edy's ice cream because its nice and creamy for a lower calorie option. These bars are also almost $5 a box in the summer. I picked some lime, coconut water with pineapple and raspberry. The coconut water was the first to go followed by the raspberry. I purchased the lime because Mr. Yum generally likes lime frozen treats. He wasn't having any of this. They sat in the freezer for what felt like ages.
I got brave and tried one. I couldn't finish it. It's very….well..limey.
A few days ago I was scrolling through my Facebook feed as I so often do and I noticed a little something from one of my friends about how she needed a little tequila with her Outshine lime bar.
Hey, there goes the lightbulb again. I knew I had a Recipe Redux post coming up and this month the them is "A Spirited Redux." I was going to let this month go because I am not super creative when it comes to mixed drinks. I stick to basics. I have been trying to change that up a bit, but everything is still in that experimental stage.
I tried making this a couple of different ways and they all ended up a smooshy mess.
I finally got it to set right and this ended up being the easiest method.
You'll need a lime Outshine bar, I suggest a few small ice cubes, a handful of cherries, some tequila, salt if you need it, and a lime.
I squeezed some lime juice in the bottom of the glass. Then I chopped the lime bar into small squares. I added that to the glass, followed by some tequila.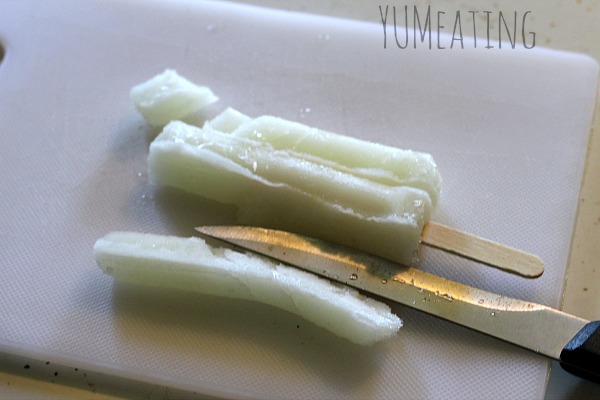 Now, if you are not a straight shooter, I highly suggest adding those small ice cubes, some salt around the rim, or even a splash of seltzer water.
I didn't bother with all that. I added a few Michigan cherries, a lime wedge and called in Sunshine Tequila Cherry and Lime.
Husband – not a fan. He said it was too strong. Mom – she is a fan of margaritas, so why not give it to her to try. She liked it, but also said it was strong.
It did not take long for the lime bar to melt and that brought the flavor down.
I happily continued to sip.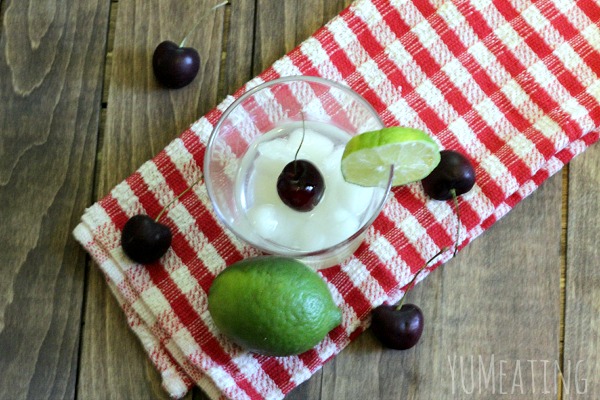 Don't judge. 😉
What is your favorite summer cocktail?
Sunshine Tequila Cherry and Lime
Ingredients
1

lime Outshine bar

or brand of your choice

4-5

cherries

1

lime

1

shot of tequila

salt - optional

ice cubes - optional

seltzer - optional
Instructions
Cut the lime in half. If you are going to salt your glass to that now before adding anything to it.

Squeeze some lime juice in the bottom of the glass.

Chop the lime bar into small squares.

Add them to the glass, followed by some tequila.

Add a few cherries.

Add the seltzer if needed.

Garnish with a slice of lime.
Feel free to visit some of the other members of Recipe Redux who will be posting their spirits themed recipes.