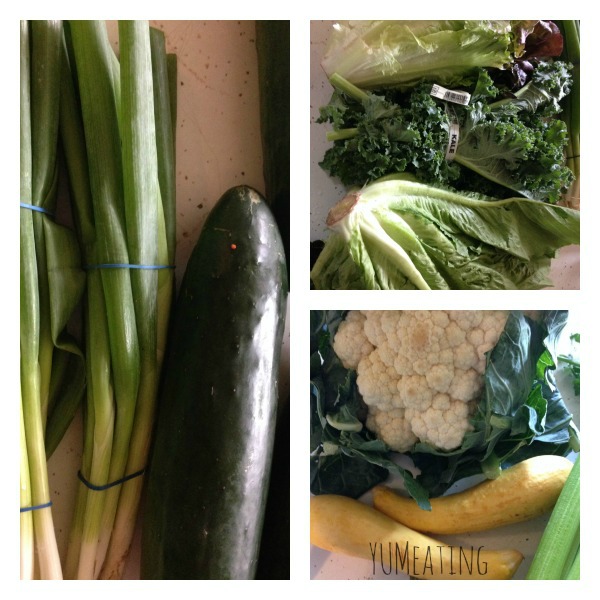 We made another trip to the Flint Farmers Market. A few weeks ago we weren't able to make it and we stopped by the one in Grand Blanc. It was more of an arts and crafts fair and I was extremely disappointed. It was outside on a street that had been blocked off. It was just about the length of that block. Not big at all. Then, the Flint one was closed so they could move to their building. Husband and I went the first day they were in and it was a giant cluster and it wasn't even the technical grand opening party. We could barely get through and it was so frustrating.
I spent some time outside listening to the live music. At one point I teared up because the girl signing reminded me of some friends back in Oklahoma that I had recently gotten back in contact with. It became very emotional and with the large crowd I was just ready to go home. We waited a little bit for the grand opening party and newness to ware off before going back. So we headed out last Thursday morning hoping the rain wasn't going to stop the outside vendors.
The new building is just amazing. You walk in and there are these tiny eateries, gift shops, and tons and tons of various foods. All these mom and pop businesses right beside all this Made in Michigan goodness. I love absorbing the sites, the smells and the people.
Since it was not as busy, we went to visit our favorite little juice bar, Willows Garden. This time I tried something a little different, Green Lemonade. I believe it was Kale, Spinach, Lemon and Pineapple. It was tart and sour. It reminded me of a Sour Patch candy. I LOVED it. I am seriously adding a juicer to my list of wants. Yeah, I watched Fat, Sick and Nearly Dead. I don't know how anyone can survive just on drinking. I would rather eat all my fruits and vegetables. I would have no problem going vegan honestly. I also think if I were in the right environment I would actually adopt a raw lifestyle. But, that's a discussion for another time.
I was so overwhelmed with sights and smells that I just had no idea where to start. First I knew I wanted to use my Double Up Bucks on the new Michigan grown products that had finally started to show up on the tables. We purchased some cauliflower, 2 different types of lettuce, kale, green onions, cucumbers, celery and squash.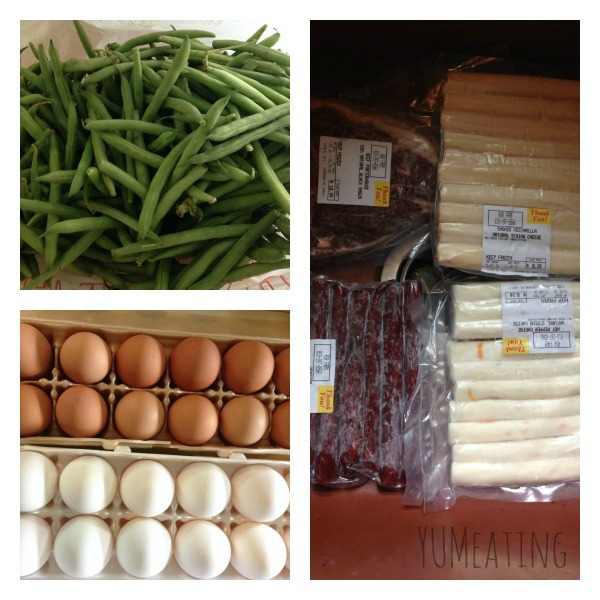 We used our food benefits (read here if you are curious as to why we use these) to purchase some farm fresh eggs (brown and double yolk) and green beans. I also made a special purchase from the farmer we get our eggs from, some turkey sticks and cheese.
Some other things I did not photograph was some bacon we are trying from another farmer because the one we get our eggs from was out. We also purchased some ground buffalo, a ham hock for broth and green beans, and some brisket.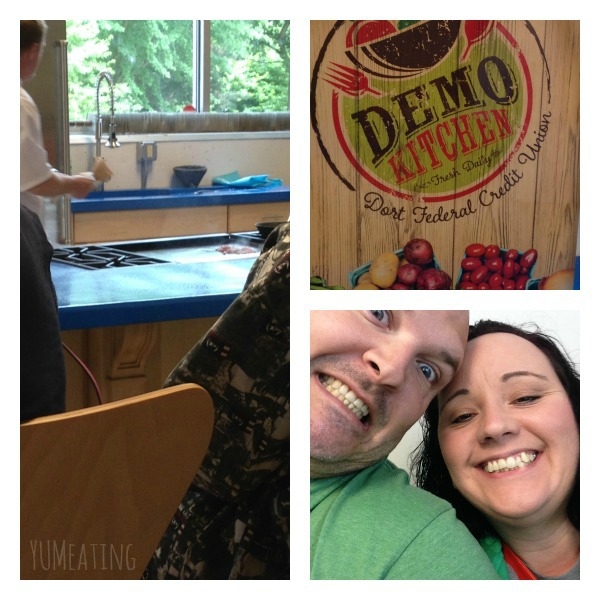 The best part was we had roamed around for so long that the cooking demo was starting soon so we had decided to stick around and watch. We learned how to make brie, bacon and apple quesadillas. We even got to sample them. YUM!
Of course afterwards we made a new friend as mryum decided to chat with the chef for a good 45 minutes. He was really nice though and I was able to give out my business card to him and a few others who were hanging around for the demonstration. If going to the farmers market gives me new readers, then its a good thing!
 Do you visit your local farmers market? Let me hear about your experiences there.