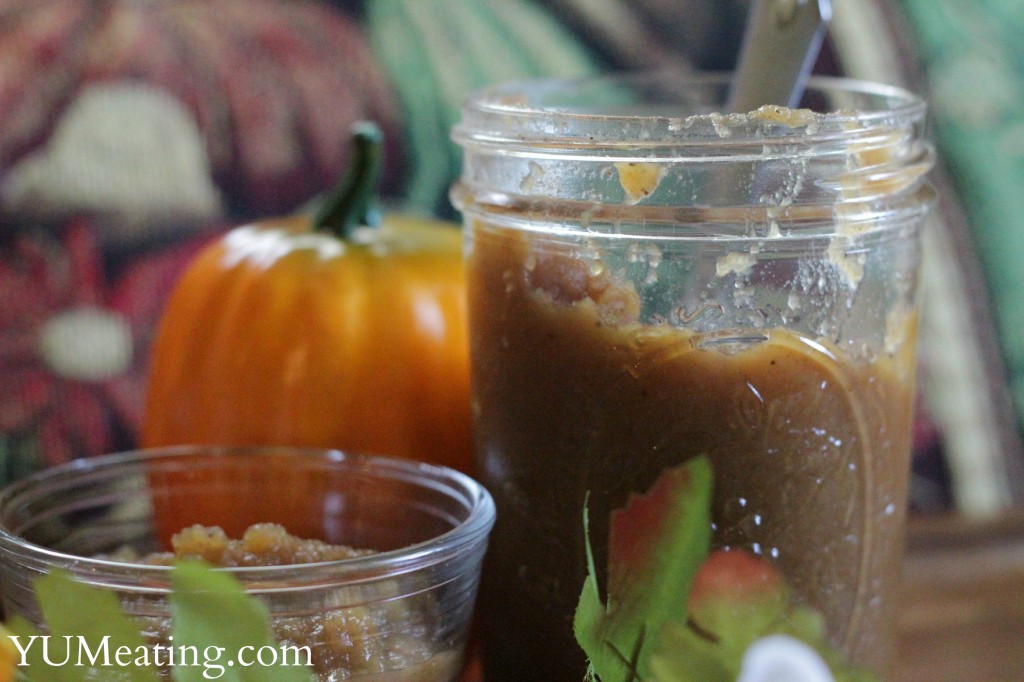 I'm obsessed with pumpkin.
I love pumpkin pie. I love pumpkin bread. I want to put pumpkin butter on everything. I want pumpkin sauce served at restaurants instead of the apple variety.
I love the smell of pumpkin. When Bath and Body Works gets their fall shipment in of anything pumpkin or spice smelling I buy it.
Every year I get more pumpkins than I know what to do with thanks to my cousins pumpkin patch. I've learned to roast seeds of every flavor (ranch, cheddar, three cheese, red hot). We keep some and give the rest away as Christmas gifts. I bake breads, cookies and cakes. Most of which are put in Christmas gift baskets. When I go through my smoothie phases I use a lot of pumpkin so I 'can' my own pumpkin for that.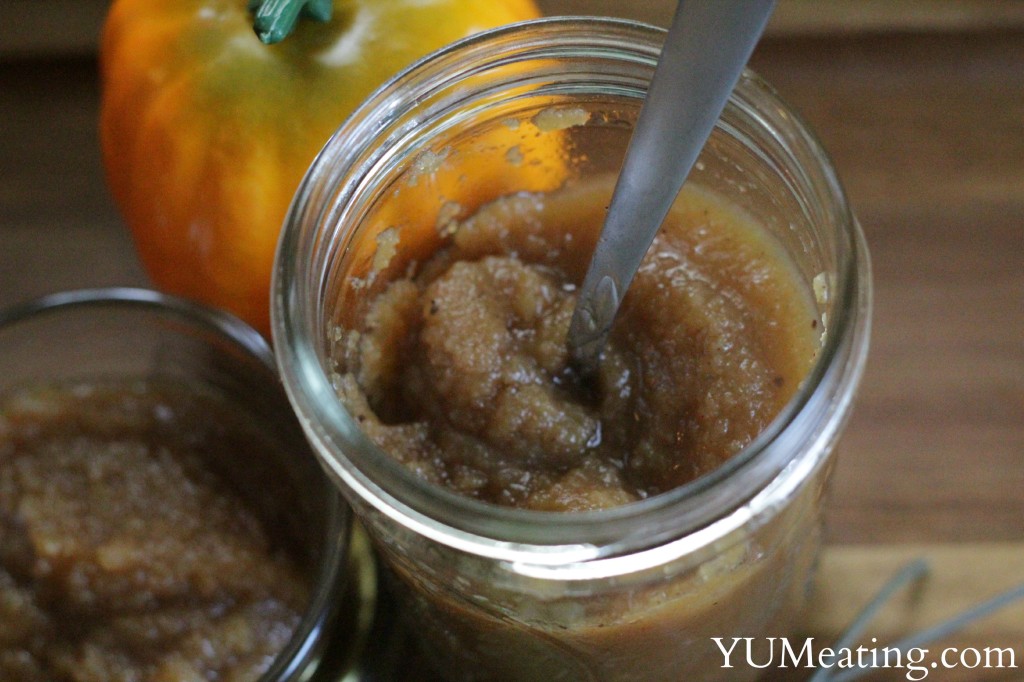 For me, the only difference between Pumpkin Butter and Pumpkin Sauce is how long I leave it in the food processor. Longer for a thinner spread and less for a little more bite like apple sauce.
Before you can start either recipe you need to know how to make pumpkin puree.
It's not hard.  If you are starting with canned pumpkin you can skip all of this.
1. Scoop out the seeds. Save them for roasting!
2. Cook the pumpkin. Some prefer the microwave, others the stove top. Check out "Pick Your Own" to determine which method best suits you. I actually bake mine in the oven similar to their 'alternative' instructions.
3. Puree the cooked pumpkin.  I use a food processor to do this.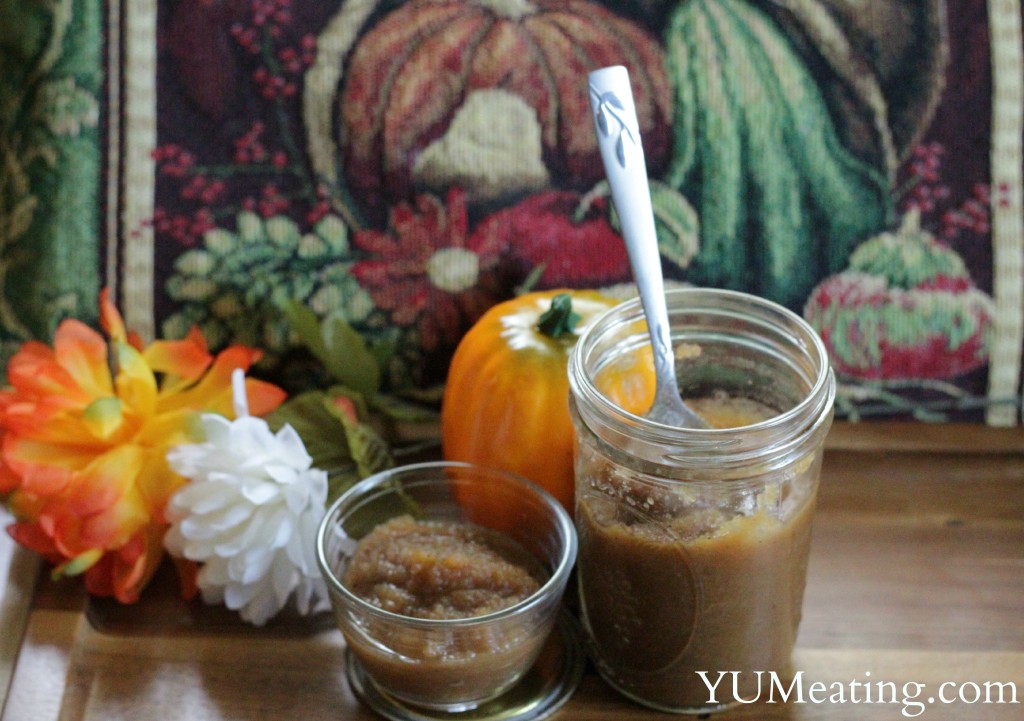 Once you have your pumpkin puree you can start making your pumpkin butter.
My recipe was adapted from "Pick Your Own." – How to Make Homemade Pumpkin Butter
Homemade Pumpkin Butter
How much puree you need will be determined by how large your your is. It will also depend on how what size pumpkin you just cooked.
Ingredients
Homemade pumpkin puree

ground cinnamon

ground cloves

allspice

sweetener of your choice

pumpkin pie spice
Instructions
Fill your crockpot with pumpkin puree leaving about an inch from the top.

Add 3 tbsp. of ground cinnamon for larger crockpots - reduce by 1 tbs for smaller pots.

Add 1tsp of allspice for larger crockpots. Reduce by 1/2 for smaller sizes. Add more or less to your personal tastes.

Add of ground cloves. Adjust for crockpot size and taste.

Add 4 cups of sweetener of your choice for larger crockpots. Adjust for size and taste.

Add 2 tbsp. of pumpkin pie spice for larger crockpots. Adjust for your crockpot size. Because I like pumpkin taste, I add 3-4 tbsp.

Set the crockpot on low or medium heat and cover loosely. It will splatter as it boils. I keep my crockpot on a small table all alone.

Do not seal tightly. The steam needs to escape so the butter can reduce in volume and thicken.

Let cook for 6-8 hours.

I do a taste test every 2-3 hours to see if more spice or Splenda is needed.

I also stir occasionally.

Once it is done if you leave it "as-is" you have pumpkin sauce, if you blend it with a food processor or a hand-held drink blender you can create a smoother texture for pumpkin butter.
Once your pumpkin butter is done you have the options of eating, freezing or canning. I do all. I put some in the fridge to enjoy. I put some in freezer bags for future enjoyment and baking. Then, I do some canning with the rest in order to put it away for Christmas baskets and give jars away for gifts. I do the boil method. Put the pumpkin butter in the jar, do not fill to very top. Add the lid and ring. Place in a pan of water. The water should be about halfway up the jar.  Boil for 10-15 minutes then remove from water and place on a towel on counter. They sit there until they pop and then I put them downstairs in the basement until I am ready to give them away.