You Think It's Guac….. Green Goddess Dip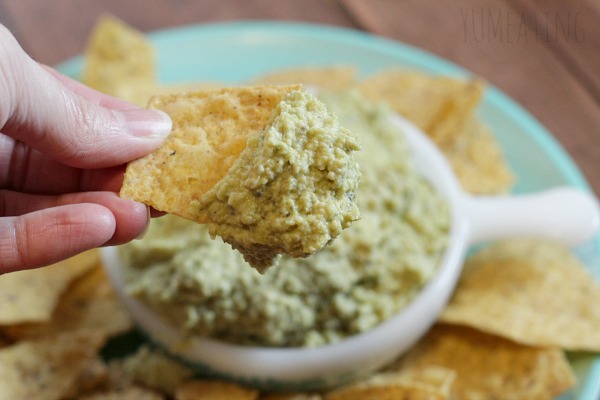 You think it's guac, but it's not. Do you know how hard it is to come up with recipe names? Lets just say it's not my favorite.  Originally I had planned to make some homemade guacamole, but my guacamole is nothing more than smashed up avocado with some salt, pepper and lemon juice. I prefer the natural taste of the avocado and can't be bothered with tomatoes, onions or whatever else folks throw in their guacamole these days.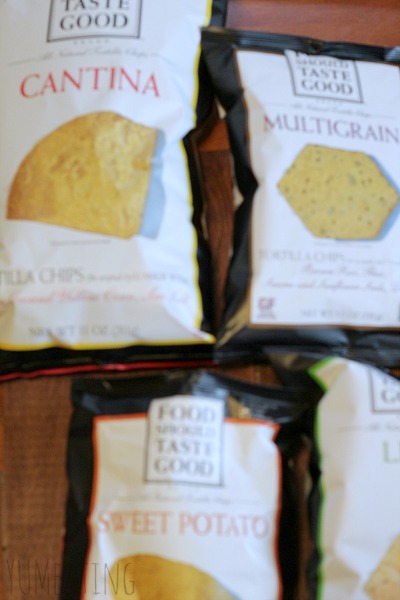 When trying to decide which dip to prepare for these Food Should Taste Good Cantina tortilla chips, I remembered a green dip make with chickpeas. I remembered this caught my attention because I love chickpeas and had wondered how well it was going to tasted up against my smooth and creamy avocado. Plus, I wasn't due for grocery shopping and I didn't want to go all the way in to town just to grab an avocado. It was time to get creative. I had one can of chickpeas and I was going to use them.
Google here I come. Big shout out to Thug Kitchen for their Green Pea and Garbanzo Bean Dip which provided me with the inspiration to create something green and dippy. If you have never checked out Thug Kitchen, they are awesome. But, let me just say they are not for the faint of heart. They cuss. And, they cuss a lot. So, if you don't like to read that sort of thing then I suggest you don't click the link and pay them a visit. Personally, I think it's hilarious. But hey, that's just me.
I have to say, these Food Should Taste Good Cantina tortilla chips are some of the best tortilla chips I have ever eaten. They have a great taste, lightly salted and they are nice and thick. All the better to dip with, my dear. Nothing bugs me more than sticking my chip in the dip only for it to crack into a million pieces. Talk about a total failure.
Let me tell you about this dip. I was worried. I am not the biggest fan of peas. I don't mind a good pea soup but that is about the extent of my pea eating. It is rare that I will partake in the eating of peas when it is a lonely side item on our dinner plates. I will however eat them happily if they are fried in some rice.
I wasn't too sure I was going to like my chickpeas turn hummus, tasting like green peas. But you know what? I didn't have to worry. Once I got all of the ingredients blended and pulled out my sturdy Cantina chip, all was right in my world.
I've even been snacking on the leftover dip; which is holding up really well in the fridge.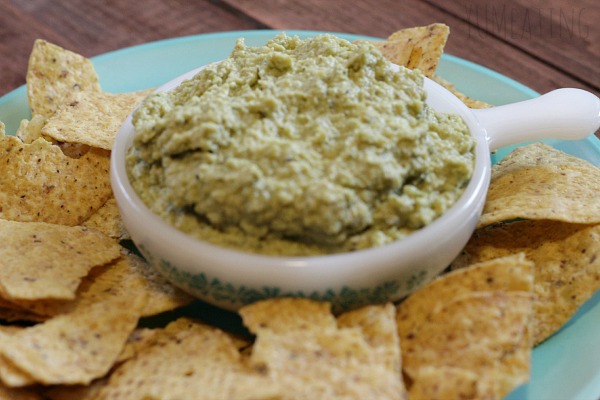 You Think It's Guac..... Green Goddess Dip
Ingredients
6

oz

frozen peas

15

oz

can of chickpeas

drained and rinsed

1/8

cup

dried basil

4

stalks green onion

chopped

2

tbsp

minced garlic

4

tbsp

lemon juice

1

tbsp

red wine vinegar

few dashes of salt
Instructions
This recipe is super easy.

Put everything into a food processor.

Blend until nice and creamy.

You can serve immediately.

Dip also stores really well in air tight container in the fridge for a few days.
Ohhhhhhh … I almost forgot.
This happened.

What's your favorite chip topping?
Disclosure: I was given this product for free from Food Should Taste Good in order to facilitate my review. All opinions are 100% my own.