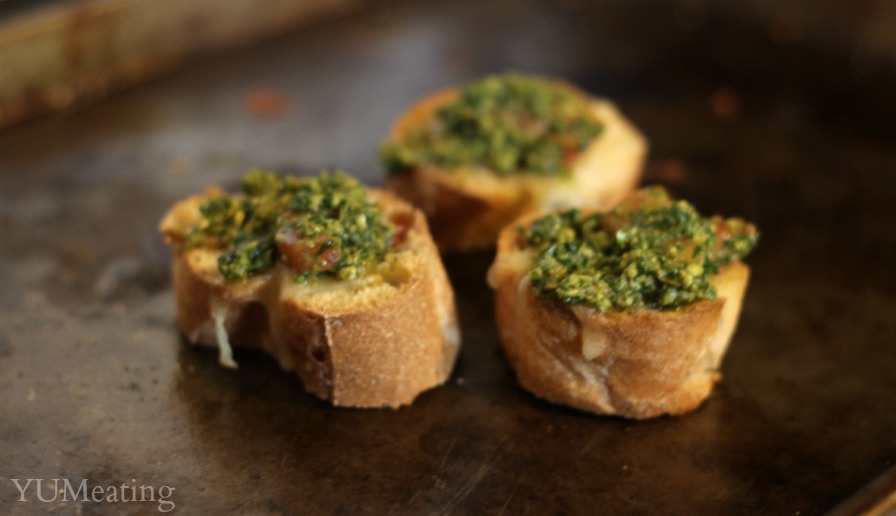 To round out our toast appetizers for the holidays today we are going to discus these cute little Pesto Toast Appetizers. These little baguette's were leftover from the Blue Cheese Toast and Mozzarella Grape Toast appetizers we previously made and tested & adapted from the "Companies Coming Tonight" cookbook my mother picked up for me.
My husband is the creator of this pesto so you'll have to give him a pat on the back for these cuties.  This pesto was actually used as a topping for some pasta, so there's an idea for you if putting it on top of some little toast isn't your thing.  Or, if you are like me, you will just have a little bit of both 😉
To get the toasts ready slice your baguette and brush with a little bit of olive oil like we did in the other toast recipes. Turn your oven to broil and toast for 2-3 minutes and then flip. Top with the pest and enjoy.
The pesto recipe is from All Recipes and he follows the recipe exactly. The recipe is pretty simple, it's called Pesto and it consists of basil leaves, garlic cloves, Parmesan cheese, olive oil, pine nuts and parsley. Kiddo doesn't care for it much. I think it's all the olive oil and garlic. She's not a fan of all the garlic stuff. Her taste buds just haven't grown to appreciate it yet. But  that's to be expected she's only about a month shy of 9.
One good tip is to toast the pine nuts before mixing your pesto if you have time.  Tastes even better if you can use farm fresh pesto and fresh grated Parmesan and not the stuff with the green lid!