Sriracha Poached Egg and Spinach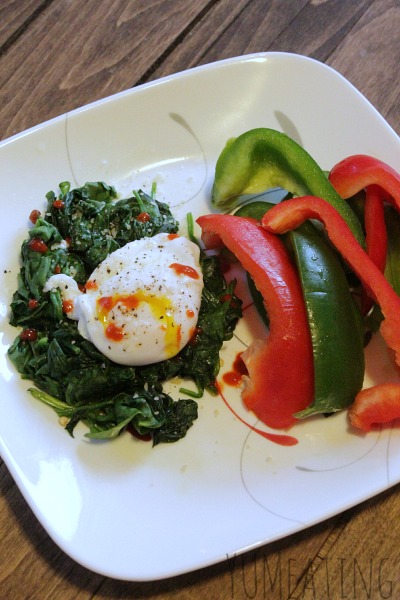 For the longest time I wasn't a huge fan of all things hot and mighty. All that changed when Buffalo Wild Wings graced the streets of Stillwater, OK around 2006. Prior to that about as warm as I went was medium salsa. Since then I have tested my levels of heat. Over the years I have learned that just because a sauce is super hot doesn't mean it's good. If it is going to have heat, it needs to have flavor, too. Unfortunately that is really hard to come by.  We have about 20 varieties of hot sauce in the house. The most used is Frank's Red Hot. 
Until recently.
On a whim I decided to put some Tuong Ot Sriracha (Huy Fong Foods) on my meal. It was warm, but there was this wonderful aroma and flavor. I've been testing this stuff on a lot of things. Some good, some bad. One of the things that turned out really well for me was this low carb poached egg and spinach with sriracha. The idea sort of came from the SkinnyTaste Cookbook that I have been obsessed with; drooling over each and every photo. I decided to poke around her website and that's when I came across Baked Eggs with Wilted Baby Spinach. I didn't have all the ingredients, nor was I thrilled about the idea of having an egg that didn't get flipped over and cooked.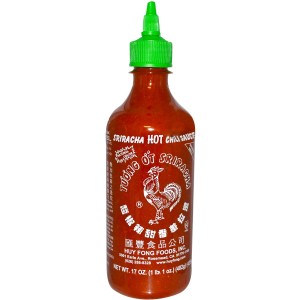 I actually forgot about it for a while. The other day I realized I had a bag of spinach that was close to getting a little too wilted for my salads. When this happens I pop the spinach in the freezer to use for my smoothies. I did that, but I left out a few handfuls and put them in a frying pan with the intention of making it mixed with eggs. Then, I had a light bulb moment.  I pulled out a small sauce pan and boiled some water. I thought it would be a good idea to poach the egg and put it on the bed of spinach giving me a similar feel to the baked version.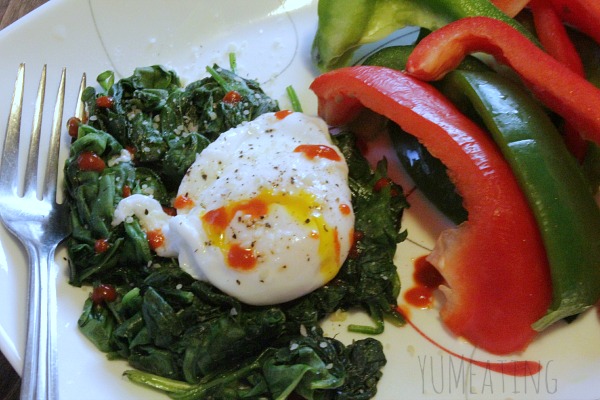 I added a bit of Parmesan cheese to the spinach, topped it with the poached egg, added the sriracha and paired the dish with some red and green bell peppers.
It's an amazingly simple and delicious breakfast. Healthy, too!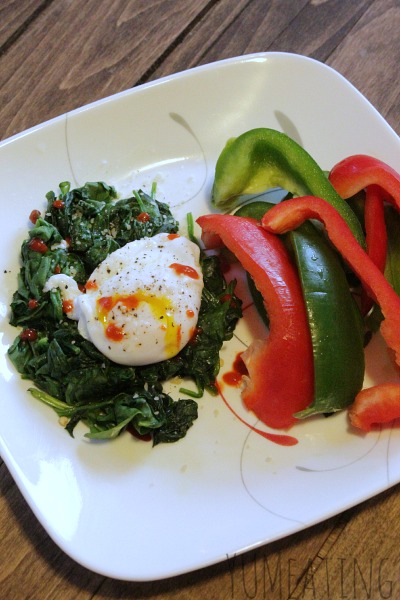 Sriracha Poached Egg and Spinach
Ingredients
2

cups

raw spinach

1

egg

1

cup

water

1

TBSP

Parmesan cheese

1

tsp

sriracha

1/2

green bell pepper

sliced (optional)

1/2

red bell pepper

sliced (optional)

salt

pepper
Instructions
In a non stick skillet add the spinach with a dash of salt and pepper.

Cook on low heat.

While the spinach is cooking bring 1 cup water to a boil in a small sauce pan.

Stir the spinach so it does not burn. It doesn't take long to cook. You'll know it's done when the size is reduced and the leaves are shriveled.

Set on a plate.

Add Parmesan cheese.

When you water boils carefully crack the egg and drop the insides into the boiling water.

Immediately turn the heat down.

It only takes about a minute to fully cook the eggs.

Using a slotted spoon, scoop out the egg.

Place the egg on top of the spinach.

Add the sriracha.

Pair with bell peppers or other vegetables.
Are you a hot flavor fan? What is your favorite?