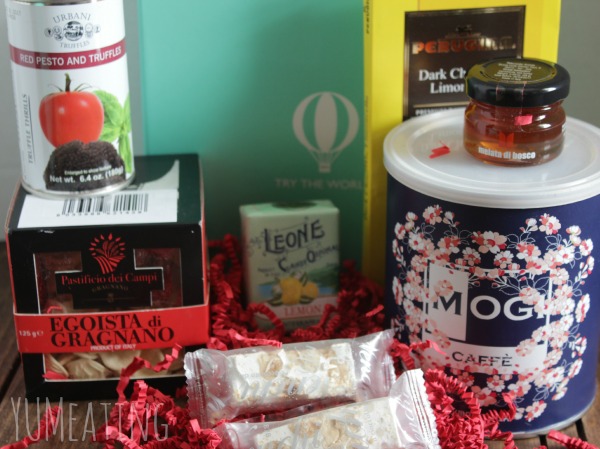 Try the World – one bite at a time, starting with Venice.
Have you heard about Try the World yet? If not, you are really missing out on one of the best food subscription boxes. No joke. I've tried a few of them and this one – so far – is my favorite. When a rep for Try the World contacted me and asked me if I would be interested in trying out their program for an honest review, I figured I had nothing to lose. However, I did have a lot to gain. While I am not being compensated for the post, I did get the Venice box for free so I could facilitate my review and report back to you guys. Let's just say I was so thrilled by the cuteness and the contents of Try the World I actually made a video!
Sometimes a video can show you what photo's can't. And while my video skills need improving, there's something to be said for the ability to see things live and in motion; especially with this gorgeous box. I can't tell you enough how thrilled I was with this box. I'm seriously in love with the packaging. I am a sucker for good packaging and design. Way too many marketing classes as an undergrad and in grad school.
The actual box the goodies come in is sturdy and I can see this easily being reused for organizing some things in my home office. I love reusing things and I am thrilled I won't be throwing this away!
If you follow me on Instagram you were privy to the photos I took as I made my way through sampling this wonderful Venice inspired box.
Here's the wonderful Mogi coffee. Can you smell it? I wish you could. This coffee smelled amazing. I was shocked at the amount of aroma that came from this can. This ain't Folgers's that's for sure.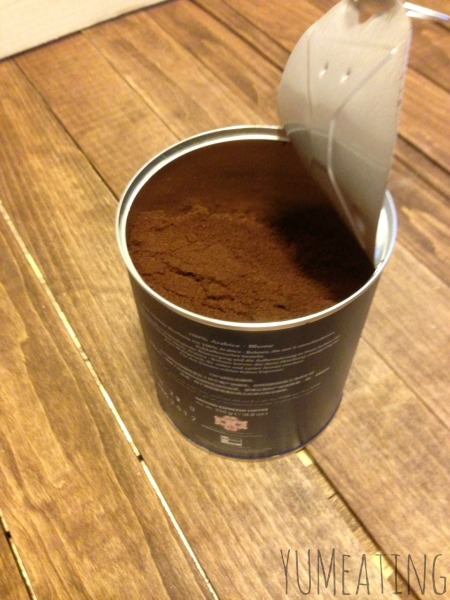 I used the French Press I received for Christmas to brew this wonderful delight.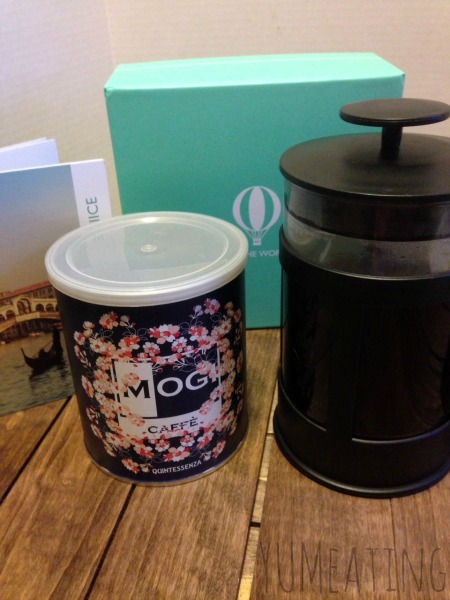 The taste was bold, but not bitter or strong. It was smooth. I added a packet of raw stevia and a splash of milk. There is a taste there that I just can't quite put my finger on. I haven't had coffee (to my knowledge) that was made in Italy, so I'm sure there is something within their process that I don't know much about. But it is delightful.
A day later Mr. Yum and I had a dinner 'date' to make this Pesto and Truffle pasta sauce with the fun box of pasta I was sent.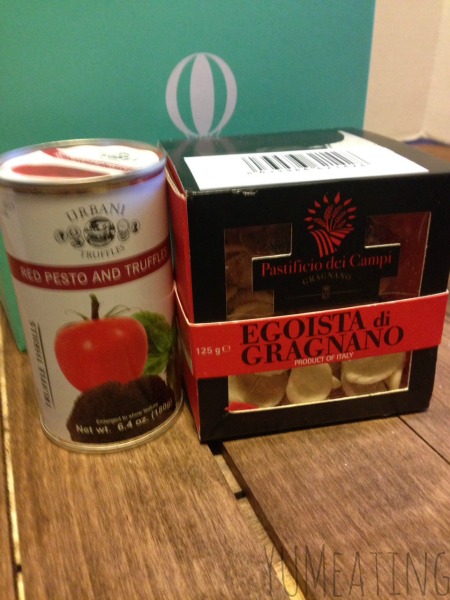 The Red Pesto and Truffle sauce was AHHH-MAZZING. This is not something I would normally buy for myself because anything with truffles in it is generally out of my price range. The pasta didn't have any instructions on the box. What little bit of writing was on there was all in Italian. The food card enclosed in the box simply said to cook al dente. The little pasta chips were interesting. They reminded me of gnocchi, only someone had stuck their thumb in them to flatten them. They took forever to cook and while some of them were well done, some were al dente, while a few were still crunchy. I was a tad disappointed because I hate it when things just don't turn out right for me.
There was not a lot in the box, so I made some thin spaghetti thinking we would want a bit more. I also made some small turkey meatballs in case the pasta and sauce was something that my husband didn't like.
Here is what my plate looked like. One side spaghetti, the other this dried (no cooked) pasta: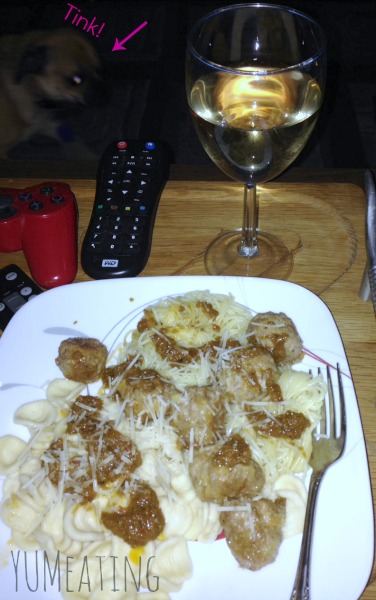 Everything turned out really yummy. Hubs didn't care for his thumb print pasta. So, I put it in a container and ate it the next day for lunch!!
Those little hazelnut nougats were not my favorite things. They were hard and just not as interesting as I thought they would be.
I still haven't tried the surprise gift of honey yet. I was going to try it in some green tea but I haven't been in a tea mood these last few days. What is neat is that Try the World sent out different mystery gifts in their boxes.
That lemon chocolate bar was something I was worried about. I didn't like the orange zest chocolate I have tried in the past and was afraid the lemon would be the same. This was not the case. I love Lindt chocolate. The sea salt is my favorite dark chocolate these days, but this particular lemon is quickly getting up there in the rankings. This is made by the Nestle Italy corporation. It has a bit of a crunch to it with just a hint of lemon. It is not overpowering at all. It's delicious. It is also one of those chocolate bars that you can break a piece off and nibble on it and be totally satisfied. I'm still snacking on it. For those wishing to seek it out, the bar is called Limoncello by Perugina.
I know you want to know more about this Try the World subscription box service.  Try the World wants you to discovered the world through food. That's my type of subscription box! They offer free shipping, free returns and the program has no contract. You are free to cancel anytime.
Try the World is offering a special to new subscribers. If you subscribe (for a limited time) they are offering the current box AND the Paris box is included for FREE. Just follow this link.
But that's not all (ummmm infomercial, sounding, yes? lol) I also get to offer you guys a 30% off code by using the code : YUMEATINGTRAVELS
The boxes arrive every other month. 
A bi-monthly subscription is $39/box which is charged every two months.
A 6 month subscription is $35/box which is charged every six months.
A year subscription is $33/box which is charged once a year.
You also have the option to purchase single boxes and gift tours.
Try the World is also offering another special (fun) offer.
Once your box arrives, take a selfie with your box for a chance to win your next box for FREE! To submit your photo follow @TryTheWorld on Instagram and be sure to tag your photo with #TryTheWorld.  (Their Instagram is full of beautiful photos too!)
In case you didn't catch the disclosure it the first few paragraphs…..I received this Venice box for free from Taste the World for review. I was not compensated for my time or this post. All opinions are 100% my own.