Frugal Friday: Dollar Store $5 Meal – Personal Pizza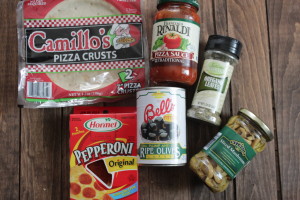 Did you know that there are multiple frugal dinner options waiting for you at your local dollar store?
I'll admit, I didn't pay much attention to the food at our local Dollar Tree, but since our grocery budget took a little hit and we have been a lot more pressed for time, I thought it would be worth the check. 
I found everything I need to make mini pizza for Mr. YUM and myself.  The crust comes in a 2-pack and all of the toppings were just $1 each.
We paired these mini pizzas with some diet sodas and a side salad made out of vegetables we already had on hand.
Quick. Easy. Cheaper than delivery and didn't take much time.