Low Carb Peppers and Bacon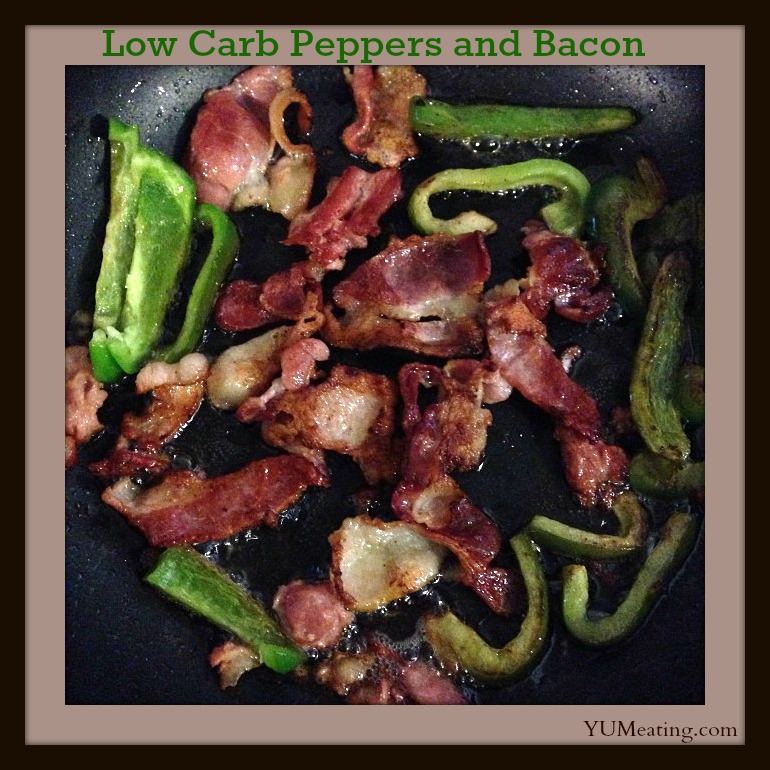 Don't mind my iPhone photo. I wasn't intending use this as a YUM post but I had so many people discuss it on various outlets I thought maybe I should do a quick write-up about it.
We do love our bacon in this house. We don't really eat it all the time as we reserve it for Saturday or Sunday morning breakfast when kiddo is here. From time to time I'll make a recipe like "Traditional Irish Potato Bread" that calls for the use of bacon grease. Sounds gross, but it's actually quite tasty. In this house I make it a point to use everything we can to stretch our dollars.
I buy ends and pieces of bacon which come in a 3lb. pack. I then divide that up and put 1/2 pound into small freezer bags. Since we only eat bacon once a week our bacon buy lasts quite a while. When the store doesn't have bits and pieces or their is a sale on regular bacon I will purchase that, cut the strips in half, and then freeze those.
I'm slowly getting back to lowering my carbs again and I needed something different to pair with my daily morning egg routine. I went ahead and whipped up some bacon for myself and then I remember I had planned on making a vegetable scramble because I had some green peppers I wanted to use.
I had this brilliant idea that I should toss the green pepper strips in with my bacon. I had one egg, about 8 strips of green peppers and 2 small pieces of bacon which was probably equal to a strip of bacon.  It was pretty tasty. I did not leave the peppers in the pan too long because I wanted them to still have some crisp. The following weekend I tossed a few in there when we made our weekend breakfast and happily ate the peppers INSTEAD of the bacon.
Whether you are trying to reduce your bacon consumption for budget or dietary needs, adding green peppers is a pretty budget friendly and tasty way to go.
Are you a bacon eater? How do you prefer your bacon?