Traditional Irish Brown Soda Bread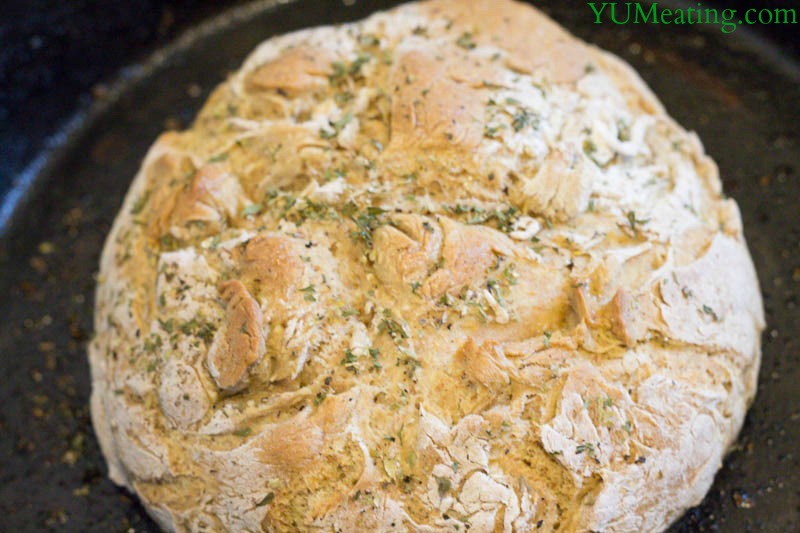 I do the bulk of my cooking on weekends when kiddo is around. Now that she is a little older I can start incorporating those life lessons in our cooking time just as my mom did when I was her age. Kiddo lives with her mom during the week and husband has such a crazy schedule that weekday meals are usually leftovers, quick prep meals or freezer meals. So I get really excited when we can have weekend family time and do a little traditional Irish cooking.
I've made plenty of traditional "Irish Soda Bread" in the past and we make it a few different ways. In my quest to cut down on some of the white flour I decided to try making some Brown Soda Bread. In the past we have always had soda bread leftover and it doesn't particularly freeze well so I cut the original recipe down to 1/4.  I mentioned in the "Traditional Irish Potato Bread" recipe that I didn't use  "Irish Traditional Cooking" by Darina Allen must in the past because it was VERY traditional. I'm not really into using ears, feet, tongues and other body parts of pigs and cows but I have come to appreciate this cookbook more as I read and spend more time with it.
I've been discussing doing my own 'Julie and Julia' type challenge in March. A full month of Irish recipes. I think I can do it it.
What do you think – am I ready for my close-up?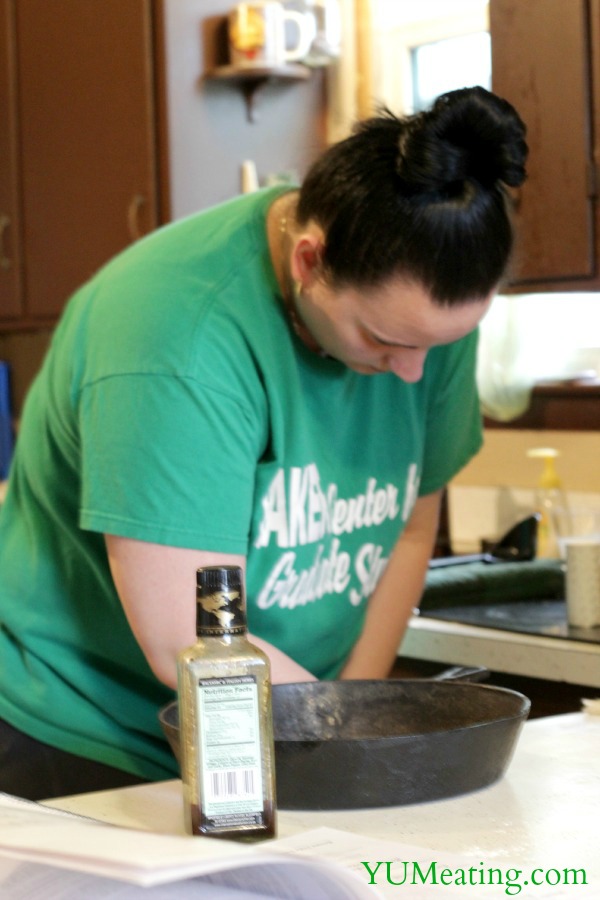 This is my beautiful step-kiddo. I had her starting the Irish brown soda bread dough. She's trying to peel it off her fingers.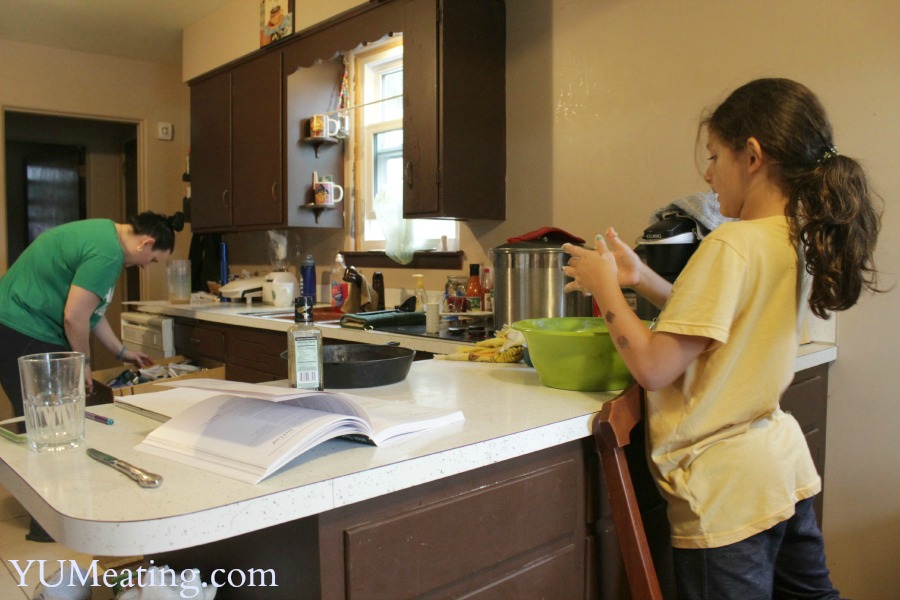 Look at that sticky mess!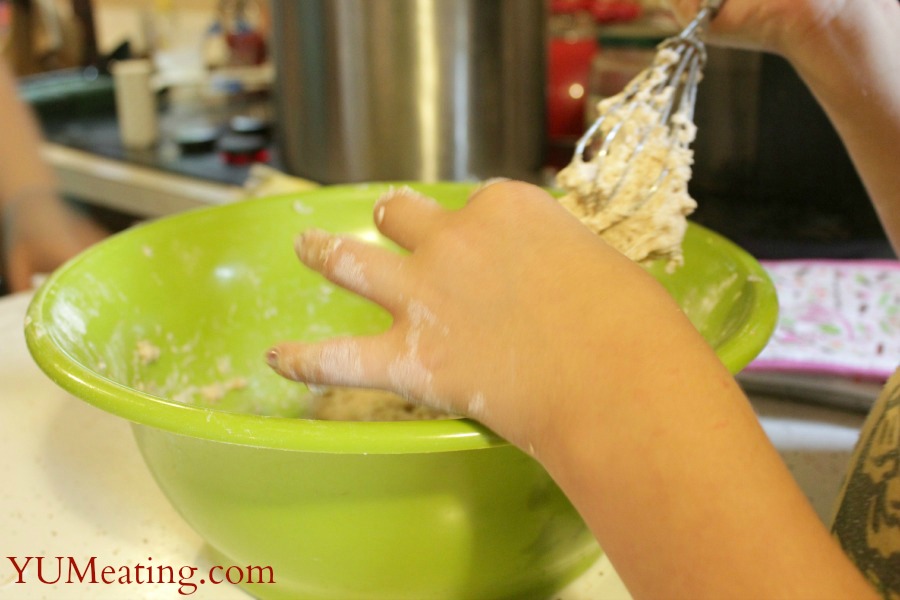 But it sure makes a beautiful loaf of bread.
I did adapt the recipe from page 216 of Darina's book. For starters I did shrink the recipe by 1/4 so you can easily take my recipe and double or triple to make a bigger loaf or to make two.  Next on my list is to make a soda bread that is all wheat. The half-and-half recipe turned out great and we were all very surprised at not only the beauty, but the taste.
Coming off of white flour and stepping into the world of wheat hasn't been hard, but the flavor and cooking is different. So far, so good.
The recipe calls for sour milk.  We all just keep sour milk around, right? To make sour milk for every cup of milk add 1 tbsp of vinegar and let it sit for a few minute. Whammo. Sour milk. Kiddo thought that was the most amazing thing. Of course she was still trying to wrap her head around the concept of why we wanted to sour our milk on purpose in the first place.
You'll notice I cook my Traditional Irish Brown Soda Bread in a cast iron skillet. I love my skillet. I would cook everything in it if I could. If you don't have a cast iron skillet you can use a pie pan, pizza pan, pizza sheet or even a baking sheet.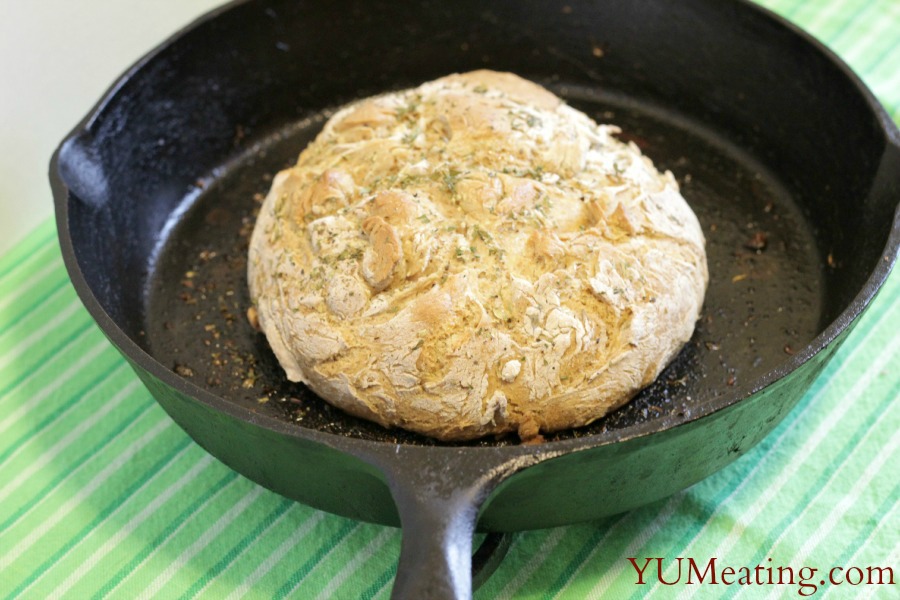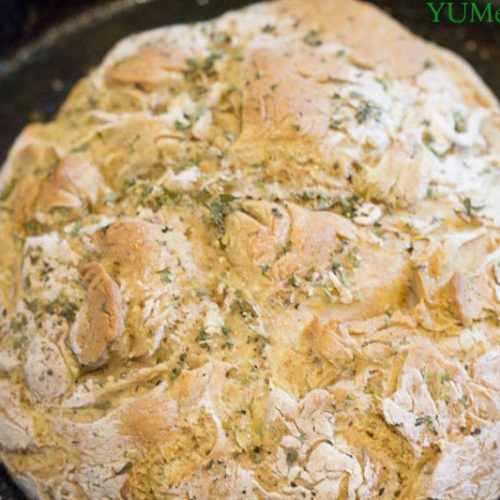 Traditional Irish Brown Soda Bread
Ingredients
For the bread mix:

1

cup

whole wheat flour

1

cup

white flour

1

tsp

salt

1/2

tsp

baking soda

1

c

sour milk

For the top of the bread:

sprinkle:

salt

pepper

oregano

parsley
Instructions
Preheat your oven to 450.

Mix the wheat flour, white flour, salt, and baking soda in a bowl.

Pour in the milk and form a ball of dough.

If you are using a cast iron skillet be sure to oil your pan, for this recipe an oil mixture of balsamic vinegar and Italian herbs pairs nicely.

If you are using a baking sheet use non stick cooking spray or put some oil on a paper towel and wipe your sheet with it.

Place the dough ball on your pan/sheet and slightly press down to form the soda bread shape.

Make the criss cross shape to bless your bread.

For a loaf of bread this size bake for 10 minutes.

Sprinkle with the salt, pepper, oregano and parsley.

Reduce the temperature to 400 and cook for another 10 minutes, or until the bread is cooked.

You will know your bread is done when it sounds hollow when tapped.