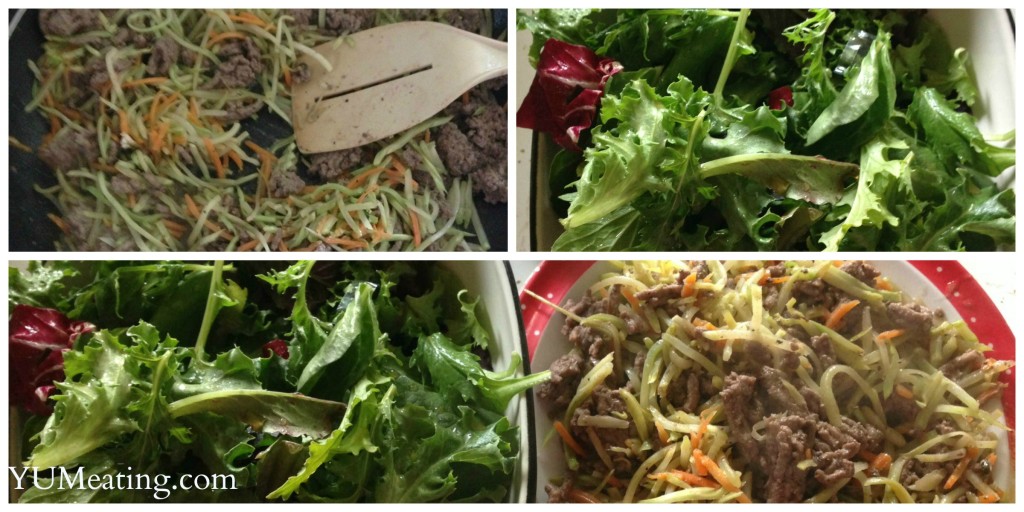 One of the low-carb recipes I recently tried was " 'Crack' Slaw" and I had to adapt it from this recipe (known as 'Crack' Slaw in the interwebs) to suit my taste buds. I may have mentioned in the past, I never seem to follow a recipe and its rare that when I  make something again I do it the same way twice – unless I remember to write it down. I have gotten better over the years about making notes in my cookbooks. (sticky notes are great!)
I used 1 small pack of premade coleslaw mix which was cabbage and carrots.
First I cooked the hamburger with some pepper, onion powder and garlic powder. I stay away from as many salt based products as possible. Once that was cooking, in another pan I added some cooking spray and lemon juice. I like my vegetables with a little crunch, so your cooking style here can change. When my ground beef was done I added it to the cabbage mixture.
Topped it off with a pretty salad (organic). Pretty darn good.
The recipe has been updated with optional ways I have made it.
Nevermore Lane's version of 'Crack Slaw'
Ingredients
1

package premade coleslaw mix

1

pound

hamburger

salt free seasoning

pepper

diced fresh onion or onion power

diced fresh garlic or garlic powder

squeeze a fresh lemon or lemon juice

cooking spray
Instructions
In one pan begin cooking the hamburger on low to medium heat.

Add the salt free seasoning, pepper, garlic powder and onion powder to taste.

In another pan add cooking spray.

Add the coleslaw mix and lemon juice. Cook on very low.

Drain grease from hamburger mixture and add to coleslaw mix.

Cook until desired tenderness of vegetables.

Season to taste.