Restaurant Success by the Numbers by Roger Fields, CPA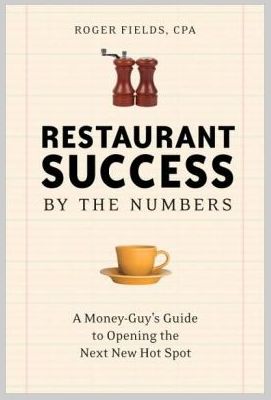 When I first decided to read "Restaurant Success by the Numbers" I was not expecting much since it was written by a CPA. Sure, a CPA does the books, might know a thing or two, but unless they have actually opened a restaurant, how are they going to know it's true successes and failures? As an accountant myself, there is only so much the numbers tell you.
Since starting YUMeating, I have become much more interested in all things food and restaurant related. Before starting the site, my family and I used to always talk about maybe some day opening our own restaurant. Every time we would see a vacant building we would discuss how neat it would be if we could open up shop there. Restaurants are expensive businesses to start. It never seemed like something that was possible for us.
Over the summer we discussed opening a food truck and traveling around the area to events and festivals. My mother has a neighbor who does this and he makes great money just working a few days a week. We started looking into some costs for consideration. Not sure if this is something we will ever do, but its not to think about for a family business.
When "Restaurant Success by the Numbers" came up for review, I knew I have to give it a go. I was curious to see just how the numbers stacked up.
The biggest myth in the industry is that 90% of all restaurants fail and that simply is not the case. Roger Fields breaks down all the myths and truths any person thinking about opening their own restaurant could have. He then breaks down the numbers. I also learned when the book was delivered was that Fields is also a restaurant owner and consultant!
What I also liked about the book is that he also discuses things like location, the concept of how the inside should look, staff and how to keep your place open the first year. It also discusses food trucks and how to use social media and discount sites to your advantage.
This book is realistic. No fluff. For some, it might be a bit technical of a read but it should be at the top of your list if you are thinking about a restaurant or food truck.
The fact that it is a rather meaty book full of real life information some folks might find it boring. In the same breath, if that is you, perhaps opening a restaurant really isn't what you should in life.
Great reference and a great how-to. Definitely I book I'll keep around.
Disclosure of Material Connection: I received this book free  from the publisher as part of a review program. I was not required to write a positive review. The opinions I have expressed are my own. I am disclosing this in accordance with the Federal Trade Commission's 16 CFR, Part 255: "Guides Concerning the Use of Endorsements and Testimonials in Advertising."