Skinny Rustic Italian Gnocchi Soup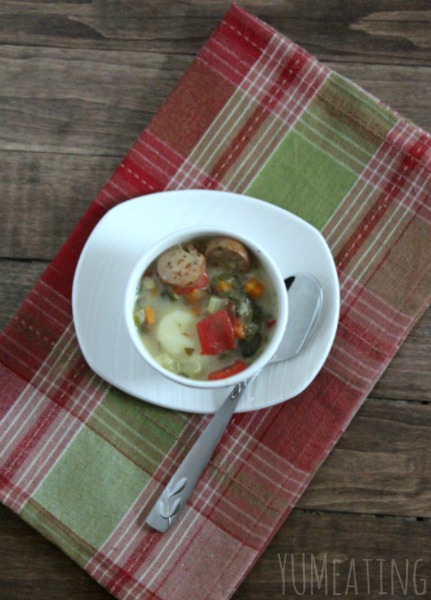 New year. New recipes. Healthier me. At least that is the idea anyway. As the last few days of 2014 slowly passed me by, I found myself at a crossroads. It wasn't pretty. I knew I had to make some changes in life, so I collected myself and started to chip away at the things that I needed to do in order to create a new path. One of the things I need to chip away at is my weight. Carrying this extra weight around isn't doing me (or those around me) any good. I considered going back to Weight Watchers as I am a Lifetime member and would love to be another success story. Problem is, the weather is going to turn to crap at some point. I have been fortunate that my area hasn't seen but a few flurries here and there. I know I won't go to meetings. I tried a few years ago and once it got cold, I stopped getting up to go in the mornings. I tried the online program a few times and would just not log my food. I'm a little old-fashioned. I lost my weight with WW so long ago, they didn't even have etools! 
This time around I am making small changes. I feel that if I try to do it all at once, I'll get overwhelmed and quit before I am even ahead. I tried going back to writing down what I eat, then I forget. I have tried MyFitnessPal for years. I log when I think about it. I know something here needs to change and that is what I am going to work on. I have gathered all my Weight Watchers materials, my healthier cookbooks and started to seek out some inspiration. Then, something landed on my doorstep.
How many of you have heard of Gina and her SkinnyTaste blog? I bet you have seen some of her amazing stuff on Pinterest and didn't even know it was her. On one of my multiple attempts to restart Weight Watchers there weren't hardly any recipe blogs. That's why she created the site. When I did Weight Watchers the only person we would talk about is Lisa Lillian, AKA Hungry Girl (and wow! has she come a long way since then.) Well, I am a huge fan of SkinnyTaste and have tried a few of her recipes over the years. My most recent was the Skinny Pot Pie Soup. In recent years she advocates more for healthy eating and everything in moderation, but she still gives credit to the program that put her on the healthy path.
Talk about some serious nomage. #nomnom
Ok. Ok. Enough about WW. What does this have to do with SkinnyTaste? Well, I am sooooooooooo excited that the publishers just adore YUM eating so much (Ok, maybe that is a stretch, but it sounded good.) The publishers sent me a copy of Gina's first cookbook with over 125 brand new SkinnyTaste recipes.
This cookbook is gorgeous y'all. I mean, I have a ton of cookbooks. I hate ones that don't have photos, with the exception of the really old ones that were my grandmother's and mothers. I am not a fan of cookbooks that don't have pizzazz and zip to them. When I sit down to look at a cookbook I treat it as if it were a best-selling novel. I want to feel what the creator is feeling. I want photos that make my mouth water. I want stories and tips that go along with the recipes. I don't want your same old boring basic cookie cutter copy paste cookbook.
The SkinnyTaste Cookbook took my breath away. Gina Homolka nailed it. The photos are large, the pages are thick, and the hardcover is solid. Much like a photograph coffee table book. Only, with recipes. She also sprinkles tips and tricks throughout the book, along with stories. Perfect.
Here is where I am supposed to give some sort of disclaimer about the book. Yes, I got it for free. I wasn't required to write a review here on YUM eating. I was only required to write a review for the publisher. I didn't have to create any recipes from the book. But, I did. I made a few already and have some more I want to try. I mean, how could I not?
So, now that I have gushed on and on and on (hey, is this my longest post to date?)  – let me tell you about this gnocchi soup.
This isn't your typical I'm-going-to-be-starving-in-20-minutes broth based soup. This soup is warm and inviting. It's really easy to make and it's quite filling. Now, I know gnocchi doesn't really seem like its super healthy. And, it's not. When you eat it as your main meal. But, because we are pairing it with chicken sausage and vegetables you are going to get more bang for your buck.
Per usual, I didn't make my recipe exactly like hers but her Rustic Italian Gnocchi Soup, which you can find on page 70 of the cookbook. It's not available on her website. Sorry folks.
I don't follow directions well and that is ok. My soup turned out really well and I am happy about it.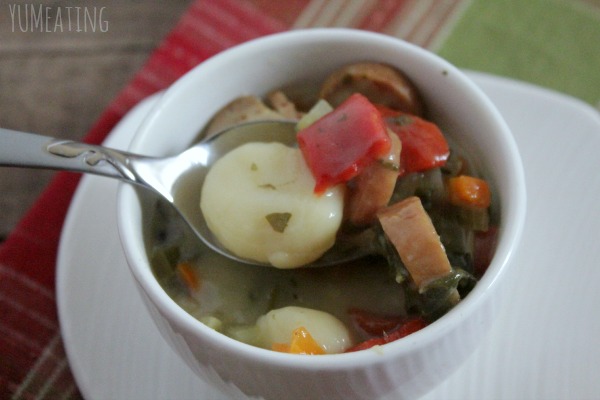 A few notes, my store did not have "Italian" chicken sausage links. I am not sure what flavor they were but they were seasoned. It was the only kind they had. They also did not have removable casings, so while Gina's recipe called for just the insides of the sausage, I sliced up our links.
You can use raw red bell peppers. I had a jar of roasted red peppers on hand, so I used those instead to keep our expense down. Got to stick to that grocery budget!
Be sure to keep your cheese wrapped tightly. Hard cheeses last a lot longer but you won't be happy if you see moldy cheese!
In her recipe she made a slurry and set it aside and did not add until later. I made the slurry first and just added it to the pot. Worked fine.
Skinny Rustic Italian Gnocchi Soup
Ingredients
3

TBSP

flour

1

cup

cold water

divided in half

1

package Chicken Sausage links; sliced

1 pack has about 5-6 links

5

cups homemade chicken stock

or you can use the canned version, try to use low sodium

1

cup

fat free milk

1

small onion

chopped

2

celery stalks

chopped

2

carrots

pealed and sliced

4

garlic gloves

minced

1

TBSP

of grated rind from Parmigiano-Reggiano cheese

1

jar of roasted red peppers

drained and lightly rinsed

1/2

tsp

pepper

and more as you'll add more as you go

1 - 16

oz.

package of Gnocchi

3

cups

raw spinach

chopped

2

TBSP

fresh basil

chopped

Optional - freshly grated Parmigiano-Reggiano cheese for topping the soup
Instructions
Using a dutch oven you are going to create a slurry using the flour and 1/2 cup water.

Pour them into your dutch oven (or large stockpot) and which the two together on low heat.

Continue whisking until your flour becomes just a tad darker in color. We are not trying to make a rue.

Add 1/2 cup water, chicken stock, and milk to the dutch oven.

Slowly bring to a boil.

While you are waiting for that to boil you can start cooking the chicken sausage.

Put the chicken sausage in a pan and begin to cook on medium heat.

Cook until slightly browned on both sides, about 4 minutes and then set aside.

Once your dutch oven mixture starts to boil, reduce heat, add the onion, celery, carrots, garlic, Parmigiano-Reggiano cheese rind, roasted peppers and 1/2 tsp black pepper.

Continue to stir.

Turn the heat back up and return to a boil.

Partially cover the pot once the soup boils and reduce heat to low.

Allow soup to simmer until vegetables are soft, about 15 minutes.

Continue to stir.

Once your vegetables are tender add the chicken sausage, gnocchi, spinach and basil.

Continue cooking until the gnocchi floats to the top. They'll become fluffy and your soup with start to thicken.

Season with more black pepper to taste.

Once gnocchi has floated to the top, you're ready to serve.

Using a large spoon or ladle, place soup into bowl and garnish with grated cheese.
So what do you think? Sound like something you'd be interested in trying?