YUM eating now on Yummly!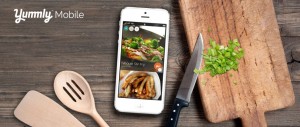 Here ye,
Here ye,
I have an announcement. For your viewing pleasure I have added YUMeating to Yummly. If you are not familiar with Yummly, think Pinterest meets FoodGawker.  Ever since I posted the list of 270+ places to make money blogging, I have been looking for ways to make 2015 a better year for YUM. My baby just finished her 1st year in the blogosphere and I am seeking new levels this year. I know what worked and what didn't. So, those things that didn't, I am scrapping them and moving on to something new.
One of the things I am trying to do is get my posts into the hands of more viewers. So how am I going to do that?
By promoting YUM on sites that matter. I am going to try to add new sites through the year. I don't want to add too many at first though, otherwise I will have a hard time working it into my routine.
Adding Yummly! was an easy choice. If you already have the bookmarklet then feel free to add the YUM eating recipes that inspire you. If you have a Yummly! account (or even if you don't) I have the Yum! social share button location in the sharing section at the end of every post. It's just another way for me to get my recipes and photography to another set of eyes.
Here are a few cool pieces of information about Yummly:
Founded in 2010
Over 15 million unique monthly users
Fastest growing food site on the net!
They have a unique filter that allows you to search for exactly what you want (and exclude the stuff you don't want)
Recommendations are based on your taste preferences
You can save and share your recipes
Organize you recipes
Enter what's hiding in your pantry and watch Yummly find a recipe for you
iPhone app available
Recipe creators and food bloggers – I encourage you to put a Yummly button on your site and sign up to be a publisher. Get your recipes over there folks and starting yum-ming.
PS – this is not a sponsored post.