Skinny Loaded Baked Potato Soup
Growing up, potato soup was one of my favorite dinners. My mother didn't really believe in anything but whole milk and butter. So, her version wasn't something I wanted to continue to eat as I try to get healthier. Every winter I have a craving for potato soup and over the years I have pinched calories where I could. When I posted about the SkinnyTaste cookbook and the Skinny Rustic Italian Gnocchi, I mentioned there were some more recipes coming from that cookbook. 
While flipping through the pages and drooling at every last photograph I stumbled on the recipe for the Too-Good-to-Be-True Baked Potato Soup on page 58; which you can also find on Gina's SkinnyTaste website. I like that the cookbook has a few favorites from the website – with new photos. I can't tell you enough how gorgeous this cookbook is. It's been a long time since I have been this thrilled with a cookbook. I think the last cookbook I really raved on about for days was Melt.
Normally I don't follow recipes. This one I felt I had to. I did use a couple of different ingredients which is pretty typical for me.
She used 2 potatoes, we used 3-4 small.
Instead of fresh cauliflower which is outrageously priced this time of year we used a 12oz bag of frozen.
Instead of canned chicken broth I usually use my own homemade chicken stock, but I'm out. So, I used a low sodium chicken flavored soup starter and seasoning.
She used 1% milk, we used skim.
Instead of chives, we use green onions.
I used a food processor because I made this before Christmas. Gina uses an immersion blender in her recipe. Mr. Yum got my immersion blender for me for Christmas.
No too much of a change. Same, but different.
As we know, potato soup can take a long time. When I make regular potato soup I cut the potatoes into chunks and boil them while I work on the creamy soup base. Then, I add the potatoes to the soup base. Reduces cook time. What can I say? I don't have much patience when it comes to cooking.
Well, I know that even with skim milk, potato soup is still rather high in calories if you add enough potatoes to make comforting.  Well, as you can see, there is cauliflower in this recipe. I was wondering how I was going to get my husband to eat cauliflower. He will eat it raw, but can't stand it cooked. As I started preparing the frozen florets in the food processor I was saying a little prayer in my head that he was going to like it, otherwise I was going to eat an entire pan of soup all on my own.
I cooked. I prayed. I blended. I prayed some more. I boiled. I prayed again. All the while, kiddo and husband were glaring at me.
I crumbled up the bacon. Dinner was done. I plated. I served.
I waited.
That wait was pure agony I tell you.
I sat down with my own bowl. We prayed as a family.
I waited. I breathed heavily.
Kiddo chimes in with yums and slurps as my eyes were fixated on Mr. Yum.
Take a bite already!
He takes a bite.
Oh no. He hates it. What have I done?
"This is good," he says to me with a smile.
Yes! Success!
He liked it so much he had another bowl.
That was music to my ears.
Maybe healthy eating won't be so bad for him after all. 🙂
He did say that he could still taste a little hint of the cauliflower, but it wasn't bad.
I am thrilled because this soup was amazing. The warm cream, the string of the melted cheese, little bits of real bacon – all of it was so comforting.
Not quite moms. But, it's my own.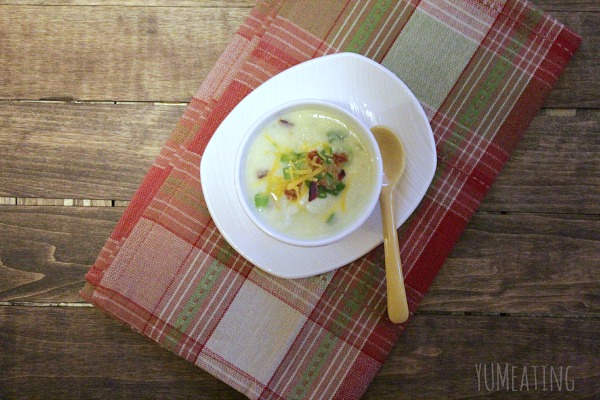 Skinny Loaded Baked Potato Soup
Ingredients
3-4

small baking potatoes

12

oz

frozen cauliflower

2

cups

low sodium chicken broth/stock

1 1/2

cup

skim milk

2

stalks of green onion

diced

dashes of salt

dashes of pepper

a sprinkle of reduced fat cheddar cheese for each bowl

4

slices

of thick sliced center cut bacon

cooked and crumbled
Instructions
Wash the potatoes and use a knife to stab a few holes in each of them.

Wrap with plastic wrap and microwave on high for 7 minutes, or until done. Some microwaves may only take 5 minutes.

Set aside and let cool.

When they are cooled, I cut them in half - long ways.

Flip them over so the skin is up and the flesh is down.

Push.

Your skin should slide off.

Once you have removed the skin of your potatoes, chop and set aside.

Boil your frozen cauliflower according to your package directions.

Drain and set aside to cool.

Using a large stock pot or dutch oven add the broth, milk and potatoes.

Bring to a boil.

While you are waiting for your pot to boil, add your cauliflower to a food processor or blender to puree.

Add to the pot.

Whisk.

Add the sour cream. a sprinkle of the green onions, and then season with a dash of salt and pepper. Or enough to suit your tastes.

Reduce heat to low and cook another 8-10 minutes until creamy. Be sure to mix every so often so the milk doesn't start to burn on the bottom of the pan!

Once done, remove from burner.

Using a large spoon or ladle, place soup in bowls.

Garnish with green onions, cheese and bacon.
We've since made the recipe again and used 3/4 the amount of cauliflower and added a tiny potato from the bottom of the bag in that extra 1/4 place. He said it was just as good and the cauliflower taste was non-existent. That tiny potato will add more calories that the cauliflower, but it's worth it. So, if you have a picky eater, it is ok to play around with the ingredients a bit.
 Now I have to go through the cookbook again and start planning a few more recipes to try.