DIY Homemade Migraine Remedy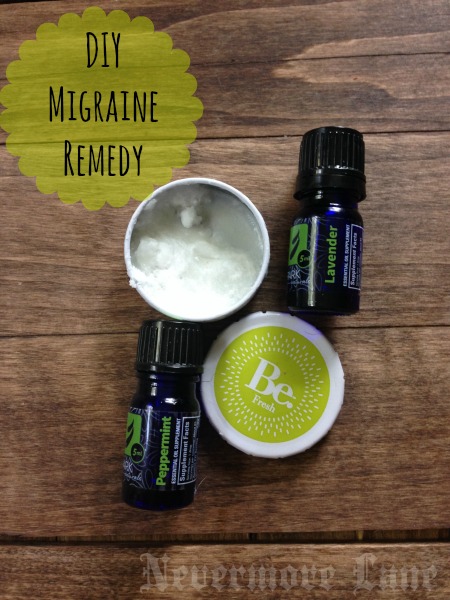 I am a chronic migraine sufferer and can remember getting headaches around the age of 9. Over the course of my life I have tried pretty much every single over-the-counter and prescription medication there is. They either don't work, give me multiple other problems, or overall make me feel like crap. I'd soon much rather just suffer through the migraine. My headaches are manageable and tend to go away rather quickly. My migraines on the other hand are not quick nor are they easy to deal with.
A migraine will put me in bed. Pretty much for the entire day. I have to be cold. I have to be in the dark. And, no one can make noise. Because the meds don't work I would just lay in bed all day with an ice pack waiting for it to run its course. I did a lot of sleeping. Sometimes it hurt so bad I couldn't sleep. So, I would just lay there. The following day I would have what we migraine sufferers call the headache hangover. Because a migraine zaps so much out of you, it takes another 24-48 hours for your body to recoup.
Migraines have caused me a lot of grief in my work life as well as personal life. It's not so bad now that I am able to work from home. I don't have to feel the guilt of calling in. But, I do miss out on a lot when I am unable to work. My income depends on me, not my employer.
I knew there had to be something out there that would work for me. I tried natural supplements, headache salves purchased from stores and plenty of other lotions and potions. I remembered there was some holistic treatments I had tried in my 20s (I'm going to be 4o this year *gasp*) so I wanted to get back to that.
I've been using this homemade remedy for a while now. It's my go-to when I feel the first signs of pain. I place it all over my neck, chest, and the back of my neck. Sometimes it takes care of all of the pain and my headache or migraine is gone. Other times it greatly reduces the pain that I don't have to be in bed. It has been a while since I have been stuck in bed with a migraine. So long now that I can't even remember when. I guess that is a good thing!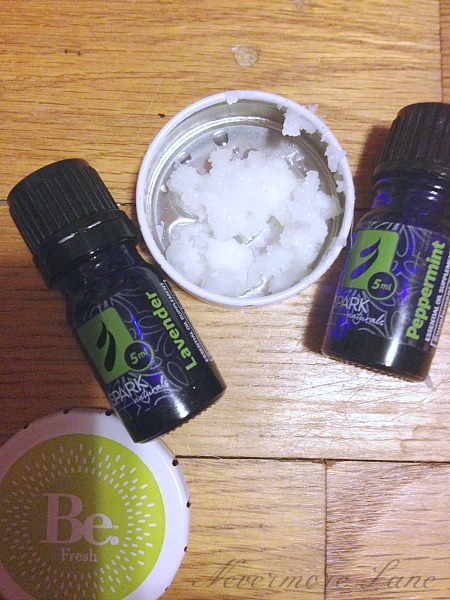 I've had a great friend send me some samples of Young Living's peppermint, but it was out of my budget and I did not want to get involved with an MLM company. I've tried too many of them over the  years and just haven't had much success. I stumbled on Spark Naturals. It was important to me that I find a company that I could easily shop from home. I live in a rather rural area and natural stores are rather hard to come by. The closest one is really expensive since it is located in a tourist town.  I'm not convinced that cheaper is always better so I wanted to compare it to the Young Living sample I had received.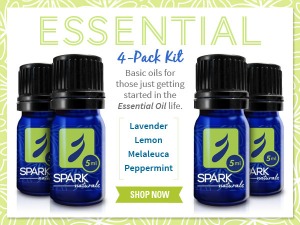 Armed with my coupon I decided to give the 4-Pack Essential Kit a try. The Essential kit comes with Lavender, Lemon, Melaleuca, and Peppermint. I knew from research, books, and past experience that all 4 of these oils had wonderful uses so I would be able to get my monies worth.
While I do like Young Living oils, I firmly believe that folks can use more than one brand. For example, I was gifted some YL Joy and I am really enjoying it.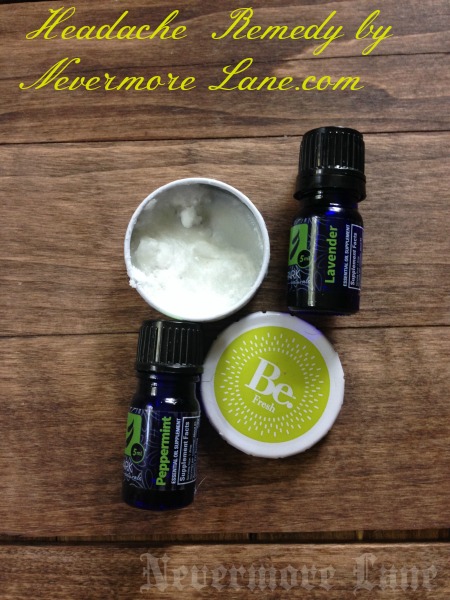 Using a small container (Altoids tins are perfect for this) mix some coconut oil (the kind you use to cook with since it gets hard), 2-3 drops peppermint oil and 1-2 drops of lavender oil. Mix well. I keep mine in the refrigerator ready to go when I need it. I put lavender in mine because of its calming properties.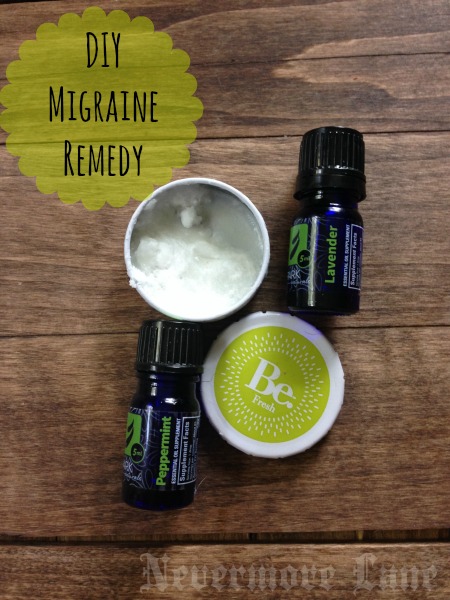 DIY Homemade Migraine Remedy
Ingredients
1

empty tin

1

tbsp

coconut oil

2-3

drops peppermint essential oil

1-2

drops lavender essential oil
Instructions
Make sure your tin is clean if you are re-purposing.

In your tin (or jar) add the coconut oil and then the essential oils.

Blend well.

Keep in a cool, dry place.
I am extremely happy with the Spark Naturals brand and happy that this method is so much better than popping pills and the risk of damaging my liver and kidneys.
If you are interested in Spark Naturals I am offering you a 10% coupon. Just enter CHRYSTAL at checkout.
PS: If you are a chronic pain or chronic migraine sufferer, here are a few books that helped me in my journey.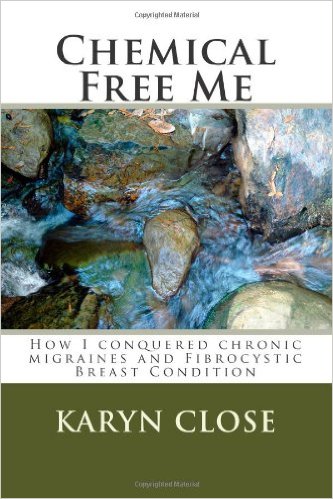 Chemical Free Me : Karyn Close was born and raised in rural America. She's a proud homeschooling mom of a beautiful daughter and is constantly striving to provide the very best that she has to offer her daughter. After 20 years of research, trial and error and a relentless pursuit in finding answers, Karyn has found the secret to ridding herself of chronic migraines. She shares her journey that involves self-discovery and the realization that living simple, organically and frugal is much easier than paying a dear price later on down the road.

Nearly 1 in 2 Americans suffer from some chronic condition―either an illness like fibromyalgia or conditions such as migraine headaches or chronic neck and back pain. With numbers like these, it's fair to say we have a health crisis on our hands.

Respected therapist H. Norman Wright, along with Lynn Ellis, a researcher with firsthand experience with fibromyalgia, lupus, and chronic fatigue, shares practical, hopeful answers for those who suffer from what are often called "invisible illnesses."

Readers will benefit from realizing they are not alone even if others don't understand what they are experiencing. They will also find

helpful ideas for managing relationships with their doctors and their families
insight into God's perspective and caring for those who suffer
practical ways to manage the stress, fear, and depression that often comes with chronic illness

Coping with Chronic Illness is the perfect resource for those who struggle as well as for their families and friends, lay counselors, medical professionals, and pastors.
Need a travel bag to bring your oils along?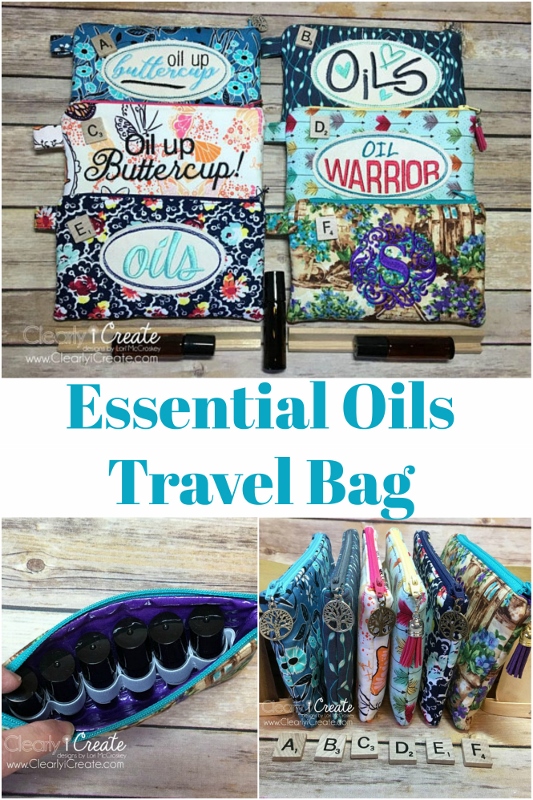 Grab your essential oils travel bag ! Handmade with lots of love.
Disclosure : Links are affiliate links through ShopStyleCollective and  MagicLink. They are hands down my new favorite linking option now. Saves me so much time and energy from hunting down store and product affiliates, not to mention signing up for affiliates and pays so much more than Amazon. Plus, all of the products you find on the net are located on MagicLinks. If you are not familiar with this type of program to earn money from your own website, I highly suggest you check them out!  Other links are through SparkNaturals.
Note: I am not a medical professional. This is not an intent to treat, diagnose or cure. Please check with your medical professional.