Shrimp and Spaghetti Squash Marinara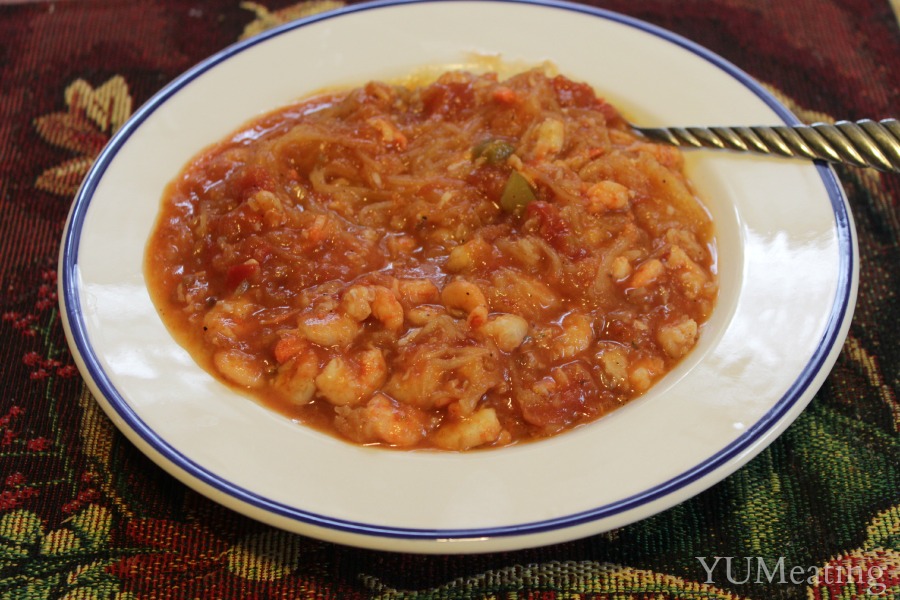 Just a quick post today. I have a dentist appointment. This will make the 3rd week in a row and the 6th or 7th time in the last 3 months that I have had to go to the dentist. Good grief. On a positive note I don't think I will have to go back until March when I am scheduled for another teeth cleaning.
When I'm able to catch some spaghetti  squash on sale I will pick up a couple. I seem to be the only one in the house that likes them but since they are so easy to cook I don't mind cooking it on the side while I prepare some whole grain pasta for the husband or kiddo.
I'm not kidding you when I tell you this is frugal, quick, and easy. It contains three ingredients even though it looks like a whole lot more.
First, a simple spaghetti squash. Pure, whole, and clean. Then you just need a bag of those tiny frozen shrimp. At Kroger they are the "salad" variety I believe. The Marinara sauce is actually the homemade canned tomatoes we made during canning season.
For the squash I cut mine in half lengthwise. Spread a little olive oil on the flesh and place on tin foil covered backing sheet flesh side down. Bake at 350 for about 20-30 minutes or until the flesh is tender. The skin should peel right off. Flip over and scoop out seeds. Using a fork pull the flesh. It should be stringy and long. This will be your 'noodle' base.  If I am making pasta for the family I will start that while the squash is baking.
For the shrimp I just toss a few in a skillet with some butter, pepper, oregano, garlic powder, and salt free seasoning. They only take a minute or two to cook since they are so small. I put these on top of my squash. I'm the only one besides kiddo who will eat shrimp. The husband will if he's in the mood. I usually go ahead and cook the whole package and if no one else eats them I have lunch the next day.
For the sauce I use the canned tomato I made. For 1 dish I use 1 cup of canned tomato.  I add some garlic and onion powder and 2 TBS tomato paste to thicken in up just a little.  Since this is universal it can be used on the squash or the pasta. If it's pasta night I will prep the whole jar.
Sprinkle with some Parmesan cheese.
Have you tried spaghetti squash? Did you enjoy it? I'd be interested in knowing how you prepared it so drop me a few lines in the comment section below 😉