Vegan Avocado Breakfast Toast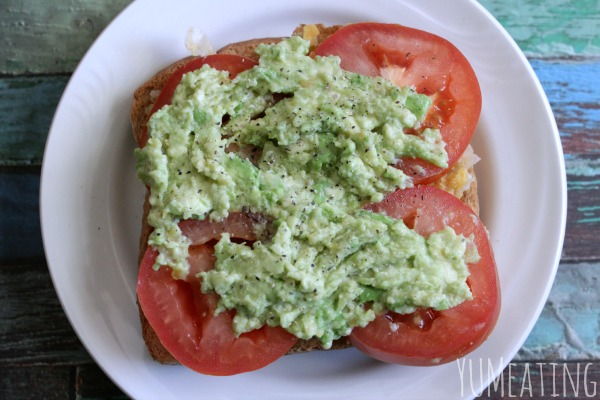 Welcome to my new favorite breakfast. Avocado's aren't really in season here right now but I was able to pick up a few the other day for 88 cents each! That's a steal. I spent some time cruising around FoodGawker recently. It's where I go when I just want to focus on food and nothing but food. Well, it's one of my places, but for the sake of not listing every single one of them, we'll just go with FG. mmmmkkaaay?
So, trying to find some recipes for avocado. I wanted something vegan that also incorporated chickpeas. I found a lot of stuff that combined the two in a sandwich, but they also included tofu. And, I didn't have that.
You know how that goes right? Never have two things that match at the same time when you really want to make something…..
So, I started thinking that tomato would be good because I have had tomato and avocado in salads. I saw a recipe on Pinterest that had some smashed white beans on toast. So, I thought perhaps I could swap out the white beans for chickpeas.
And I did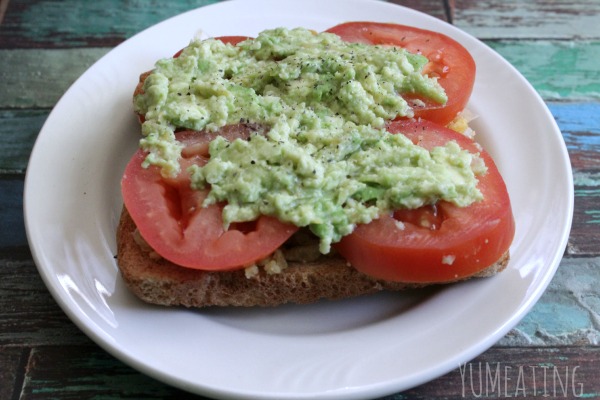 Now its my new favorite breakfast.
I love it when things work out for me.
I used to hate staring at sites like that, knowing my eats and probably photos would never be as good as theirs. These days, I don't mind so much because I am good in my own special way. 🙂
Vegan Avocado Breakfast Toast
Ingredients
1

pc whole grain or sprouted bread

toasted

1/4

c

organic chickpeas

warmed and smashed

salt

pepper

garlic powder

1

drop of extra virgin olive oil

1

small Roma tomato

sliced

1/4

small avocado

removed from peel and smashed

lemon juice
Instructions
Toast your bread.

While you are waiting for your toast you can prepare the chickpeas.

In a bowl add the chickpeas, drop of EVOO, salt, pepper, garlic powder - to your tastes.

Using a fork, smash them altogether.

Spread this mixture on your toast.

Slice a small Roma tomato and add the slices on top of your chickpeas mixture.

In another small dish add your avocado, salt, pepper, garlic powder, and dash of lemon juice.

Using a fork, smash it all up.

Place avocado mixture on top of tomato.

Enjoy.
Let's talk Vegetarian meals – got a fave?
Now that I have the food out of the way. I wanted to give an update: I'm working on part TWO of the 270+ Places to Make Money Blogging. Can you believe I have found even more options??