Recipe Review: Cheddar Jalapeno Tuna Casserole & A Fiction Short Story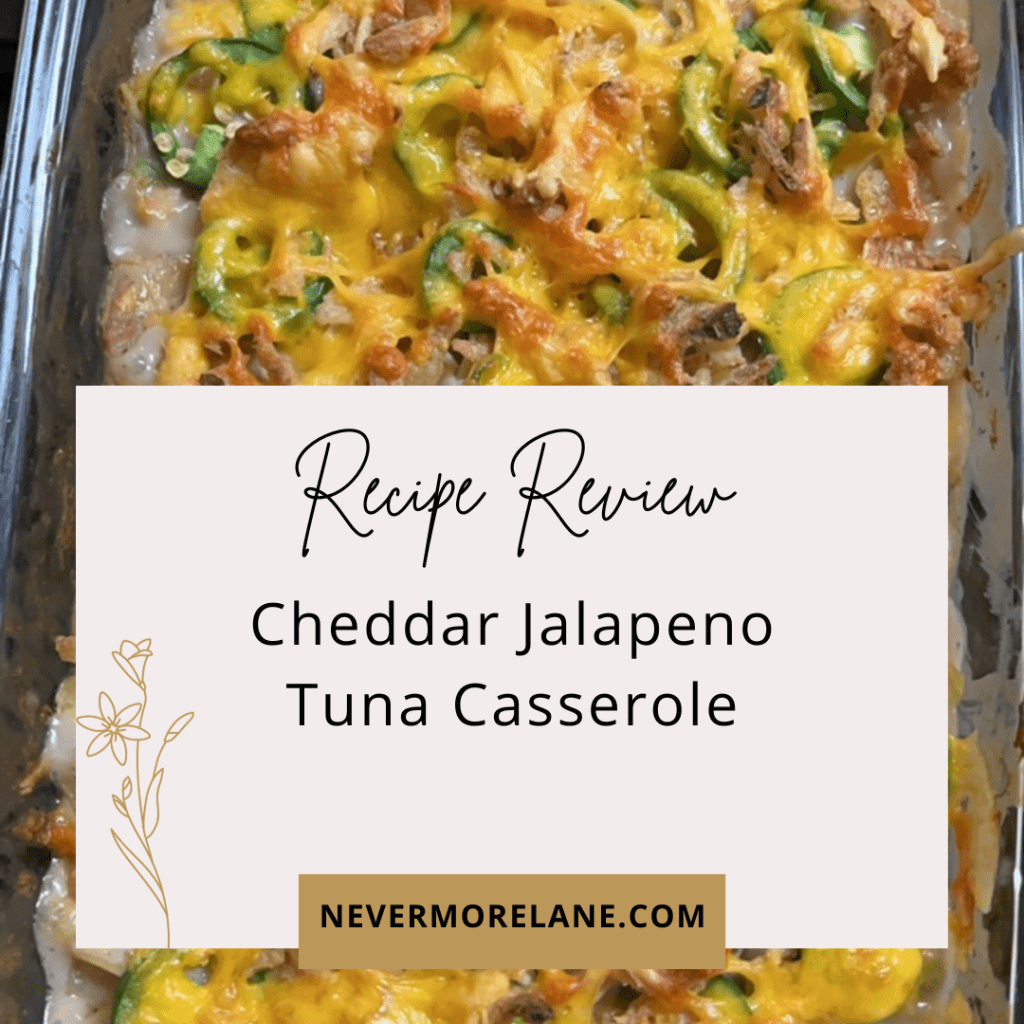 I know, I know – a tuna casserole – gross! I realize a tuna casserole is not for everyone, and that is okay. Growing up, it was a go-to easy dinner my mother made often. Campbell's recipes were big in those days, and she loved them. So, that tried and true Campbell's Tuna Noodle Casserole recipe inspired this creation. The other part of this equation, the jalapeno chips and cheddar, came from the creation by Christin over at the Spicy Southern Kitchen and her Jalapeno Tuna Noodle Casserole. 
My partner loves a good tuna casserole, and he also loves spicy things like jalapeno, so when he mentioned something about seeing a recipe where they had crushed up jalapeno kettle chips on top instead of French onions, I knew we had to give it a try since this is a comfort food meal for him, too.
This mash-up of the two recipes was easy. From Cambell's recipe, I followed the entire recipe almost to the T.  I followed their instructions.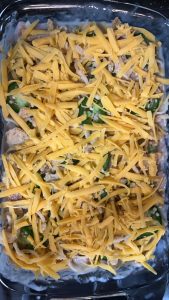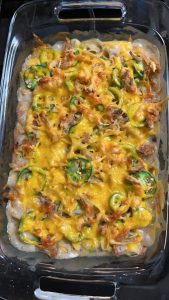 What I changed was:
Removed the canned pimento.
Swapped the 2% milk with skim milk (next time, I will opt for whole since it is so little, and almond milk just doesn't work with this recipe.)
I used the French fried onion mixed in with the casserole but added some crushed-up jalapeno chips from Christin's recipe on top before baking.
After baking, I sprinkled a few more chips on the top when placed on plates.
I replaced the Cambell's Cream of Mushroom soup with their Cream of Mushroom and Garlic soup for more flavor.
I also added the cheddar cheese and slices of jalapeno from her recipe.
The first time I made this, I did not add jalapeno slices. The second time, I did. We both decided they didn't have the right texture for this dish. Also, in case you were wondering, real bacon bits work well on top of this.
I will be making this again – and again, I am sure.
Fiction Time: The Casserole Conundrum
Lila had always considered herself an average cook at best, but tonight was different. She was determined to impress her new neighbor, Mark, with her culinary skills. She'd heard he was a food enthusiast, and Lila wanted to make their first dinner together unforgettable.
After scouring her cookbooks, Lila stumbled upon a recipe that intrigued her: Cheddar Jalapeno Tuna Casserole. It sounded like the perfect blend of comfort and flavor and would certainly set her apart from the usual casserole dishes.
As she assembled the ingredients, her heart raced. The spicy jalapenos, creamy cheddar, and savory tuna created an enticing aroma that filled her cozy kitchen. Lila was cooking with passion, determined to prove herself.
When Mark arrived, the irresistible scent greeted him at the door. He smiled, visibly pleased. Lila nervously watched him take the first bite as they sat down to eat. His eyes lit up, and a genuine smile broke across his face. "This is incredible," he said, his mouth still full of casserole.
Lila's heart soared. Their conversation flowed effortlessly, and the meal became the catalyst for a beautiful evening. They shared stories, dreams, and laughter with every bite of the delicious casserole.
As they finished their meal, Mark looked at Lila, his eyes filled with appreciation. "You're an amazing cook, Lila," he said, "but more importantly, you're an incredible person."
That night, Lila realized that sometimes it wasn't about being the best cook or having the fanciest dish. It was about the love, care, and effort put into a meal that made it truly special. The Cheddar Jalapeno Tuna Casserole had brought her and Mark closer together. As they continued to explore life's flavors, they discovered that the recipe for happiness was to savor each moment together.