Paprika Oregano Roasted Chicken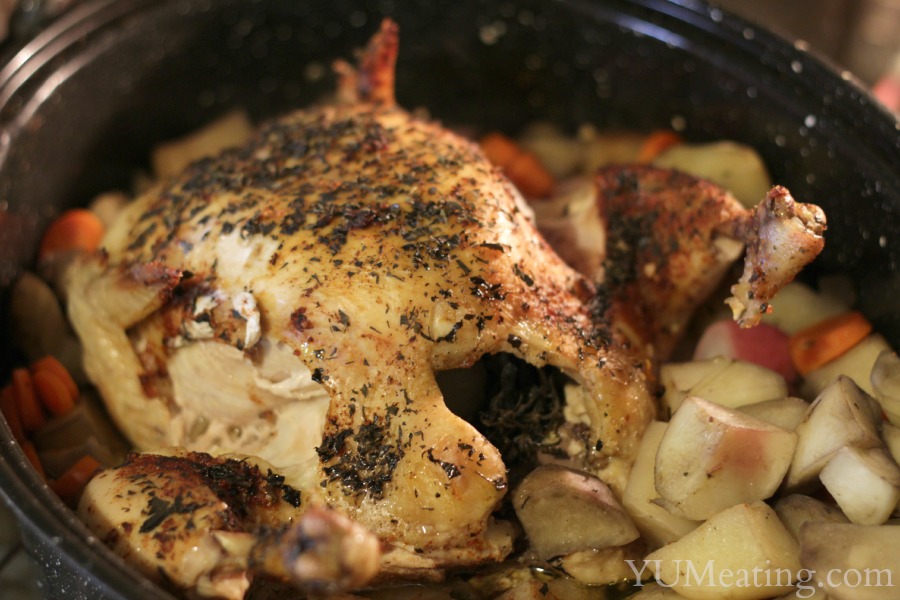 I have a thing for roasted chicken. I have already made "Homemade Roasted Chicken" once here at YUM and I will more than likely make it again. I have a knack for making things different and I wanted to share this one because I did make it a little different from the last one. Another thing to notice is that the YUM eating kitchen went live for this one. I did struggle a bit with some body image issues as I posted the bloopers the other day, but you know what? Screw it. If people have a problem with how I look they can click the close button and go watch someone else's video.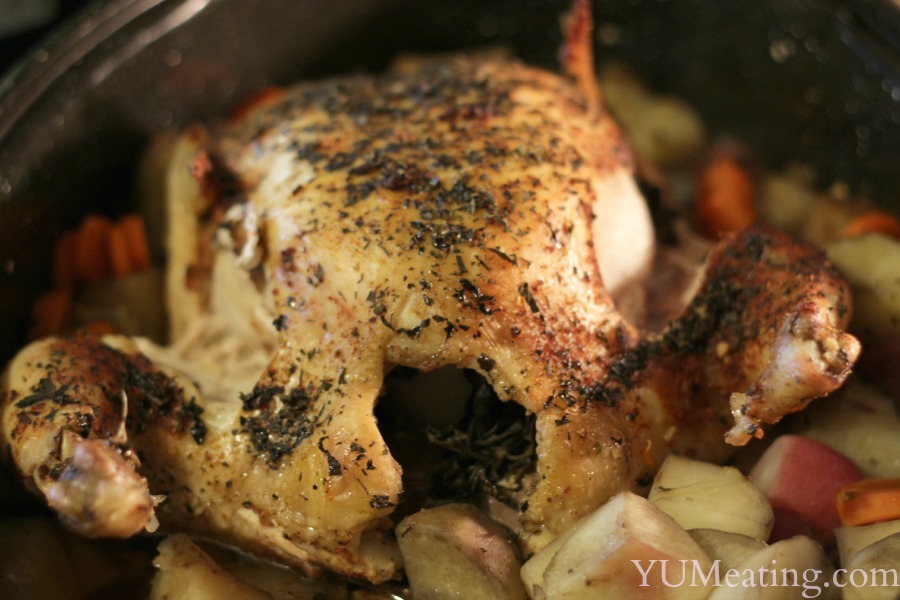 Roasted chicken is such a wonderful meal. We'll make the roasted chicken and eat it with vegetables. We always have leftovers and can make things like "Great-Grandma's Chicken and Dumplings." This recipe was prepared with some "Freezer Potatoes" which I thought was great! Helped to cut down on a little bit of prep time.
With this chickens leftovers we'll be making homemade chicken and noodle soup and I'll be adapting my great-grandmas homemade from scratch noodle recipe to make them clean. Be sure to subscribe so you don't miss those!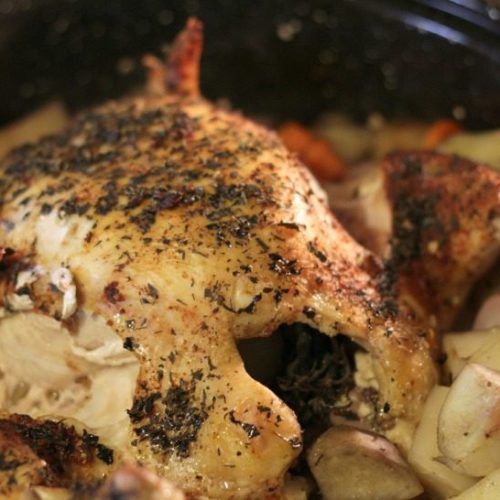 Paprika Oregano Roasted Chicken
Ingredients
1

large whole fryer chicken

4-6

potatoes

peeled and quartered

3-4

carrots

peeled and sliced

3-4

radish

ends cut and tossed in (optional)

1

onion

quartered

5

cups

of water

oregano

fresh

paprika

parsley

salt free seasoning

pepper
Instructions
Preheat oven to 350.

if you have a wire race place that in your roaster pan.

Pull all the insides out of your chicken.

Wash your chicken.

Put chicken on wire rack.

Surround chicken with potatoes, radish and carrots.

Put 1/2 onion inside chicken, separate the other half and place with potatoes and carrots.

Season the chicken with paprika, parsley, salt free seasoning, and pepper.

Take your 5 cups of water and pour this around your vegetables. This will keep things from drying out and provide you with chicken stock for gravy if you want to make some or a base for soups to create with the leftovers. If you don't plan on having leftovers you still want to add the water so your food doesn't get dried out.

Using a meat thermometer bake your chicken for 1 - 2 hours depending on size.