Anytime Chicken and Turkey Sausage Gumbo with Brown Rice
Y'all…
I'm homesick.
It will be 7 years this July that I said goodbye to the only life I had known and trecked across the U.S. I know we are supposed to live a life of no regrets, but I miss my friends who were my family like crazy.
I've been coming into contact with a lot of long lost friends over the last few months. Just recently, two sisters that were very near and dear to me. It's been amazing to catch up with them and see where life had taken them these last few years. But, getting back in touch with people from high school, college and after….well…it makes me miss home.
Bad.
And when I get like that I want to eat something that reminds me of the place I left behind. You would think that Irish food would be my comfort food, but its not. While I find comfort in making it because it gets me back to my roots and shows me where my family came from, I am a product of the South and that is where I find my comfort.
Now, I want to talk gumbo.  This time of year everyone is going shrimp and crawfish boils and while thats fine…(and YUM) sometimes I just want something comforting.
And thats where my love of gumbo comes in. The weather outside may be warmer, but this anytime gumbo can be eaten any time of year. Especially on those rainy summer nights.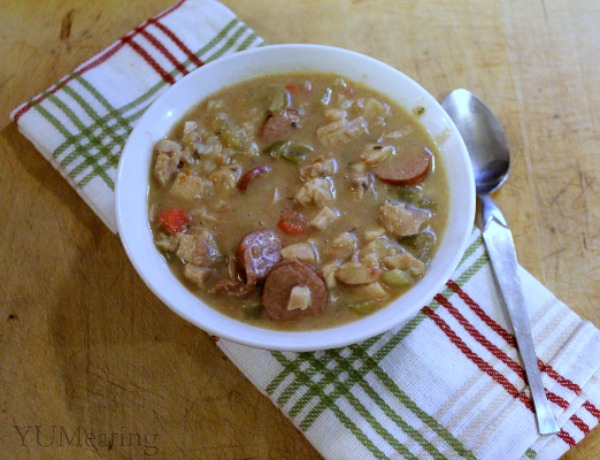 This one is adapted from an Emeril Lagasse recipe I found last fall. I can remember hanging out with my mom after work, watching Emeril like he was the best thing since sliced bread. I remember telling myself his recipes were way too fancy for me to cook and that I would never be able to master a roux or a dish that needed one.
And I never did.
Until now.
And I even made it healthier.
I started with the roux and vegetable concoction.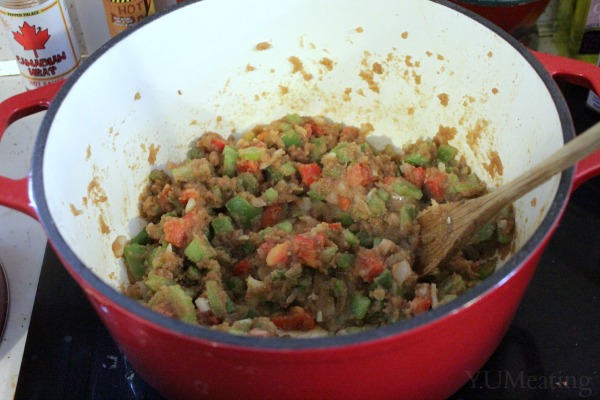 And then the broth allowed it to all simmer together.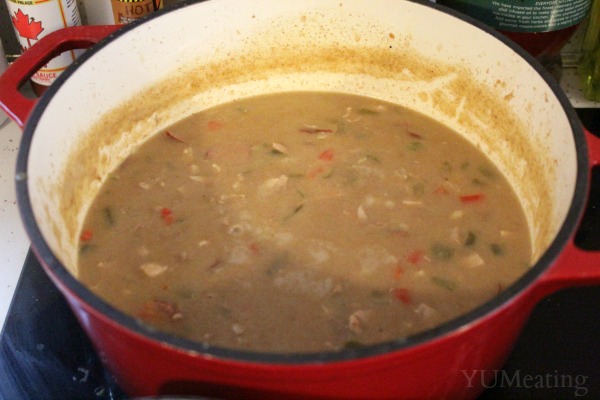 I used more vegetables, homemade stock, brown rice, wheat flour and boneless skinless chicken thighs for a lower sodium, calorie and glycemic index version of Emeril's. Although it didn't get me a trip back home, it sure was some wonderful comfort food.
Ever had gumbo? Do you enjoy it? Tell me all about your gumbo experience. Bonus points if its southern style 😉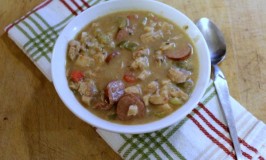 Anytime Chicken and Sausage Gumbo with Brown Rice
Ingredients
1

tbsp

canola oil + 3/4 cup

1

lb

turkey sausage

sliced

6

chicken thighs

boneless and skinless

1

cup

wheat flour

3

tbsp

butter

1/2

small onion

diced

1/2

red pepper

diced

4

stalked celery

diced

1

green bell pepper

diced

1/4

tsp

cayenne pepper

salt

2

bay leaves

7

cups

homemade chicken stock

parsley

optional

3

cups

cooked brown rice

cook according to directions
Instructions
In a large non stick or enameled cast iron dutch oven style pot heat the first TBSP of oil over medium to low heat.

Add the sliced turkey sausage.

Cook until sausage is brown on both sides, about 6 minutes.

Carefully remove the sausage and place on a plate. Set aside.

Place the chicken thighs in the pan with the cayenne pepper.

Add a little bit of oil if you feel you need it to keep the chicken from sticking.

Cook over medium to high heat until both sides of the chicken are brown. About 8 minutes.

Remove the chicken from the plan and place on plate with the sausage.

In the pan, pour 3/4 cup oil and 1 cup wheat flour. You are making a roux.

Cook over medium heat and continue stirring until the mixture becomes a dark brown.

After 20-25 minutes your roux should be the color of dark chocolate.

Add the onions, celery and peppers to the pot.

You'll cook this mixture for about 5 minutes, or until your vegetables get a little wilted.

Add the sausage, salt, more cayenne if you wish, and bay leaves.

Cook for 2 more minutes.

Stir slow and add the chicken stock.

Bring the mixture to a boil.

Reduce the heat to medium-low.

Cut or break up the chicken into chunks and add it to the pot.

Cover and cook for an additional hour.

Cook your brown rice according to package directions. Since the dried bagged variety takes about 45 minutes, you should start after your gumbo is its final stages.

Place rice into bowls.

When gumbo is done, pour over rice and serve.