5 Skinny Valentine's Day Recipes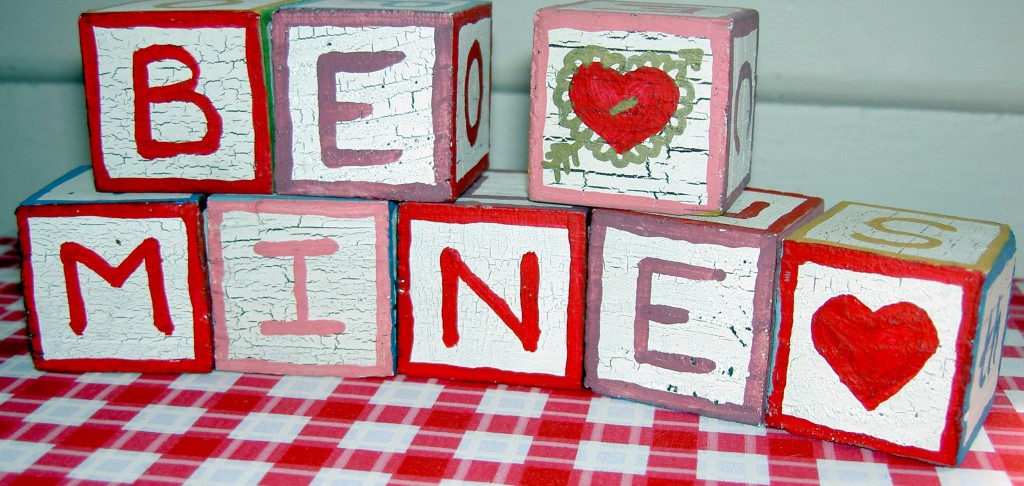 Happy Valentine's Day everyone!
I've been spending quite a bit of my time this month preparing for my own personal March Madness where YUM eating will be cooking up Irish traditional recipes and plenty of green things to celebrate my favorite holiday, St. Patrick's day so I haven't really spent a lot of time thinking about Valentine's Day. I'm actually hoping that after 6 years together my husband will decide to surprise me and take me out instead of me suggesting where to go and taking care of everything.
And, while I'm sure a lot of you already have your Valentine's Day thought out and planned, I know there are quite a few of you still working on getting something made. Don't worry, I won't tell anyone your secret.
So, I've made it easy for you. I've collected 25 yummy skinny Valentine's Day recipes from Pinterest to share them here.
Hey! I did the work so all you have to do is get to cooking!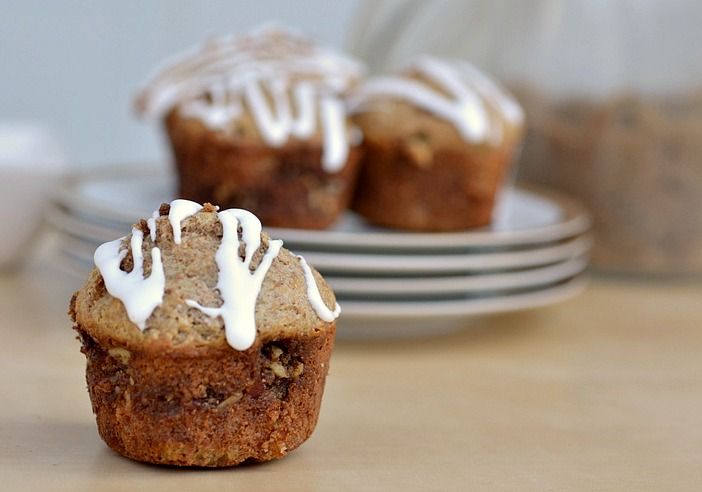 1. Coffee Cake Muffins. These cute little gems are not only healthy but packed full of good nutrition. What makes these holiday special is that they are made in a cute little heart shape. I'm totally loving them! Made out of applesauce, real butter and whole wheat flour makes these guys the top of my baking list.  I find it hard to create some baked goods with wheat flour as they tend to come out a little dryer. I have been adapting and experimenting with my recipes, but judging by the looks of this muffin it is far from dry.
Read the recipe for Coffee Cake Muffins .
Pin the recipe from The Realistic Nutritionist.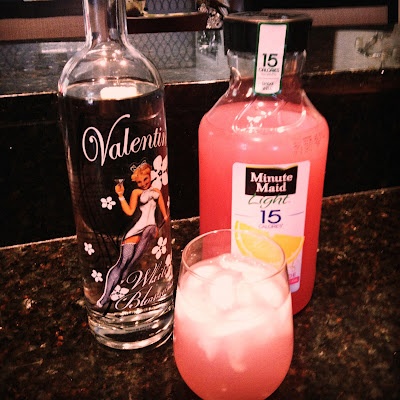 2.  Skinny Valentine. Did someone say 100 calorie drink? O. M. Geeeeee someone did. I'm not much of a mixed drink person, mostly because so many of them are just a sugary carbonated mess. Plus, I am not sure if you've noticed or not, but I'm not super fu-fu. Or girly if you need another word. I drink Guinness. There is nothing fu-fu about that.  But, this pink delight looks absolutely delish. It makes me even happier that it contains a Made in  Michigan product, Valentine Vodka.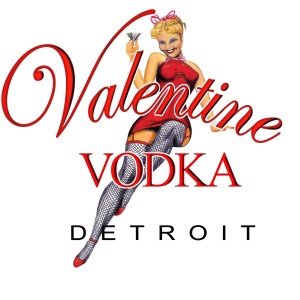 I'm an easy sucker for anything Made in Michigan.
Read the recipe and post on Six 2 Eleven.
Pin the recipe on Pinterest.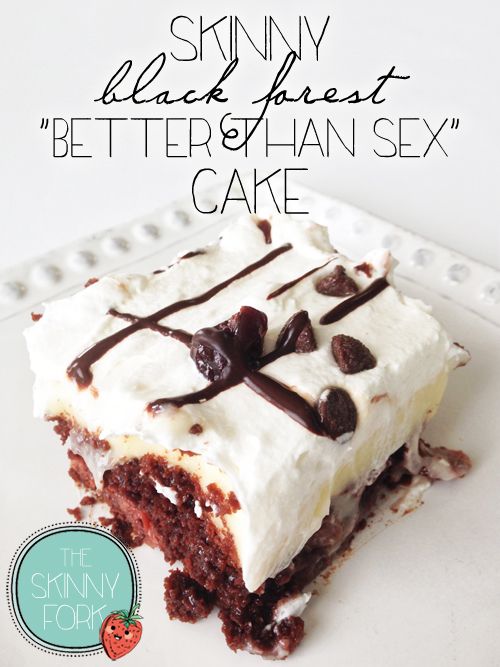 3. Skinny Black Forest 'Better than Sex' Cake.   Did she say black forest cake and better than sex cake all in one title?? Wow. I am full of questions today aren't I? See, there I go again.
Stop it! Ok. So, I think I just drooled all over my keyboard. I mean seriously. Not only did the title have me at skinny black forest, it reeled me right in with the better than sex cake. So, it's a good play on words because while I am sure there is going to be at least one dessert-a-holic who really feels its better than sex, there is also a better than sex cake. Thank you Food Network and Paula Dean. What makes this recipe so yummy is that it's a poke cake recipe where the holes are filled with pudding. That gives the cake (and the eater) the illusion that it's a fancy decadent dessert suitable of restaurant standards. It's naughty and nice all at the same time. This recipe also makes a skinny switch by substituting yogurt for the eggs and oil.
How many of you are off to make this right now?
Read the recipe and post on Skinny Fork.
Pin the recipe on Pinterest.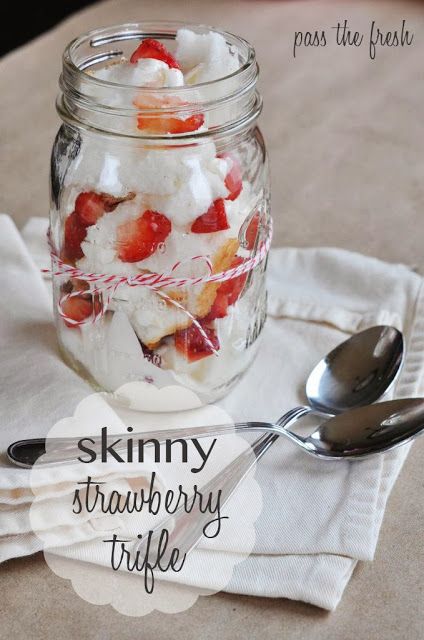 4. Skinny Strawberry Trifle. If chocolate isn't your thing (whatttt???) here is something light at fresh to perk your taste buds.  I'm a huge fan of things that can be eaten out of canning jars.  In the fall I tend to do a lot of canning and during the winter I empty out a lot of jars. Especially when I have a husband and kiddo who can easily polish off 3 jars of pickles a week.  Sometimes I get extremely lazy and don't want to take the jars down to the basement one-by-one so I'll look for a reason to use them or store them in a small box in the small bathroom just off the kitchen. So, I get extremely excited to see simple jar recipes. I like the thought of this one so much that I think I am going to make this after tonight's dinner or maybe this weekend when kiddo is here. I don't think it gets any easier than angel food cake, strawberries, white chocolate pudding and whipped topping.
Read the recipe and post on Pass the Fresh.
Pin the recipe on Pinterest.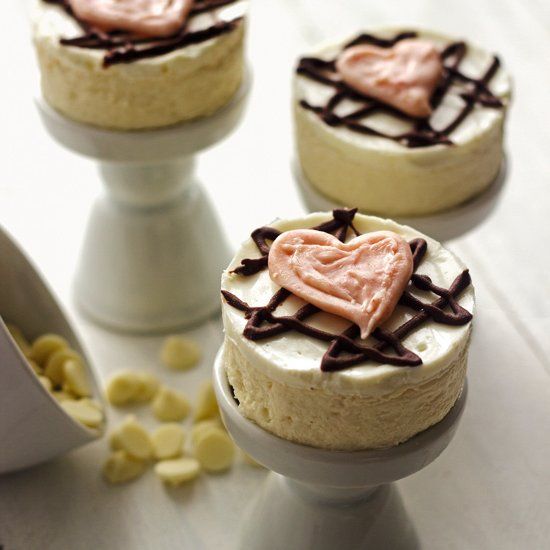 5. I saved the best for last. Skinny Mini White Chocolate Cheesecakes. I love cheesecake. I am a cheese-a-holic. It's my weakness. It's my chocolate of choice. It's my personal 'better than sex.' Ok, maybe not that far.
Wait.
What kind of cheese are we talking about here?
Shhh don't tell my husband…mmmm kay?
So, this recipe caught my interest on Pinterest (hey that rhymes) because they were simply perfect tiny little cheesecakes at 200 calories each.
Each!
200 Calories! Perfectly portioned! I don't think I need to say anything else.
These cuties are made out of light cream cheese, sugar alternative, and fat-free Greek yogurt.
Read the recipe and post on FoodGawker Food faith Fitness.
Pin the recipe on Pinterest.
Happy Valentine's Day everyone and I  really hope you enjoyed this recipe round-up from things I found on Pinterest. 
If you're interested in what I pin, come check me out YUM eating on Pinterest.