What to do with a Leftover Peanut Butter Jar? Overnight Oats!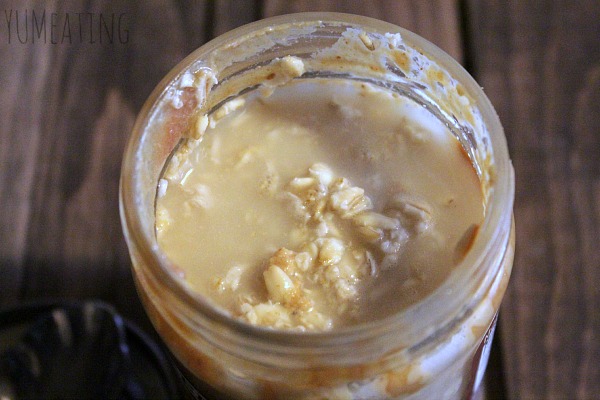 I love peanut butter. It's a treat that stems all the way back to my childhood when my and my neighborhood friend would spend our summers creating the most off the wall food eats. At 9 we thought we were fancy smancy taking peanut butter and jelly and smashing it into my mothers martini glasses. It was fab-u-lous I am telling you. I do think all that PB&J ruined me in the sandwich department because I don't really get excited for PB&J sandwiches anymore. Now , peanut butter and banana (with or without honey) that's another story. 
One thing that drives me nuts is the fact I can never get all the peanut butter out of the jar no matter what I do. It's not like chocolate syrup where you can add a bit of milk, shake it up and be on your merry way. Nope. What can you add to peanut butter to get out ever last bit of goodness? When I buy the natural peanut butter (which I so often do) I tend to get leftovers just that won't come out. Sometimes I will add a few drops of Almond Oil to get it out. But when there is no Almond Oil left, what is a girl to do?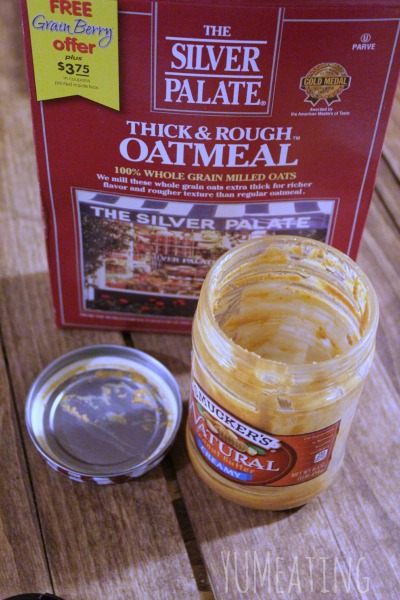 Well, thanks to Heather over at Kiss My Broccoli blog I now know how to get the most use of all my peanut butter and other nut butter jars!
I love adding peanut butter to my smoothies  but I also love adding it to my oatmeal. I'm a big fan of PB2 powder, but sometimes I just want something that's already made for me.
I've yet to try overnight refrigerator oats. Until now.
Insert one natural peanut butter jar – almost empty and some non quick cooking oats. Add your goodies. Set overnight and bingo! Insta breakfast.
I just added one serving of oatmeal and one serving of water per the box instructions and shook the jar really good. Stuck it back in the fridge and hoped for the best.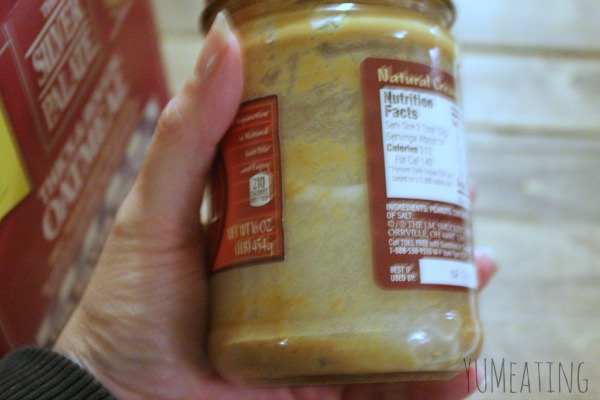 Ta da!
So the next morning opened my jar and realized that maybe I had too much liquid. Not sure. I put the lid back on and shook again. Then I stirred it with my spoon. All the peanut butter goodness came off and I dumped it all in a bowl and warmed it up. Maybe cold oats is good. But, when its 27 degrees out right now, cold oats are not really what I want.
My oatmeal had just enough peanut butter in it and I feel good recycling the jar knowing I got all the yummy out.  Check out Heather's blog for all her amazing leftover/empty jar treats. She has some amazing combinations.
Now I want to go buy more jarred nut butter just so I can empty them and make more.
More, I tell you. More.
Maybe I have an oatmeal problem.