Giant Gingerbread (Wo)Men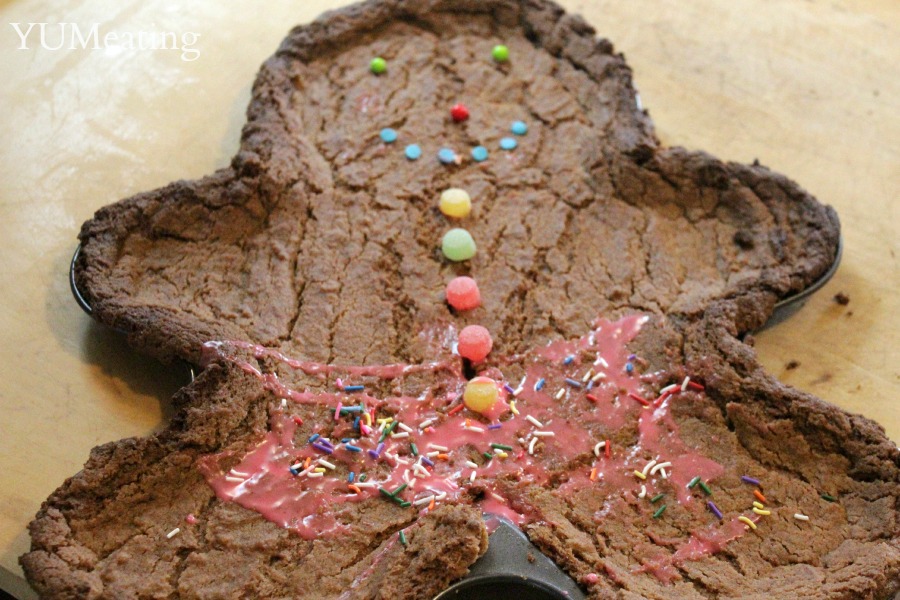 Ginger is another great tragedy of war. I tell you, me and my oven have problems. I am counting down the days until the husband is done with his final semester of clinical's so we can plan and plot our move. This old farmhouse has seen better days in the kitchen department.
However I am thankful we were able to use our giant gingerbread pan again this year!
But back to the kitchen really quick. First of all it is not a functional kitchen. Cupboards are all over and there is a bar in front of the dinner table. Apparently when the husband moved in there was a cupboard above it but he took it down and hung in on the far wall on the opposite side of the kitchen. Have I ever mentioned when I first moved in (2009) the kitchen was orange??
Oh yes, bright orange.
It was painted a few months later.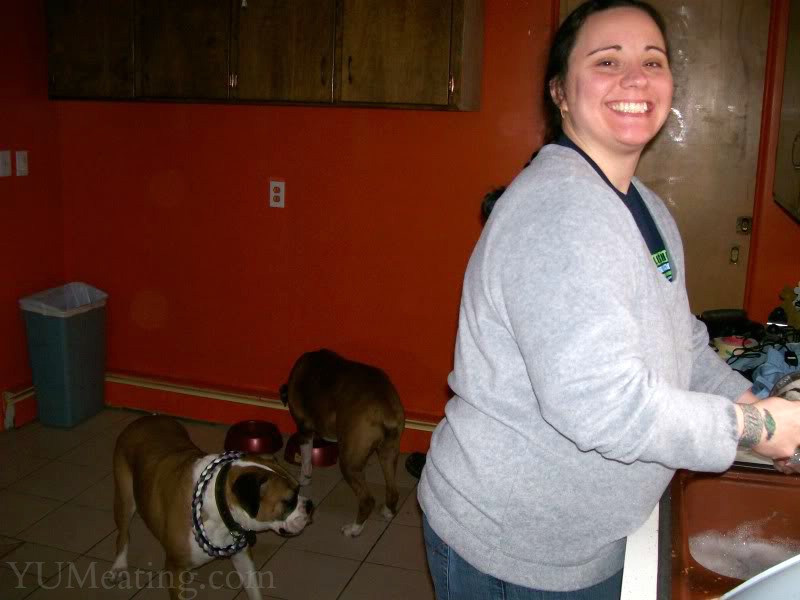 Second, the stove and oven are separate. I hate that. It makes it much harder for me to keep up with things.
My dream is to move into a smaller house. I've always loved cute, modest homes.  Even though he will be making more money and we can afford a nicer house, I want to move into a "re-do" house. We can get a house really cheap and still pay payments that we are used to and end up with our mortgage paid off in 5-7 years. He's all for this plan so I am pretty excited about it. He's on board with doing one room at a time if that is what we have to do in order to live a debt-free life.
Someday I will have the oven of my dreams.  I can cook TWICE as much with this beauty!
But I am also really (REALLY) fond of a retro vintage look kitchen and would love either a red or teal (I can't decide) kitchen appliance set from Northstar found through Elmira Stove Network.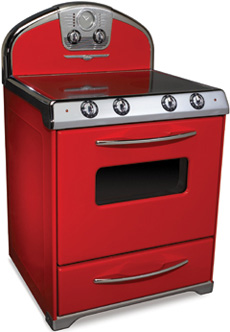 As for the gingerbread cookie mix it turned out just fine. I was excited to make a cookie mix with no eggs and no molasses. I know what you are thinking though.
"Who makes gingerbread with no eggs and no molasses?"
Well this girl had to because I did not get a chance to go to the store, it snowed, then kiddo showed up and we got busy. Time is limited, we make due.
I adapted this recipe from "Molasses-Free Gingerbread" replacing the egg with 1/4 cup canola oil. We also did not use dry ginger. We use fresh. Our giant cookie had a bit more ginger taste to them. If you are using fresh grated ginger and do not like the stronger taste use 1tsp instead of 2. We were out of nutmeg so we used a tiny bit of allspice.
Hey, you gotta do what you gotta do when you have people looking at you dying for their Ginger. 🙂
Since we made one giant cookie we did not follow any of the directions for cooling/freezing/making shapes.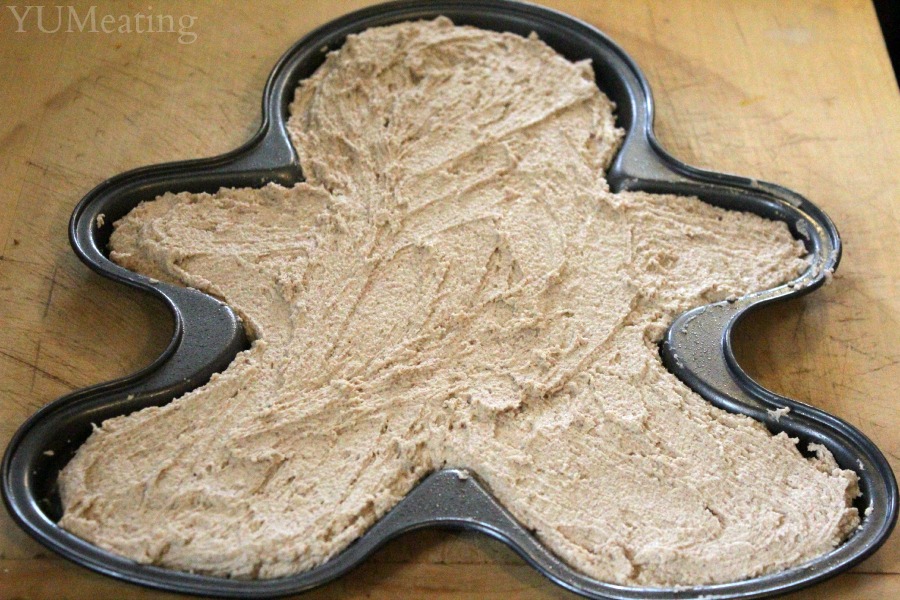 Also, if you are using a giant cookie pan like we did, do not use all of the cookie dough. Use about 1/2 to 3/4. If you use all of it like we did you will have spilled over.
OOPS!
That's ok though. Ginger turned out pretty yummy. We all had a piece and then I packed the rest of her up for kiddo to take home to her brother and sisters to share.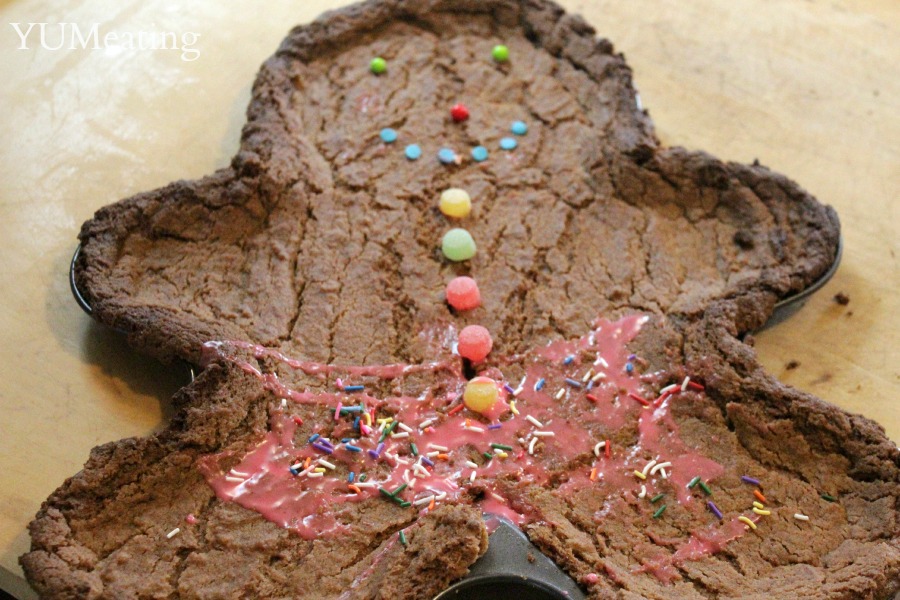 We used some sprinkles, gum drops and other random decor I had in my baking cabinet. Kiddo is the decorator here. That pink mess is her apron. 🙂
Pink Frosting
1/4 cup powdered sugar
1/4  cap skim milk (literally poured a drop in the cap)
1 tiny drop red food coloring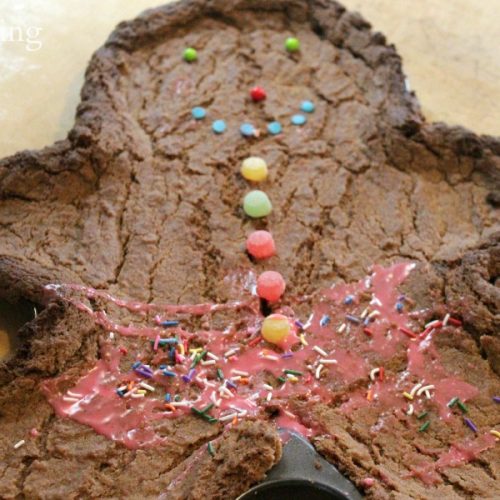 Giant Gingerbread (Wo)Men
This cookie recipe has no eggs and no molasses. It was adapted from this
Food
recipe. We use fresh grated ginger and a giant cookie pan.
Ingredients
2

sticks butter

softened

3/4

cup

brown sugar

3/4

cup

sugar

1/4

cup

canola oil

2 1/2

cups

flour

2

teaspoons

baking soda

2

teaspoons

ground cinnamon

1

teaspoon

clove

1/2

teaspoon

allspice

2

teaspoons

fresh grated ginger

you may want to use 1tsp
Instructions
Preheat oven to 375.

In one bowl cream together the softened butter, brown sugar, white sugar, and canola oil.

Set the bowl aside.

In another bowl mix the flour, baking soda, ground cinnamon, clove, allspice, and ginger.

Once the flour mixed has been combined slowly blend with the butter mixture until a dough forms.

Pour up to 75-80% of the dough in your large gingerbread pan.

Bake for 10-15 minutes.