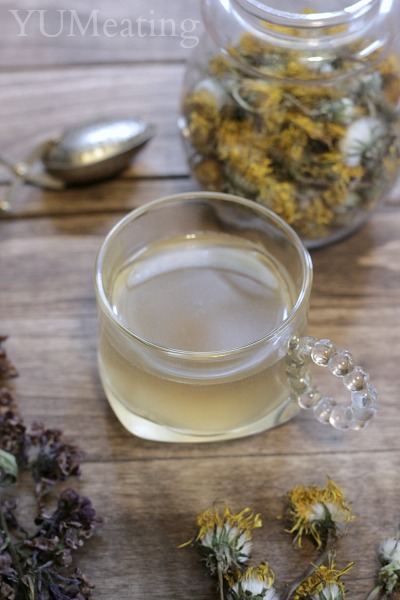 It's Recipe Redux time again! I am so excited because I have been hanging on to my homemade dandelion tea for a few weeks now. If you follow my Instagram you always get a sneak peek into the YUM world and what I am currently working on.
This months theme for Recipe Redux was:
Floral Flavors – Nothing brightens up a dish like a real flower! Whether you live in the northern or the southern hemisphere, edible flowers can add flavor and aroma to salads, breads, spreads, desserts or dips. Make your recipe bloom with rose water, flowering herbs, floral teas, dried lavender blossoms or even fresh flowers like nasturtiums, violets, borage, squash, sunflowers or pretty much any blossom in a vegetable garden.
I was pretty excited for this because kiddo and I had picked some dandelions from our yard after I had stumbled upon some dandelion tea and wine recipes. I thought since we ALWAYS have so many dandelions growing at the beginning of summer that it would be a perfect chance to me to try some of these recipes. Hubby wasn't for the idea. For some reason he has this weird quirk about dandelions. He says they gross him out. Kiddo and I just laugh at him.
We picked a nice bucket full and brought them in. I laid them out on newspaper and let them dry. We had also picked some dark and light lilacs (well, kiddo did. picking is her thing.) from our trees. I thought they would be good to dry out as well.
Tea is one of my favorite things. It does not have to be cold out for me to enjoy a nice cup of tea, but when it does get super hot out I am known to drop in a few ice cubes!
Once all my flowers were dried, this tea was super simple to make.
In a tea strainer I placed a dandelion flower, some stems and a bit of lilac. I boiled some water and poured that in my cup, placing the tea in there to steep.
What you come up with is this wonderful, fragrant and healthy dandelion lilac tea.
I'm sure you are wondering just what the health benefits of dandelion tea are.
Glad you asked. 😉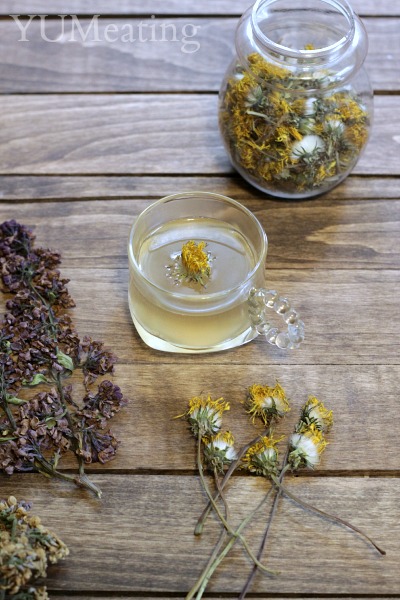 I do believe I am going to try making some dandelion wine next. I don't have a lot of dandelions so I plan to make a small batch. Test the waters and see if I even like it. Most of the instructions I have found call for a quart or more of dandelions. The little jar you see here is all I have. No quart here. But, if I mix it with some lilacs, perhaps. I might be worth holding on to these and seeing what sort of ingredients I can use from the garden and try out a new flavor!
Because, that is how we learn, right?
Tea. Do you like it? Whats your favorite? How about your feelings towards dandelions?

If you are interested in how others are incorporating flowers into their recipes, please check out the Recipe Redux list for this month!
Enjoy!