How to Make a Meatza Pizza
Let's face it – almond flour is expensive. I don't mind flax, but I just can't decide on whether I want to dry an all flax crust even though I have made the crackers.
I saw a lot of people in the low-carb and keto forums discussing the use of ground beef for their crust which eliminates the need for almond flour.
Since we had some extra ground beef and I am in need of something different (one can only eat so many bunless burgers) and was dying for some pizza. Hubs usually gets ground beef on his pizza so I thought for sure he would enjoy this.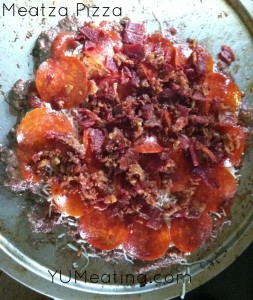 I warn you, this is not for the faint of heart, however you can put whatever sort of vegetables and toppings you have. You can also use leaner beef as well as turkey bacon.
Some people mix 1 lb beef with 1/2-1lb sausage. I used 1 lb beef. Rolled it out onto a pizza pan. Remember, it will shrink.
I cooked it at 350 for 10 minutes. While it was cooking I cooked 1/2 lb of bacon. Drain the bacon and set aside to cool.
Once my beef was done, I used pizza sauce, mozzarella cheese, pepperoni, mushrooms, black olives, and then I crushed bacon for the very top.
I cut it in half and had a giant salad.
I was full after the first piece.
Hubs loved it.
The only carbs were the carbs from the vegetables, olives and cheese, which wasn't very much. Because of the higher calorie and fat content (which can be reduced by using leaner items) I would not recommend eating this all the time. But, if carbs are a concern, this is certainly a good option. We were still able to pick it up and eat it. The protein kept us full. The carbs fit into my plan. The flavor cured my cravings.