$13,778.40 and 555 Cookies!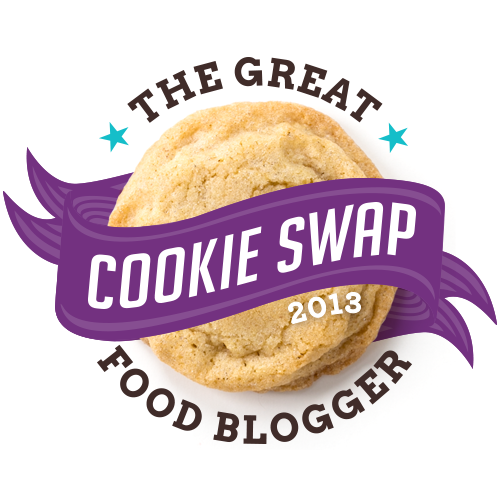 Where can you see 555 cookies all in one place? Right here with The Great Food Blogger 2013 Cookie Swap.
Technically it was divided between Love and Olive Oil and The Little Kitchen.
There were so many cookies I had no idea where to start pinning.
Oh, because there will be pinning. 

For my swap I made Michigan Apple Oatmeal Cookies. I thought they turned out pretty good. I let them sit overnight and they began to crumble so I was a little worried that they were not going to travel well. I was sad that none of the girls reached out to me to let me know of their arrival and only one blogger mentioned them in their post. At least I know the neighbor enjoyed them.
Despite all of that, the reason for the swap was to raise money for Cookies for Kids Cancer. Thanks to our generous sponsors our donations were matched and we were able to raise $13,778.40.
How awesome is that?
Here is a little note from the Cookies for Cancer folks:
Dear Food Bloggers,
From the bottom of our hearts, we cannot thank you enough for the generous support (and delicious recipes!) you've given us this year. Cookies for Kids' Cancer was founded on the beliefs that 1. Giving can be simple and 2. If we all do a little, it truly adds up to a lot. This holiday, you came together, and in addition to filling our hearts with gratitude and hope, you helped inspire countless others to get involved. The funds you raised during the Cookie Swap will be granted to the nation's leading pediatric cancer research centers to find less toxic, more effective treatments for children with cancer. You have all surpassed expectations, and will forever more be part of the Cookies for Kids' Cancer family. We hope you are enjoying the yummy recipes you shared. Thank you for being Good Cookies!
Happy Holidays & Happy Baking!
How YUMmazing is that people??? Doesn't that just make you feel all warm and cozy inside??
I know it did me. Actually, I even shed a  tear. You see, in 2006 I lost my grandfather to cancer, my grandmother in 2007. They are my Irish backbones. I love and miss them dearly. It was after my grandmothers passing that I ended up in divorced and here in MI because I wanted to be with my family instead of in OK. A few months later my best friend lost her battle to cancer – in OK. To this day it is still very hard for me to deal with. Not more than a few months after that in 2008 my little cousin started her battle with brain cancer. Now, at the age of 9, she is in remission but not without her own battles. Kids cancer research is something very important to me and she's also the reason I started donating my hair every time it grows out.
So, if something so simple as baking a batch of cookies can help – even with my craptastic oven – I'll do it. 🙂 
Also, for those of you who might be new readers, there is a reason why I write. Even though it is hard some months, we give him $25. For Christmas we were able to give an extra $50 and a lot of that was thanks to YUM.