Stock Pot – Bay City, MI (And Some Moving News)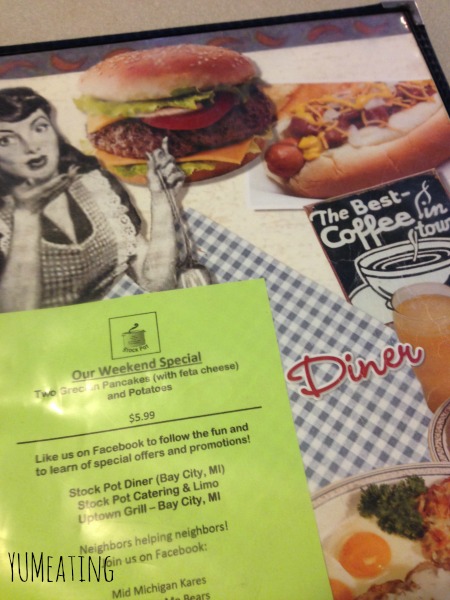 Can you believe I actually took a day off yesterday (Sunday?) Well, I did. It does not happen often. I honestly don't get out much. I am an extrovert when it's on my terms, but I am more of an introvert. I would rather stay home and read a book, or write something; whether it be a new blog post or another chapter to my fiction and non. My mother works in retail so it is rare that she has a day off on a day that I don't have to work on something because a blog post or freelance gig work is due. So, we decided to head into the city for some thrift store retail therapy.
We have this one little spot right on the edge of town that we like to stop in at. But, it was early morning church time and folks were either eating after the first service or eating before heading to the second. So, it was packed. We headed on in to town and went to a place that we had not been to in years. I am so glad we did.
This place has an interesting twist. It is an old funky diner. You are greeted by a giant statue of Elvis when you walk in. Now, most diners favor the color red for their chairs and booths. This diner went with purple. It's also Greek.
So, imagine the old 50s diner, in purple and serving interesting Greek combinations.
That's what you get at the Stock Pot. It's very eclectic and funky. Kitchy. 50s doo wop diner mixed with antique mall.
I like to think of myself as a pretty adventurous when checking out some place I don't eat at regularly. And since this place in Greek, I thought it best to try the Happy Greek Omelet.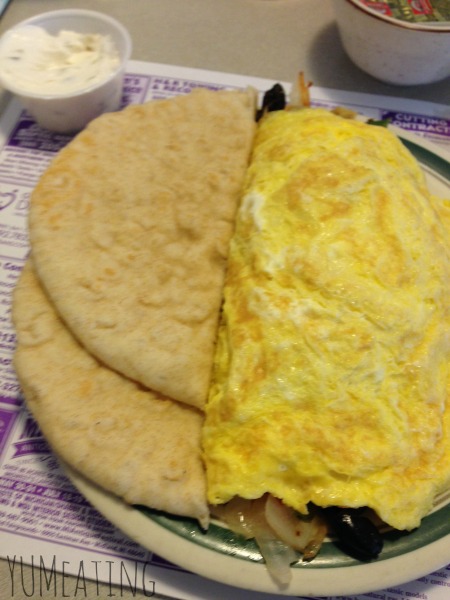 Feta cheese, potatoes, gyro meat, black olives, tomatoes, onions, peppers and cheddar cheese served with pita bread. ($8.99)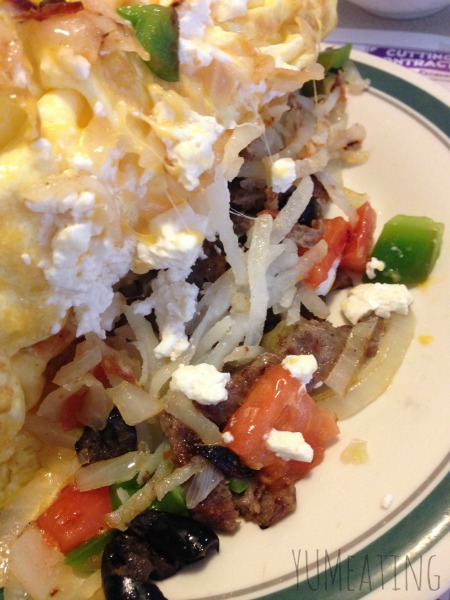 It was SO SO SO good. #yumeating for sure! #nomnom
My mother ordered the Monte Cristo. Now, I know most of you have visions of a Monte Cristo from some place like Bennigans where it is all battered and deep-fried. Probably served with a side of grape or raspberry jelly.  I mean, that's how I think pretty much all Monte Cristo sandwiches are made.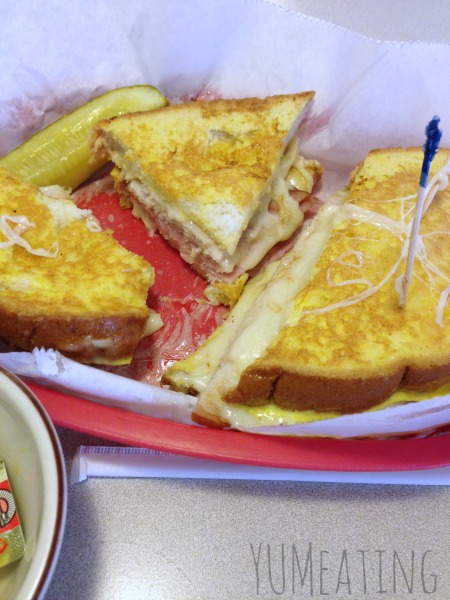 This was a Monte Cristo like no other.
Grilled French toast with smoked ham, turkey and melted Swiss cheese. ($6.99)
Ummm…French toast?? What??
Well. It was good.
If you are ever out in the Bay City, MI area, head downtown to the Stockpot.
After our meal we swung back a few blocks and stopped in at the hospital where Mr. Yum works. He is no longer Per Diem there and was just accepted into part-time status. That means, we got our good hospital insurance back! Yah! And, he's official. Now, when a full-time opens he is one step closer. It was nice to see him at work and meet some of the people he works with.
Mom and I swung by a few homes we are looking at in the area. We really like the area by the hospital. There are kids for kiddo to play with and playgrounds close by. If we get close enough, Mr. Yum can walk to work. 🙂 I know a lot of people like living in the country. And I do, but I miss being in the city. I don't seem to do well living in an area where I have no one around and I have to drive more than a few miles to get to the things I enjoy.
I also don't like that there is no one for kiddo to play with. I know she gets bored playing outside by herself. When she is inside she has a hard time letting me work. So, we tend to work in the kitchen. She is so used to having kids around when she lived with her mom.
I lived in the city my whole life. I like having neighbors. You watch out for each other. You get to know each other. You have neighborhood BBQs. That is, if you live in a good neighborhood.
Mom and I also looked at some empty spaces while we were out and about. Our goal is to someday open another store. I am hopeful that things in life are going to start getting better.
One step at a time, right?