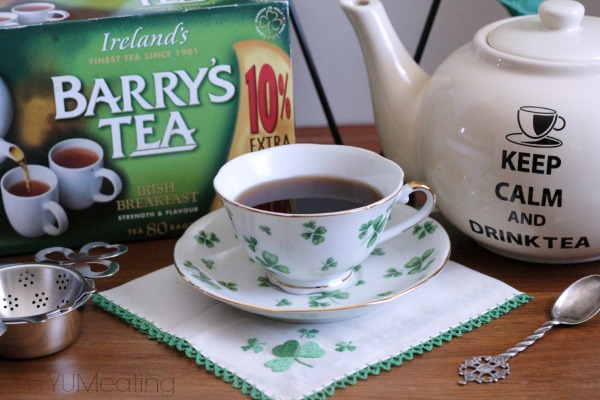 Today we are going to take a little break from all the Irish food and have some tea.  Mostly because it gives me a chance to share my pretty porcelain teacup that I never, ever use.  I honestly think I have used this cup one time.
Why?
Because it's an antique and I am clumsy. Simple as that. But it sure makes for a pretty picture.
I have some other little tea cups that I use for those 'I want to feel special' moments.
The teacup actually hangs out in my china cabinet along with my great-grandmothers red dishes that you will often see here on YUM. The teaspoon is another treasure I found at an antique shop. The shamrock hankie was a gem I happened to find on eBay of all places.  I just love this little set and I am so afraid of something happening to it that I don't ever bring it out!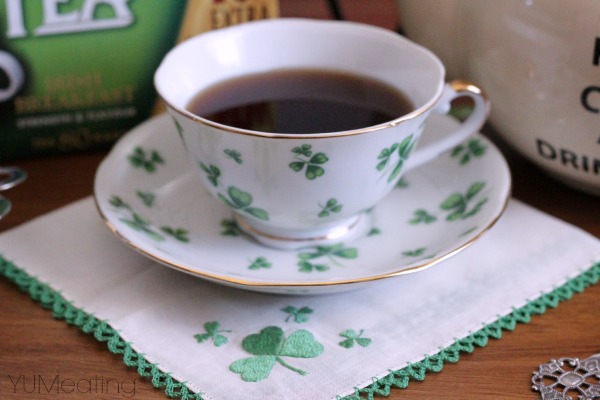 The fun 'Keep Calm and Drink Tea' teapot came from my new friend and fellow Michigan blogger Sara who I met through the foodie pen pal program. Sara blogs over at Not So Doughie.
The shamrock tea strainer is for loose leaf tea but I wanted to include it in my photo just because it was shamrocks. This strainer was something else I found through a little tea shop on eBay where I sometimes buy some of my loose leaf teas. I've never used it because I have another little green teapot that the husband purchased from this cute little tea shop the next town over. It has a built-in strainer.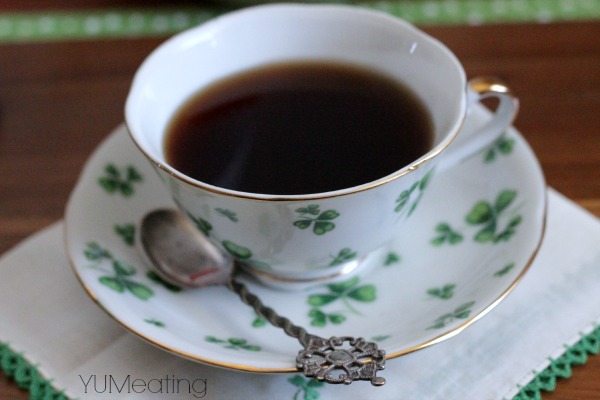 I really enjoy the flavor of Barry's Irish Breakfast Tea. These are tea bags and I have learned if I let them steep too long the tea gets a really bitter taste that I really don't like. My step-mother-in-law is Irish and she adds milk and stevia to her tea. Not me. I am not a fan. I've tried and I just don't like it. I love tea and all its natural flavors so I'll take might straight out of the pot!
Drinking Irish Breakfast Tea doesn't have to be done at breakfast. One can enjoy this tea any time of day or year! I know my hot tea obsession isn't just limited to winter. I've been known to eat a biscuit or two with my tea as well.
Did you know that Ireland is the largest tea consumer per capita than any other country in the world? I sort of figured they would be up in the top 3. But Owens Irish Tea told me otherwise. Barry's website has a ton of interesting facts about Tea, some recipes and even some fun tea time stories.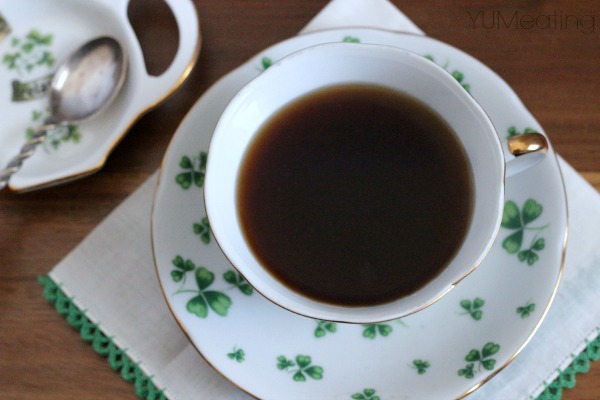 The Ireland tea bag holder/ dish was a gift from her. It's lined in gold and is another favorite piece of mine that doesn't come out often.
I just love my little Irish treasures and simple tea. I have an entire drawer in the kitchen filled with all types of teas and tea paraphernalia. It's a little out of control sometimes.  I even have various chocolate teas. YUM YUM! I just love my tea!
What are some of your simple pleasures in life?