Skinny Chicken Pot Pie Soup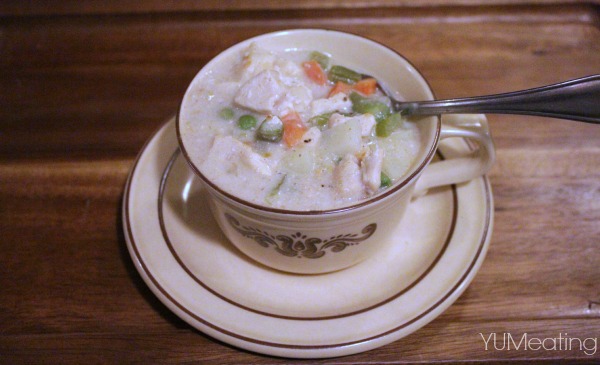 I can't remember the last time I had pot pie with its warm buttery crust and flaky pastry edges. Chicken pot pie with its warm creamy filling packed full of bites of meat and my favorite vegetables.
As we know, chicken pot pie isn't the healthiest of recipes.  It's also relatively high in carbs from the white flour used to make the crust. Not such a great option for me.
I became a woman on a mission. 
First, I needed something low on the calorie meter. I really need to get my calories in check. I also need to make sure its lower on the glycemic index scale so it won't battle my PCOS any more than it has to. Lastly, I really needed something that my husband and the kiddo were going to enjoy. I was hoping that with the wonderful success of my potato leek (I made leek soup for myself) soup that this particular soup would also be a home run in the kitchen and something we could enjoy again and again.
I looked at a few different recipes and found an issue with each of them. I kept wondering if there was going to be something that did not have a ton of flour or overly complicated. Then I remembered a Weight Watcher recipe website, Skinny Taste. It was there I found the bones to this recipe.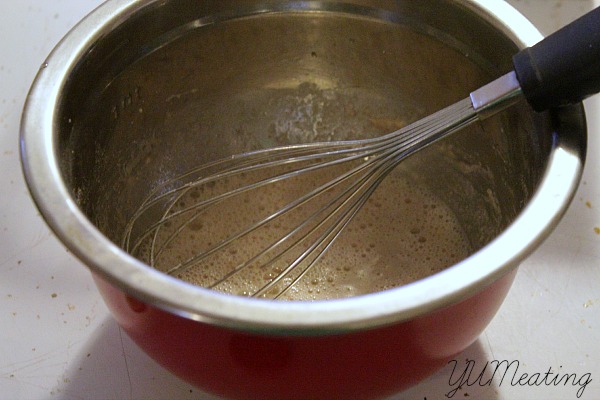 First, I had to make a simple cold rue known as a slurry. I used wheat flour for the lower glycemic value.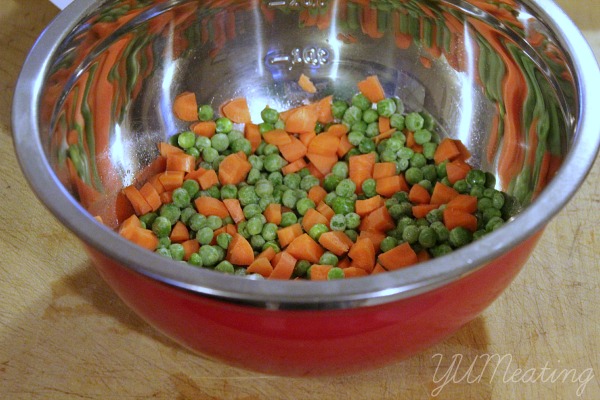 Then, in another bowl I added frozen peas and some carrots the husband willingly chopped so pretty for me. As I look at this photo, I have a little laugh because I was just having a conversation the other day with Heather at Kiss My Broccoli Blog about how peas and carrots mixed together weird me out. And yes, I do have food touching disorder.
I boiled the potatoes separate and I used 2 small ones for my large pot of soup. By cooking them separately I allowed the starch to remain elsewhere instead of accumulating in the dutch oven. Per serving, there are very little potatoes. Good for me. Less is more. Less is better. And the soup doesn't get all starchy. Win.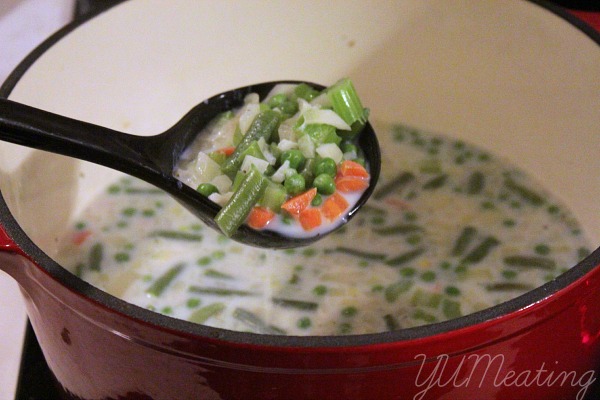 We then started to add the ingredients to my dutch oven.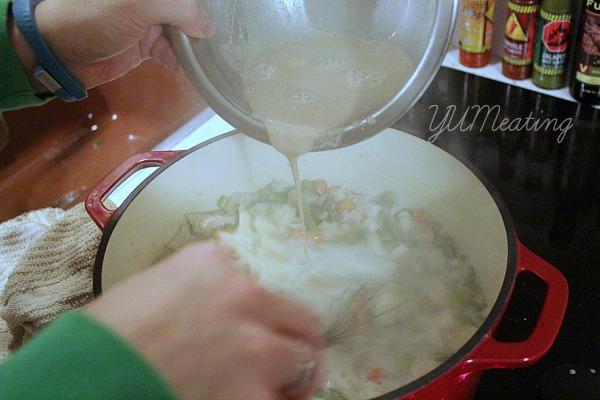 Bring it to a boil and add the vegetables and slurry.
Oh, yeah. It's so YUM tastic I almost forgot it was healthy.
The family weighed in. Considering the pot barely lasted the weekend, my guess is I get all thumbs-up.
Next time I am making a double batch to freeze for later.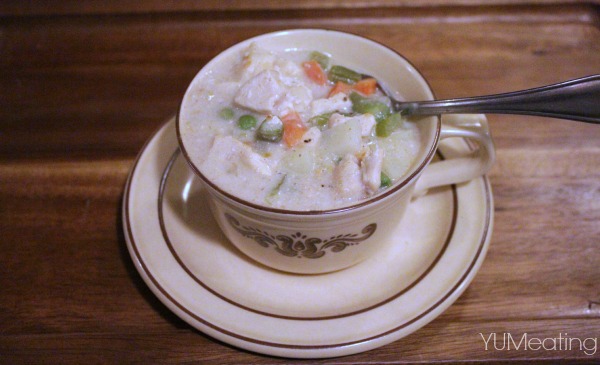 Are you a chicken pot pie lover? I encourage you to try out this recipe, whether you are on a healthy eating journey or not. I promise, you won't be disappointed.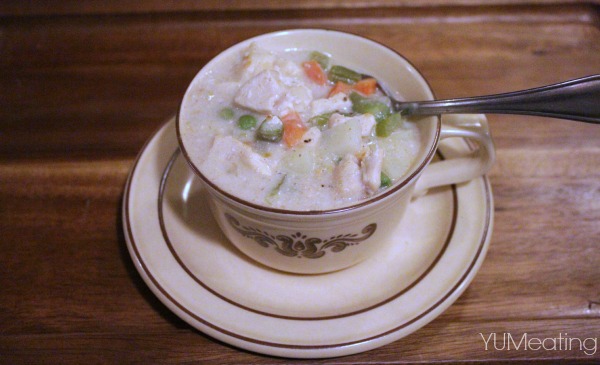 Skinny Chicken Pot Pie Soup
Ingredients
4

large chicken breast

cook and dice

1/4

c

whole grain wheat flour

5

oz

frozen peas

5

baby carrots

diced

1

cup

frozen cut green beans

2

stalks celery

diced

1

small onion

chopped

2

small potatoes

peeled and cubed

4 1/2

cup

water

1 1/2

cup

chicken stock

1

pinch

of thyme

4

cups

unsweetened almond milk

salt

pepper
Instructions
In skillet, cook your chicken breasts.

In a small pan, add some water and your diced potatoes.

Bring the pan to a boil and continue cooking until potatoes are tender.

Set aside.

While the chicken is cooking,in a small bowl mix 1/4 c whole grain wheat flour with 1/2 cup water.

Whisk well and set aside.

Chop carrots, celery, onion add to a bowl.

In the same bowl add the peas and green beans.

In a dutch oven, bring 1 1/2 cups chicken stock, 4 cups water and 4 cups unsweetened almond milk to a boil.

Add the bowl of vegetables.

Continue to bring to a boil and add the thyme, salt, and pepper to taste.

Reduce heat. Cover.

Cook for 20 minutes or until the vegetables are soft.

Remove lid.

Dice the chicken and add to the dutch oven.

Drain the potatoes and add to the dutch oven.

Whisk in the slurry.

Cook an additional 5 minutes. Sauce will thicken gradually.
Are you a meal pie fan? What's your favorite? Have you ever made the soup version?