Husband Does Vegetarian Grape Leaves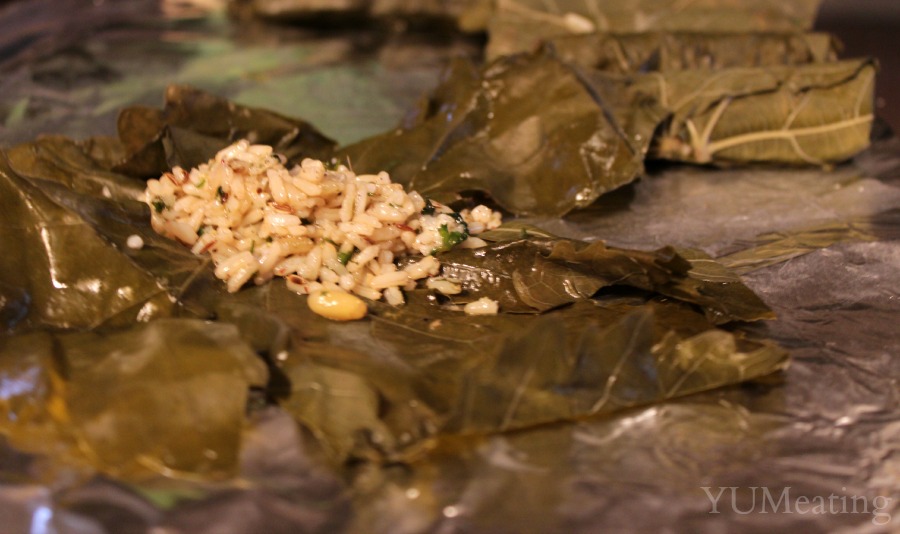 Every once in a while I have to give the husband a chance to create something. I've had this jar of grape leaves in the fridge for goodness knows how long. I guess it was due time to whip up some grape leaves. We love Middle Eastern cuisine and have a few places in the city where we splurge for the dinner platter and share it. We're talking about mega amounts of food. Of course, we have leftovers.  We have been trying to venture out of our comfort zone when it comes to cooking. My cooking tends to be a lot of old-fashioned hand-me-down recipes. I also have an arsenal of Weight Watcher recipes and low carb recipes. The husband, well, he burns cooks whatever he decides to toss in his wok.
And when I say everything I really mean 4 to 6 different ingredients. But always, always rice.
So, imagine my surprise when he decided to make rice grape leaves.
"No meat?" I ask.
"No meat," he replies. I look at him like there is something wrong. Quizzical. Questionable.
When he's not looking I do a little happy dance.
I mean seriously, it won't take but a minute for me to toss some ground beef in a pan and add some spices and get that shoved inside those suckers.
I know he'll later regret not having meat.
We decided that we would make these vegetarian and have a meatless night. Go us.
I'm still doing a happy dance.
I was also not intending to take photos, it was my night off after-all. So I apologize for the messy look.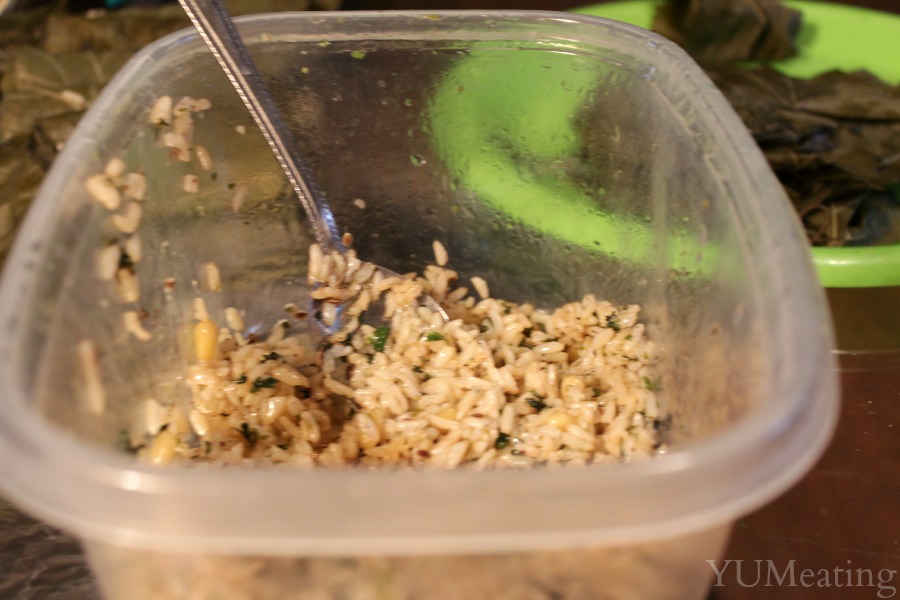 For the grape leaves he used Krinos Imported Grape Leaves in Vinegar Brine which I had found at a clearance center I shop at.  There is about a pound of grape leaves in this jar. Husband cleaned them and boiled them in water for about 5 minutes.  He then pulled up this Stuffed Grape Leaves recipe on his phone and went to work. We used brown rice instead of long grain. We did not use any mint. Husband also loves his parsley so he increased that by another cup. (There were a few other things we didn't do during the cooking process, but we enjoyed each and every one of those grape leaves for days to come.)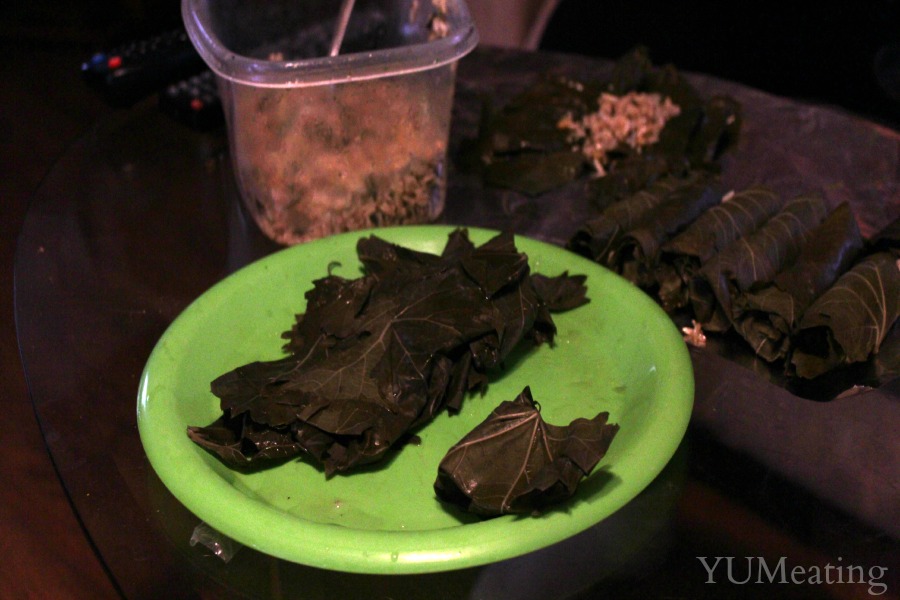 Then he had half the leaves in the kitchen with him and I had the other half in the living room with me. I was watching a movie. He wanted to cook, he should be so lucky I even helped 😉
So I had this production line of grape leaves going on my coffee table. It was pretty funny.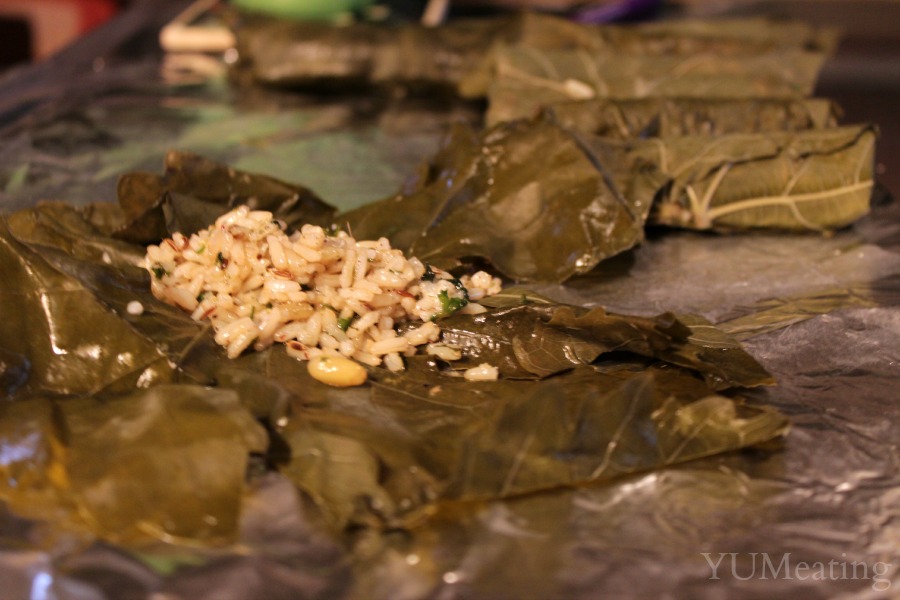 I put two leaves opposite of each other for a bigger eat.
YUMeating Does Vegetarian Grape Leaves
Ingredients
50-60

fresh grape leaves or 1 jar

16 oz/1 lb. brined grape leaves

1-

cup

olive oil

divided into 1/2 cups

6

large onions

minced

3

cups

brown rice

cooked

2

cups

fresh parsley

chopped

1/2

cup

fresh dill

chopped

3

tbsp

pine nuts

1 1/2

tsp.

salt

1/2

tsp.

black pepper

Lemon juice
Instructions
Rinse the leaves well to remove the brine.

Boiled the leaves for 5 minutes to soften them, which makes them easier to roll.

Remove from water and set the grape leaves aside.

In a skillet, add 1/2 c of olive oil and the onions. Cook until onions are tender, about 5 minutes.

Stir in the rice, parsley, dill, pine nuts, salt and pepper. Continue cooking and stirring for another 3-4 minutes to mix flavors.

Remove the pan from heat and give your lemon juice bottle two to four squirts , depending on your tastes.

Mix.

Set pan aside and allow mixture to cool.

Place two grape leaves with stem side in on a flat work space. This will give you a larger roll and things will be much easier to work with. Don't over stuff.

Place a little mixture over the stems, just like you were making a burritos.

Fold the ends in. Then roll long ways.

Repeat the process.