Summer is almost over.
Kids are back to school.
The farmer's around here are strolling through the fields. Most have already started.
You know what that means, right?
It's pickle picking time!
Or, if I'm a bit late – which could very well be the case – it's time to can! (We did ours over the past weekend. If you follow me on Instagram you were privy to some of those candid family canning photos.)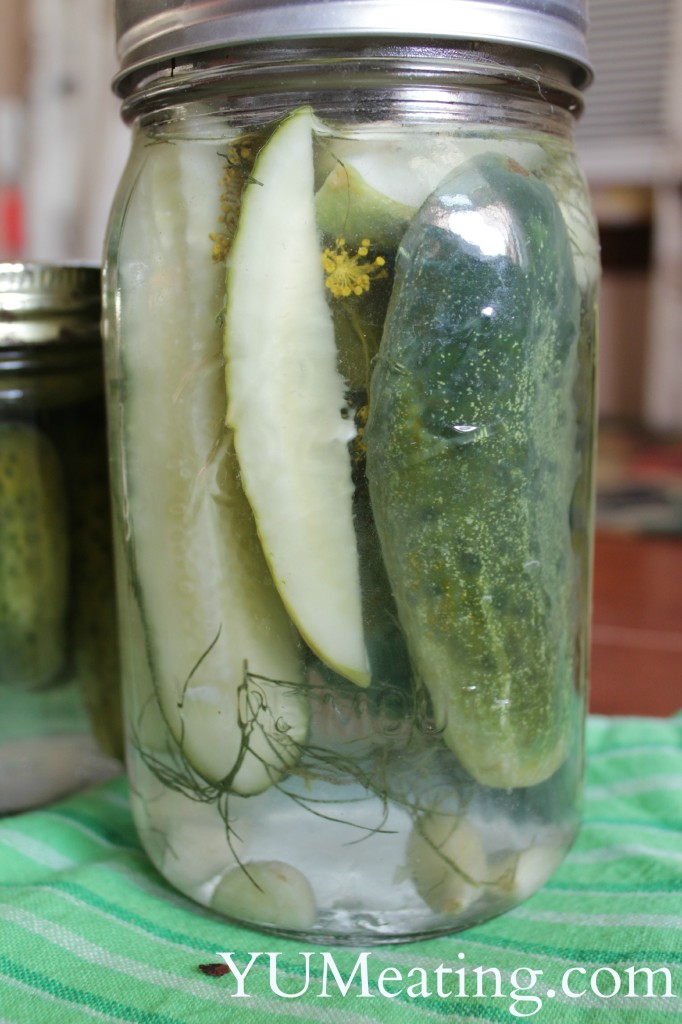 My mother brought over boxes and boxes of cucumbers (cukes) so we set up a folding table outside. Kiddo was outside helping along with my husband while I worked on a lot of YUM recipes and photos inside.
We ended up with 4 boxes leftover and 90 jars of pickles. Phew!
I did last years adapted recipe a bit differently (no big surprise there) so let's hope this works out well. I should note that if you are going to use my recipe you need to at least 1) have a very cold basement (or a canning room; ours is called 'the scary room' , 2) have a fridge in your garage (or somewhere) that can hold all of the jars of pickles you are making because these are NOT boiled pickles and these are NOT sun pickles.
I have found what works best for me – because right now our basement is not as cool as it was last year – I cleared off a shelf in my refrigerator and I put as many jars of pickles on that shelf as I can. I continue to shake the ones in the basement. When the ones in the fridge pop, I place them on the storage shelf in the basement and then bring up another batch from the 'waiting table' and put those in the fridge. I continue to shake the ones still left on table 2-3 times a day.
UPDATE: 8/23/2013 – We just cracked open the first jar from this year's batch – nice and crunchy. They have a nice zip and tang. So much better than store-bought. I would like to think this batch of 90 jars is going to last me until next summer, but not the way my husband goes through pickles.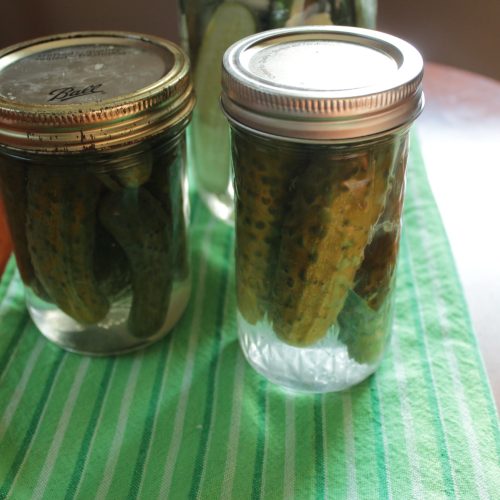 Canning Pickles
Ingredients
Per each quart jar:

2-3

pieces

of fresh dill

Fill the jars with cukes -cut how you like - do not stuff. You need shaking room.

1/4

cup

vinegar

2

tbsp

kosher salt

or pickling salt

1

tbsp

sugar

1

pinch

of alum

1

clove

of garlic

we use 2 - sliced

1

pinch

of pickle crisp

Large pot full of very cold water.

Cup

to scoop the water.
Instructions
Place all ingredients in jars.

Add cold water to almost fill the jars. You need enough shaking room.

Put on the lid and then the ring.

Make sure it is nice and tight.

Jars of pickles are to be left out for 2-3 days because you must shake them 2-3 times a day. We leave ours on a table in the basement, or when making a small batch we leave them on the counter.

After the 2nd or 3rd day place them in the fridge, or if your basement is cold enough, place them there.