Super Simple Snacks for Healthy Eaters on the Go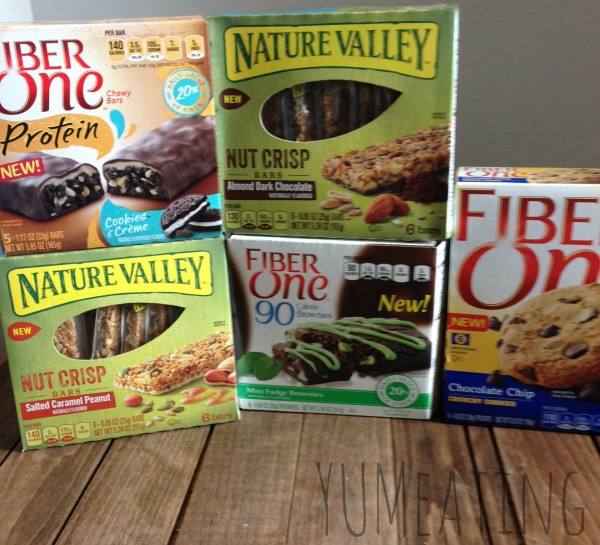 Super simple snacks. Say that six times fast. Super. Simple. Snacks. By the end snacks starts to slur into sacks and simple goes turns into snimple. At least for me and my Oklahoma transplanted in Michigan accent.
To those who follow me on Instagram, I apologize. This is a bit of a repeat for you. A few weeks ago I was contacted by the PR for Nature Valley and Fiber One products. They were getting ready to launch some new snacks and was interested in hearing my thoughts. As I went through each one I tried to capture the moment on Instagram. Now that I have made my way through the eats, I am ready to share my thoughts.
So let's get that pesky disclosure out-of-the-way; shall we? I was given samples of these products for free in order to facilitate my review. I'm not being compensated for this post. All thoughts and opinions are 100% my own and I hold all rights to them. 
Now, to the fun stuff.
I admit, I am not the biggest fan of prepackaged food. When I do, I tend to think about all the chemicals and processing my curiosity gets the best of me. I *try* to make as many things as I can on my own; but lets face it, there are only so  many hours in the day. Sometimes I want a snack and I don't want to drag out all of my baking materials and get going. By the time I am done, I no longer want it. And, it never fails that when I try to preplan and make something thinking I will want it in the week – I don't eat it. Or, I feel like I have to force myself to eat it when I don't want it.
There are times when I do get a few things that are premade/prepackaged. I applaud those who eat raw or are 100% clean eaters because at some point in time they squashed their food cravings or found an alternative.
Either way, if I am going to get something that's made for me I try to pick something that has a little bit of nutritional value to it.
That's where these Nature Valley and Fiber One goodies come in.
Nature Valley just release these fun little Nut Crisp Bars. I did a (what I think is) good review on my Healthy Food channel. They come in Salted Caramel Peanut and Almond Dark Chocolate. I do have a little experience with Nature Valley products as I used to get their oats and honey granola bars all the time.
Salted Caramel Peanut – if you enjoy dark chocolate with sea salt or salted caramel than these Salted Caramel Nut Crisps Bars are the perfect combination of salty caramel paired with roasted peanuts,  sunflower seeds and pumpkin seeds.
This bar was a balanced blend of salty sweet with added nut crunch. Often, prepackaged bars have too much sweetness for me or they have that overly processed taste. I didn't really find that here. The nuts are at the forefront of the taste palet. These bars come in at 140 calories, 9 grams of fat, 170 grams of sodium, 10 grams of carbohydrate, 2 grams of fiber, and 4 grams of protein.
My only hang up was that the caramel is said to be 'caramel flavor,' whatever that is. Why not just use caramel?
Almond Dark Chocolate – if you like to walk on the dark side of the chocolate spectrum then the Almond Dark Chocolate Nut Crisp Bar is the perfect option for you.  One side of this bar is dipped in dark chocolate flavoring paired with almond pieces, roasted peanuts and sunflower seeds.
This bar had no salt flavor for those who might be curious. There was no bitterness to the dark chocolate. The dark chocolate held no chocolate sweetness just as it should.  These bars come in at 130 calories, 9 grams of fat, 160 grams of sodium, 11 grams of carbohydrate, 2 grams of fiber, and 3 grams of protein.  This Nut Crisp Bar also contains flax seed for those looking to add a little flax to their diets.
I liked the salted caramel better than the almond dark chocolate. I felt the dark chocolate (again with 'flavoring') had a weird aftertaste to it. It wasn't horrible, but I did prefer the other flavor better.
Ok, now on to the Fiber One goodies.
Just like the Nature Valley, I did a 'limited edition' 🙂 LOL review on my Healthy Food channel.
It seems like every time I roam down the supermarket isle I see a new product that Fiber One has put out. I have tried their Fiber One 80 cereal and it's actually quite good. I have also tried the 90 calorie chocolate fudge brownie. It was a little too sugary tasting for me. I've also tried the 90 calorie chocolate caramel and pretzel. I liked the crunch of the pretzel, but again, I felt it had too sweet of a taste. So, I was a little unsure of how I was going to like these Fiber One products. But, I'll try anything once! You just never know.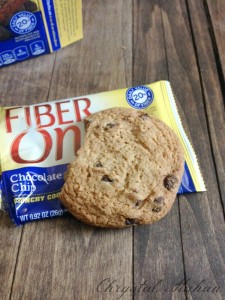 Chocolate Chip Crunchy Cookies – Yup. I started with this one first. I mean, a cookie I didn't have to bake that had some extra fiber? Yes, please. I'll take 2. The crunchy cookie is a new line. I was worried that these would have that too sweet taste, but I am happy to tell you that they were not overly sweet at all. As a matter of fact, they were quite enjoyable. I enjoyed mine with some hot tea.
This cookie come in at 110 calories, 6 grams of fat, 125 grams of sodium, 18 grams of carbohydrate, 5 grams of fiber, and ,< 1 gram of protein.
90 Calorie Mint Fudge Brownies – The brownie line is not new, however the mint flavor is. To squash your brownie craving, this is so much easier than trying to bake. Who wants to be stuck with the whole pan? Well, we might. But I know when kiddo and hubs aren't here I certainly don't want to be left with a whole pan. It can get rather dangerous. The brownie was good. The mint was pretty minty. It was like a chocolate peppermint patty smashed into my brownie. While I enjoyed the mint, the overall product did have a little too much sweetness for me.
The brownie  comes  in at 90 calories, 3 grams of fat, 90 grams of sodium, 17 grams of carbohydrate, 5 grams of fiber, and , 1 gram of protein per serving, which is one brownie.
Protein Cookies and Creme –  The protein bars are not a new line, but the Cookies & Crème is a new flavor.  Cookies & Crème fans have a healthier option to battle their hunger and cravings with the extra protein paired with the fiber. Many, many, years ago I was a fan of Cookies & Creme. I wanted it all the time. Well, mostly just the ice cream. Then, everything started to come in that flavor. Only, it was things that should not be made into that flavor. This is one of those things. I know protein bars tend to be heavy and its more about the protein, but they still have to have some sort of flavor for us to want to eat the heavy bars. While these weren't super sweet, the cookies mixed with the creme and then the mild heaviness of a protein bar just wasn't working out for me.
The bar comes in at 140 calories, 6 grams of fat, 105 grams of sodium, 18 grams of carbohydrate, 5 grams of fiber, and , 6 grams of protein per serving, which is one bar.
Are you a Fiber One fan? What's your favorite product? Let me know if you are excited for the new products.  Love to hear your thoughts in the comments below.