Healthier Oklahoma 4-Way Chili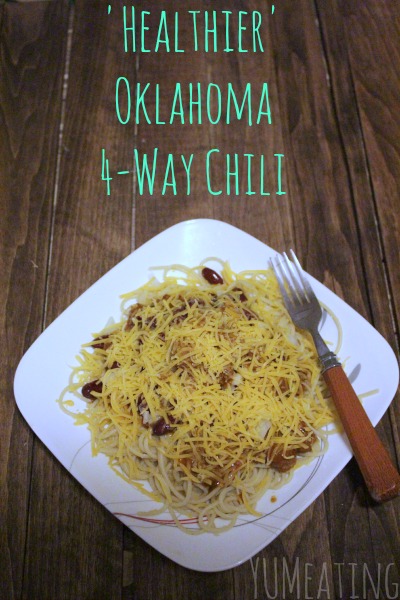 I'm homesick. It gets worse with each passing year. When I left Oklahoma in 2007 I thought for sure I would be back. Maybe not to live, but at least to visit. Here we are 7 years later (going on 8) and I have not set foot on Oklahoma soil. That makes me incredibly unhappy. Life has not turned out at all how I expected it to and with each day being a financial struggle, I am not sure when I will get back home.  That bothers me. I miss home a great deal. It's everything I am and means the world to me. My friends there are like my family as I grew up with them. We went through hell and back together.
So why not bring some Oklahoma here to Michigan, right?
The other night I had a craving for some Oklahoma flavor. I am usually pretty satisfied with my comfort food meals from time to time but I just wanted something different. I was thinking about the times after I graduated high school and was an assistant manager for the retail company I had worked for. At lunch we were often alone or if we were busy the shifts would overlap. Since it was a small store there were only 4 of us. One manager, the assistant, and two-part time people. There was a hamburger shop in the same shopping plaza as we were. They had this spaghetti chili concoction that was to die for. I ate it at least once a week.
There are different variations – with meat or without. I picked without since we just had lean and mean meatballs earlier in the week and I was really looking for something new to try that did not involve meat. That is hard to do with my husband, but I am glad he is trying.
So, this isn't healthy.
Wait, let me take that back.
It CAN be healthy if you leave off the meat. Use reduced fat cheese. And stick to one serving of pasta and add more protein through the beans.
We use Ronzoni Smart Taste. It has 2.5 X the amount of fiber compared to regular pasta. I have tried garden delights, whole grain, whole wheat and some other low glycemic pasta's and hubs wasn't a fan of any of them. I figure if he must eat pasta I would like for it to have some nutritional value. I'd soon much rather eat zoodles (zucchini noodles) but hey, I can't force everyone to change.
Now, the Oklahoma version is full on fat beef, whole milk cheese, super-duper greasy chili and jam-packed with piles of pasta and beans.  There is also a 5 way, 3 way and 2 way depending on what toppings you do or don't want. 5 way contains ground meat.
Even though I made a lower calorie healthier version it still filled the craving I had. It provided me with a unique dinner that we both enjoyed.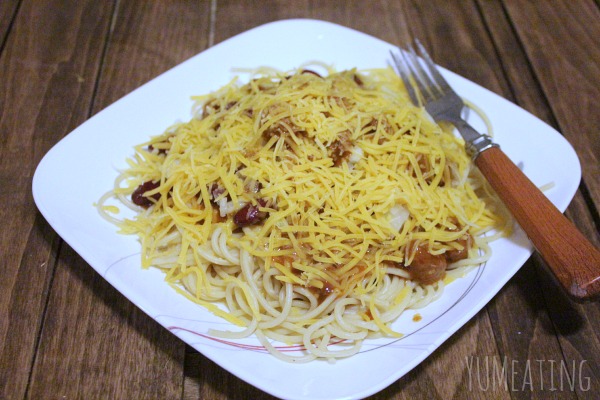 I succeeded at feeding the husband healthy and bringing a bit of south up here to the north.
That's a win in my book. 
Healthier Oklahoma 4-Way Chili
For the 5-way version you'll want some lean meat like ground turkey or lean ground beef.
Ingredients
1

box spaghetti

the healthiest kind you can eat

2

cans of red beans

rinsed and drained

2

cans chili

the no beans kind and if you can find low sodium, even better

1

small onion

diced

2

cups

reduced fat cheddar cheese

shredded
Instructions
Prepare your pasta per the box directions.

While your pasta is cooking rinse and drain the beans.

Place them in a pot to warm.

Place the chili in another pot to warm.

Dice your onion.

Shred your cheese.

When the pasta is done, drain.

Place the pasta on the plate, top with the chili, then the beans, onions and then cheese.