Kid Book Review: NIV Faithgirlz Bible By General Editor Nancy N. Rue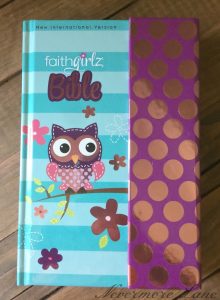 It's a sad day. Kiddo has outgrown the bible we purchased and dedicated to her when she was about 4 or 5. With its thick padded color, vibrant illustrations and big words, we knew it was time to find her a new one.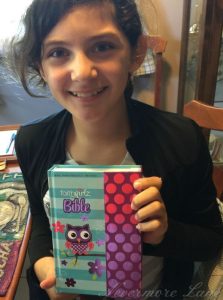 She's 10 and will be 11 in a few months (January 2016.)  Most of the books I was looking at were either too little, or too adult. I don't know about you, but sometimes even I have a hard time with some passages in the bible. I knew if she got frustrated she would put it aside and not bother reading it.
I know bible reading isn't for everyone. We are not the most religious family, but I do believe that their is a lot of helpful and spiritual information within its pages that can really help guide her through some parts of life.
I checked out a few bible before settling on
NIV Faithgirlz bible
. With its modern design (how cute are those owls?) and a sturdy cover that was sure to stand up to even the most destructive of kids, I knew that I had found the perfect one.
I was even more thrilled as we opened it and checked out its pages.
Inside its full of color. What I liked was that it had a lot of checkpoints for her. She can understand why people in the bible are important, how to handle day-to-day dilemmas of her age group, and even other tidbits of information to help guide her.
I love all the friendly advice that doesn't sound too pushy.
What I felt the book was missing was a bible reading plan. I am not sure why it didn't have one, but as a child ventures into their first real bible and not a kids reader bible, they should have a simple plan in there for them to follow.
Another thing I wish it had was a similar setup to the Answers bible. That is a book that has helped me in my religious struggled; especially when I have questions about faith. But, it also helps when it comes to answers and questions for guilt, self esteem, depression, sadness, and every other emotion you could think of. Having that in a pre teen aged bible would have been perfect, especially for this one.
All-in-all if you are in the market for a girls age appropriate bible and  your child is 10-13, I think this would be a wonderful tool for them on their spiritual, growth, and (hormonal girl) life journey.
While kiddo hasn't read a bunch of the actual biblical text, she is reading a lot of the tidbits that are located throughout the book. She finds that information interesting and will seek out more on her own.
Because I am not a very religious person (my husband grew up in a religious household,) what she takes from it is up to her. We can only encourage her to be a good person and live the best life she can.
Book Description
Bestselling NIV Faithgirlz! Bible with a fun, new magnetic closure binding.
This special binding of the NIV Faithgirlz! Bible offers a trendy and unique magnetic closure. Packed with exciting features that help tween girls better understand themselves and Scripture, the NIV Faithgirlz! Bible teaches girls that the Bible is real, relevant, and, best of all, that the story of God and his people is also their story. With in-text features written by tween expert Nancy Rue, the NIV Faithgirlz! Bible uses the bestselling New International Version (NIV).
Features include:
Book introductions-Read about the who, when, where, and what of each book Dream Girl-Use your imagination to put yourself in the story Bring It On!-Take quizzes to really get to know yourself Is There a Little (Eve, Ruth, Isaiah) in You?-See for yourself what you have in common Words to Live By-Check out these Bible verses that are great for memorizing What Happens Next?-Create a list of events to tell a Bible story in your own words Oh, I Get It!-Find answers to Bible questions you've wondered about The complete New International Version (NIV) Features written by bestselling author and tween expert Nancy Rue.
I've been trying to get her to do a video for you guys, but we've just been so busy with homework, math studies and trying to memorize the presidents that we had to put her video production on hold.
Disclosure: We received the Faithgirlz bible for free from the publisher in exchange for our honest review. We are not being compensated for this post. All opinions are 100% my own. Book links are through the Amazon Associates program.