Family Moment at Tom + Chee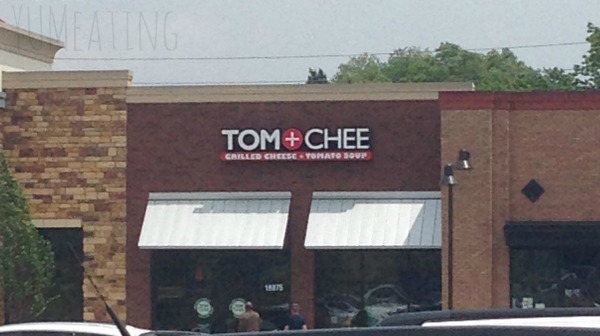 Have you heard of Tom + Chee? I didn't. At least not until last Friday when my email box was graced with the latest edition of Eater Detroit. The newsletter had made the announcement of a new restaurant opening in the area.  It sounded interesting so I decide to check out the website.
Tom + Chee is a play on words. Or, a play on foods. Tomato and cheese.  Tomato Soup and Grilled Cheese Sandwich. The classic family favorite. On my other site (which is being merged with Nevermore Lane,) I've discussed my childhood and how I am a survivor of childhood sexual abuse. I don't have a lot of memories from those years. Most of the ones that come back are not good. However, there is a constant good memory. Grilled cheese sandwiches with my mom or grandma and dipping them in tomato soup.
Those time spent with my mother and the few moments I spent with my grandmother are a wonderful memory that I cherish and always plan to hold on to. Since kiddo came into my life, I have always tried to make sure the time she spends with me is full of memories like that.
So, when we realized we needed new Sunday plans due to the rain that was about to flood our lawn, I mentioned Tom + Chee. Kiddo was thrilled. Her eyes lit up and she got all excited. Mr. YUM , not the biggest fan of tomato soup and overly cheesy foods, was actually interested. I think a lot of that had to do with the fact this place has been featured on Man Vs. Food Nation. We are big fans of the Man Vs. Food franchise. They were also on Shark Tank.
We packed up a little bag to keep kiddo occupied and I brought my iPad so I could work on some proofreading projects I am working on. Hubs whisked us away for a 1.5 hour tour….
The drive wasn't so bad. We made a pit stop at Starbucks after we had been on the road for a while. I introduced kiddo to their passion fruit and berry tea. She was so tickled when her drink came out with raspberries in it.
We landed at Tom + Chee around 1:30-2pm. Lunch crowd came and went, but then so did another round. And, another.
And another.
It's not a big restaurant. Sort of close to fast food size. There was a long line. Normally, me and my anxiety don't mesh well in situations like this and my PTSD rears its ugly head. I usually have to walk out of situations like this. But, I held my ground. I didn't drive all this way to turn around and not have an amazing grilled cheese.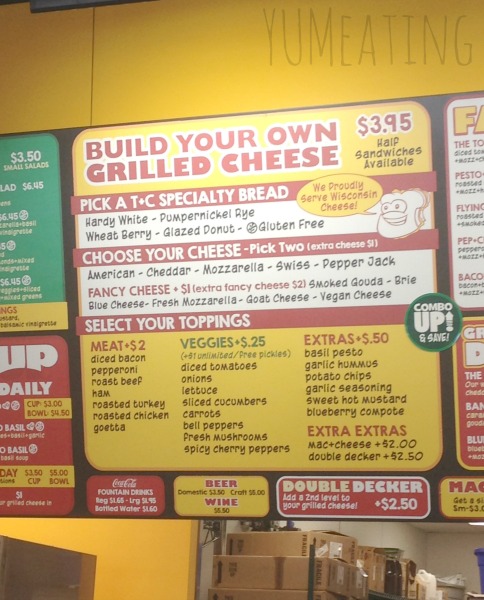 This isn't my first rodeo in the grilled cheese department. I have been to the famous The Melt establishment in Ohio. I didn't get the giant grilled cheese with the gazillion pounds of cheese, but I did get a really good sandwich. It's one of those experiences that you have to take, however, I think it's a heart attack waiting to happen! LOL
These grilled cheese's aren't oversize. They are fairly normal for restaurant portions. What makes them unique is all the different varieties.
But the grilled cheese and tomato soup varieties are not all Tom + Chee has or is known for.
Grilled cheese donut anyone?
Yeahhhhhh
Well, we didn't eat one of those.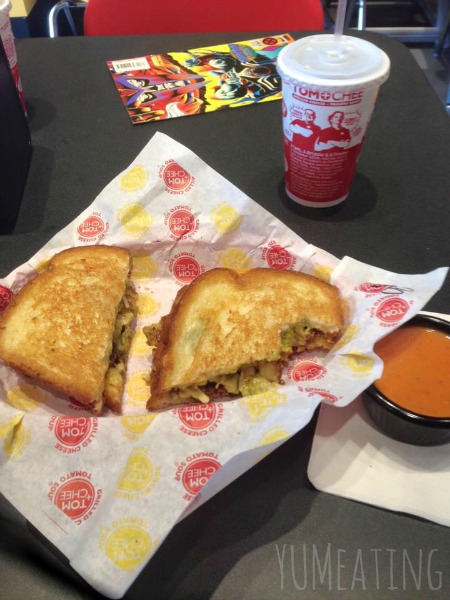 Mr. YUM ordered the build-your-own option. He had hardy white bread with mac & cheese, vinegar and oil chips and pesto.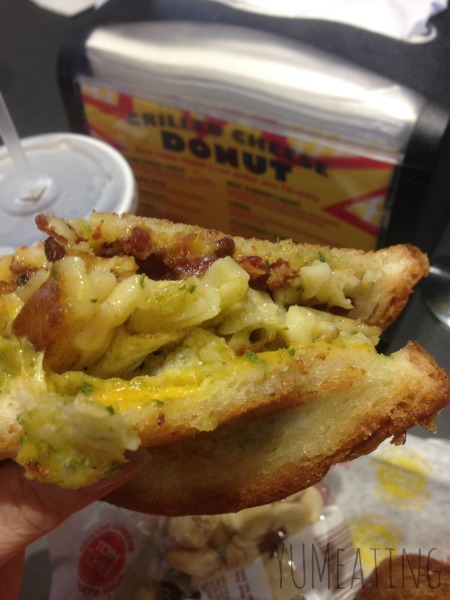 Then he got what they call "a dipper" for $1 which is just enough tomato soup for him to dip. I'm not lying. I had a bite. I wasn't a fan. But he sure enjoyed it.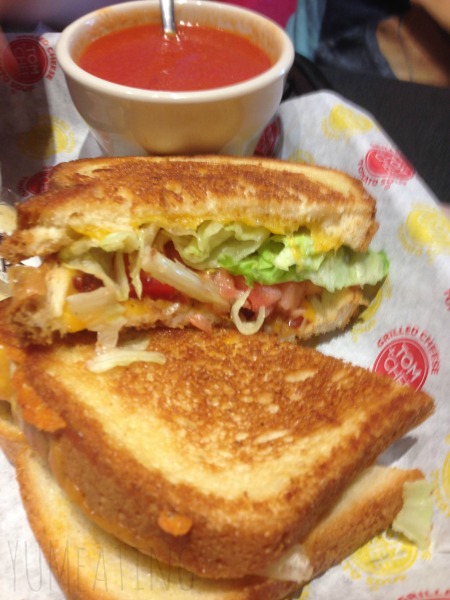 Kiddo ordered the BLT + Chee with a cup of the traditional tomato soup. I didn't taste test. Couldn't. She ate every last bite! It looked pretty amazing.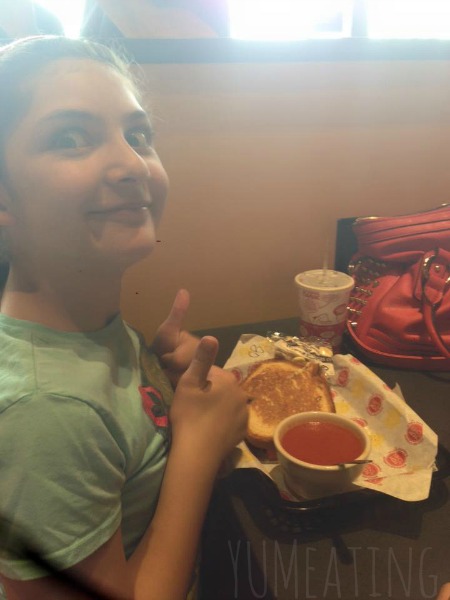 I ordered a build-your-own as well. Mine was rye bread with Gouda cheese and bacon. It was soooo good. I also ordered a cup of the classic tomato soup. So thick and good.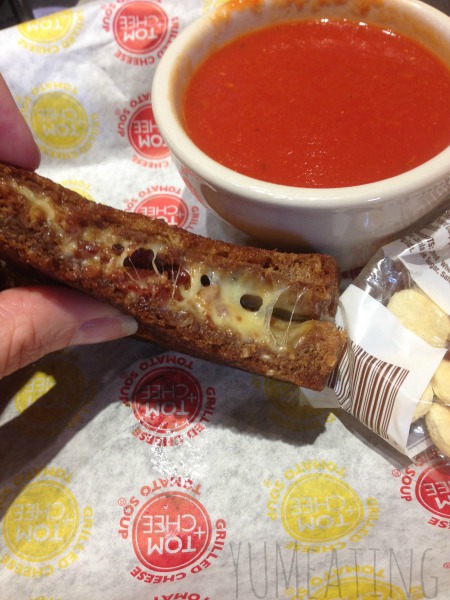 We enjoyed our meal together. Telling stories. Talking to people sitting around us. My family sharing this moment.
I'd like to thank the General  Manager, Rob, for coming over and taking time out of his busy day to chat with a small-town Michigan blogger like myself. Mr. YUM went over to tell him thanks and how he really enjoyed his establishment (cause that's what we do when we go out somewhere we really like) and gave him one of my YUM cards. He wanted to meet me. It was opening weekend, people were everywhere, and we had a great discussion.
Smiles.
Laughter.
Let's not forget the comic books! 😉
For the record, the dessert donut – Choco Bacon Bliss is probably the best thing ever invented…Bacon, chocolate mascarpone, real bacon pieces and a grilled donut (which they slice in half like a bagel.) Thanks to Rob for that, too.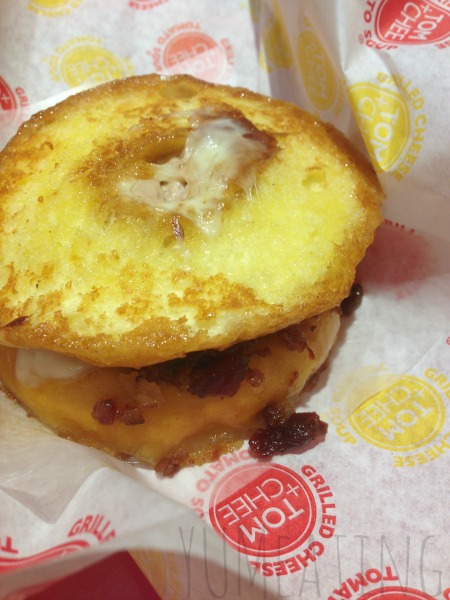 After our meal we headed to downtown Northville. What a gorgeous downtown. I have a huge fascination for downtown areas. The best part about this one? Fairy houses everywhere. Kiddo and I spent the afternoon visiting the fairies. It was SO MUCH fun. If you are not a fan of Nevermore Lane, please consider it. I'll be posting the fairy story over there.
Nothing like some good memories and good food. 
If you have a Tom + Chee in your area and haven't stopped in, you owe it to yourself to check it out.