Creamy Mushroom & Ranch Pork Chops with Rice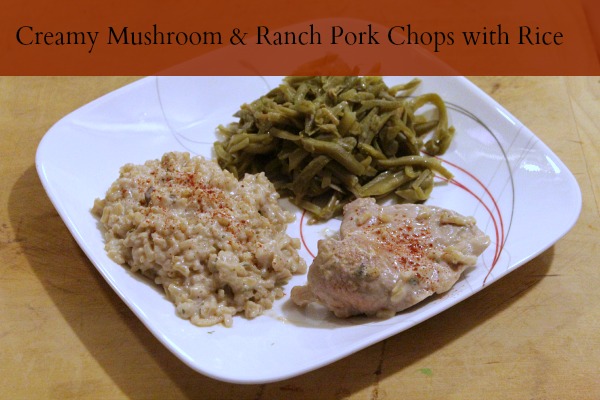 There are times when I need a quick dinner and there are times when I don't cook 100% from scratch.
I know I can make my own cream of mushroom soup. But, I just don't. I don't use it often and I've just never really taken the time to do so. It's on my bucket list.
Seriously.
I would love to make a giant batch of cream of mushroom soup and keep it on hand in the freezer. Now that I am visiting the farmers market more, I can gather some good mushrooms and check that off my bucket list.
But for now, I will grab a few cans of Campbell's and even Clover Valley (Dollar General) brand if I am stopping by for something. These are the only two brands I have tried that have a nice creamy taste. For Christmas, my mother gave me a cute little cookbook that is all Campbell's related. In it there is a recipe for Creamy Ranch Pork Chops and Rice. I was able to find that recipe online. We are big fans of chicken and rice so I thought it would be great to change things up, even if that chicken and rice is a huge hit in this house and always a special treat.
I used the original recipe as a guide, but did not follow it exact.
This was a nice change from chicken, but I think I prefer my pork chops fried in a pan and my cream of mushroom soup paired with chicken instead of pork. But, that's just me. Kiddo and Mr. Yum enjoyed it. We paired it with some simple green beans for the country home cooked meal feeling.
Creamy Mushroom & Ranch Pork Chops with Rice
Ingredients
Drizzle olive oil

4

boneless pork chops

1

can cream of mushroom soup

1/2

cup

milk

1/2

packet ranch dressing seasoning mix

1

tsp

paprika

1.5

cups

dry rice
Instructions
Drizzle some olive oil in the bottom of a skillet.

Allow to warm.

Add pork chops and cook until brown on both sides on medium heat.

Cover and continue cooking on low heat for 2-3 minutes.

Add cream of mushroom soup, milk and ranch mix.

Mix well and continue cooking on medium heat, covered.

In a separate pan prepare your rice according to package directions.

When the rice is done add to the pan with pork chops and mix well.

Dish is done when your pork chops are no longer pink in the middle. You can use a meat thermometer to check!

Plate and sprinkled with paprika.
I'm a firm believer that everyone should try everything once.  Even though it was not a personal preference of mine, I know the family loved it.
I encourage you to give it a go and perhaps put your own spin on the recipe!