It's Mushroom Overload! (Mini Pizza)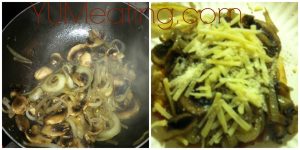 Mushrooms and Onions….mmmmmm
I think I could eat this every day. I just love the smell and taste. Goes on my steaks and chicken all the time! Easy way for me to get some added vegi's in. But this time I cooked these up for a personal pizza.
These little pizzas are leftover from my Nutrsystem plan. However, Jeran made one a few weeks back using  pita for the dough.  Don't you just love my not-so-fancy paper plate? (LOL)
We have
the dough
marinara sauce
mushrooms
onions
(they were cooked with cooking spray – olive oil flavor)
2% cheese
salt , pepper and a dash of seasoning to taste.
Microwave for 30 seconds to warm the sauce and melt the cheese ( the vegi's will do the rest)
I know Dollar General and $1 tree sell these little pizza kits for super cheap!
How do you prefer your homemade pizzas?